Although European settlers had been living in the area of Nether Providence Township (Delaware County, Pennsylvania) since the mid-1600s, Nether Providence Township was established in the late 1680s when Providence Township was split into Upper and Nether Providence townships. Nether Providence was initially a farming community, but quickly emerged as a manufacturing center laden with various types of mills due to its location between Crum Creek and Ridley Creek.
The Byre family, who has deep roots in the Nether Providence area, operated one of these mills. Several Byre family papers and artifacts from the 19th and 20th centuries can be found in the collections of the Nether Providence Historical Society including diplomas and graduation programs; wedding and baptismal certificates; photographs (including tintypes); Jacob Byre (1811-1885) business ledgers, 1833-1860, 1841-1846; financial papers; and 19th century wills and estate documents.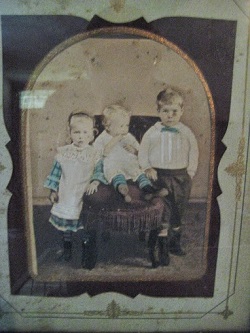 Photograph from the Byre family materials
Of special interest among the Byre family materials, and especially appropriate since today is the 100th anniversary of the beginning of World War I, are two World War I journals written by seventh generation Nether Providence resident Von H. Byre between 1917 and 1918 during his service as a driver in the U.S. Army Ambulance Corps. One of the journals has been transcribed and details Von's trip from his training camp in Allentown, PA across the Atlantic Ocean on board the Giuseppe Verdi on his way to Italy.
"June 16 – Arose 4:15 A. M. and went  on deck but didn't stay, came back and went to bed. Ship sure is rolling, waves are beating all over her, and hatches have to be closed. Going to stay in bed as I feel as if I'm going to contribute to the fishes. Ship sighted in late morning, gunner polishes his gun but she goes out of sight again…"
"June 21 – Usual rising hour. Had breakfast and then came on board to wait for the lifeboat drill that we have daily…Longest day in the year. An inspiration for a verse and a half of a poem today. Still in the danger zone, maybe a day out from Gibraltar."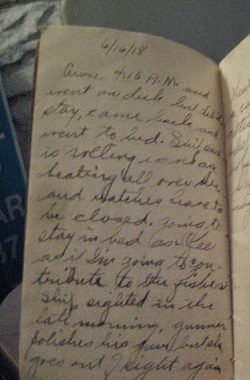 Von Byre's journal, 1918
This diary ends on June 30, 1918 because Von gave it to an American sailor he met who was returning to the United States. The sailor promised that he would mail it to Von's parents once he arrived in the States to let the Byre's know where Von was stationed and how he was doing. The journal made its way to Von's parents, and Von too eventually returned safely from Europe. In 1963, he became National Commander of the Ambulance Corps Alumni Association.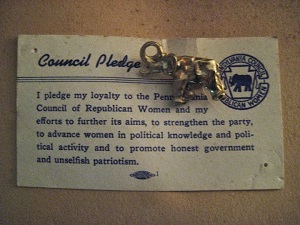 Pledge and pin of the Pennsylvania Council of Republican Women
In addition to the Byre family materials, other documents (including a subject file and audiovisual materials) that capture a piece of the history of the residents, buildings, businesses, and organizations of the local area can be found at the Nether Providence Historical Society. One organization that is especially well documented through scrapbooks, administrative and financial materials, membership records, newsletters, and other records is the Nether Providence Council of Republican Women, which existed from 1963 to 2005.