Like several of today's suburbs outside of Philadelphia, Wallace Township (Chester County) used to be home to many farmsteads in the 18th and early 19th centuries. However, by the late 19th century, the railroad had made its way to these rural communities, bringing with it an influx of Philadelphians eager to establish summer residences away from the city. Among these Philadelphians were the Howsons.
Henry Howson, Sr., born in Yorkshire, England in 1823, came to the United States in 1851 and settled in Philadelphia, where he worked briefly as a mechanical and electrical engineer, designing several pumping engines for the Philadelphia Water Works. In 1853, he set up his own practice as a patent solicitor, continuing in this line for over 30 years. He was instrumental in convincing the Commissioner of Patents to lift the requirement for patent applications to include models. Henry's sons, Charles and Henry, Jr., both joined the practice, as did Charles' son and grandsons. Although none of Henry Howson's descendents have practiced at the firm since 1976, Howson & Howson is still active as an intellectual property law firm today, though its offices have moved to Blue Bell, Pennsylvania.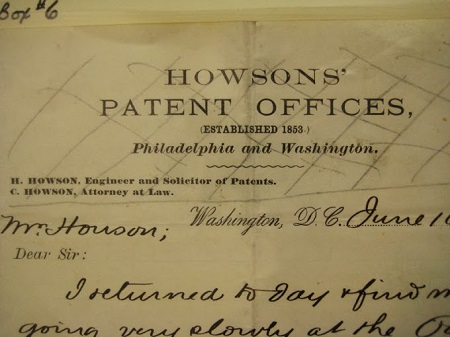 Correspondence from the Henry Howson family papers
The Howson's maintained residences in Philadelphia to be close to their business, but also had a summer home called Brae Head Farm in Glenmoore, part of Wallace Township. Brae Head functioned not only as a summer home, but also as a farm. The Howsons grew vegetables and had Jersey cows. Henry Howson, Jr. (1859-1937) in particular was keen on gardening. He was involved in the local Fairview Presbyterian Church's annual flower, fruit, and vegetable exhibition, both as an organizer and as an exhibitor, from the establishment of the competition in 1897 until at least 1920.
The Henry Howson family papers, 1849-1952, can be found in Wallace Township's archival collections. The papers mostly pertain to Henry Howson, Jr., with some documents from his father, and a sizeable quantity of papers from his daughter, Margaret, regarding Henry Howson, Jr.'s estate. A large number of materials relate to properties owned by the family, including those in Philadelphia and Brae Head Farm, or the Howson patent law firm. Items from Brae Head Farm include financial documents, yearly reports, and ledgers. There are a few items about Henry Howson, Sr.'s engineering work, Henry Howson, Jr.'s involvement with the Fairview Presbyterian Church's annual flower, fruit, and vegetable exhibition, and other topics.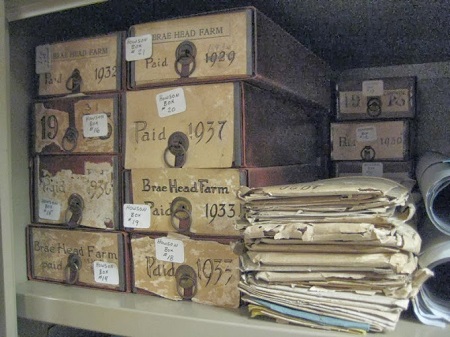 Financial records from Brae Head Farm
Other materials that can be found in the Wallace Township collections include a large number of photographs and slides taken by John J. S. Shrader (1914-2001), an amateur archaeologist, photographer, and local historian, who moved to Glenmoore during the Great Depression. He was an active member of the Society of Pennsylvania Archaeology, which awarded him its top honor for amateur archaeologists, later included his name in the Shrader-George award for young students in archaeology, and named its Berks County-based branch after him (John Shrader Chapter #21). For those of you who are romantics out there, you might also like to know that while living in a boarding house, Shrader fell in love with his landlord's daughter, Lois Elberhar, and married her!
Yet, another former Glenmoore resident of note is Jane L. S. Davidson (1939-2012), a long-time advocate for historic preservation, and since March is Women's History Month, it's the perfect time to highlight her activities and their importance. In 1981, Davidson helped create and served in the first governmental historic preservation office at the county level in Pennsylvania, as the Chester County Historic Preservation Officer. She also co-founded the Chester County Historic Preservation Network. In 1992, President George H.W. Bush added her to the President's Advisory Council on Historic Preservation, and the National Park Service named her Outstanding Woman in Historic Preservation in 2000. Jane's work brought attention to the many historic buildings and sites around the country in need of preservation and helped to ensure that these places would be around in the future to document our culture and historic past.
A clipping about Jane from the July 24, 1991 issue of the Community Courier
In 2013, some of Jane's papers were donated to Wallace Township. The papers relate mostly to her work as preservation coordinator for Chester County, and include historic site research, correspondence, and an historic resource atlas. Not related to Davidson's work, there is also a folder of her family genealogy research, and a packet of clippings on Wallace Township history.
In addition to the collections mentioned above, Wallace Township has further materials relating to the places, history, and residents of the Township. Among these materials are several scrapbooks, various primary documents, many newspaper clippings, and subject files, all of which are very convenient for researchers interested in Wallace Township history, genealogists researching local individuals or families, and others.