Sellersville, Bucks County, Pennsylvania is named for one of its prominent citizens, Samuel Sellers. In the 18th century, Sellers built and operated Sellers' Tavern on the main road in town and also served in the Pennsylvania legislature and as a sheriff for Bucks County. The tavern built by Sellers was a focal point around which the rest of the community grew, and it even served as the town's post office for many years. The Sellersville Museum, located in a former school building, has dedicated multiple rooms (spread out among two floors) to displaying various artifacts, costumes, artwork, and other materials relating to the history of Sellersville.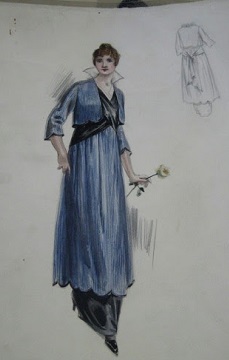 A sketch by Sellersville fashion designer Katherine Berkemeyer
One of the larger rooms in the museum has materials relating to the many different industries of the area. Sellersville was settled in 1738, but really expanded during the second half of the 19th century when various companies established themselves there. Cigar manufacturing was the largest business in town in the late 1800s, but textile businesses and many others called Sellersville home as well. The U.S. Gauge Company, now a division of Ametek Inc., was established there in 1904, producing gauges for automobiles, fire extinguishers, welders, boilers, liquid levels, medical products, and petrochemicals. Its products were ubiquitous in early automobiles, and U.S. Gauge expanded into the burgeoning aircraft market in the 1930s. The Sellersville Museum has a collection of archival materials on U.S. Gauge that includes issues of the company's social club's newsletter, "The Chatter Box," 1935-1941; photographs that span the 20th century; and a payroll ledger, 1905-1906.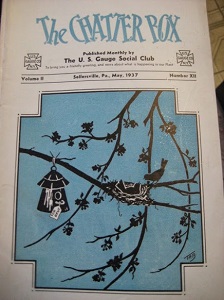 An issue of "The Chatter Box" from May 1937
"The Chatter Box" was published by the U.S. Gauge Social Club as a way to keep employees informed about the happenings of the company. The newsletter often had celebratory or congratulatory announcements and messages for staff members, but it also printed the club's meeting minutes and information about the company's social programs, including the employee orchestra and sports teams. Flipping through an issue of "The Chatter Box" provides you with an understanding of all of the extra benefits that larger companies used to offer their employees. These social benefits are not always a standard among today's corporations. In addition to the archival materials from U.S. Gauge, the Museum has several of the company's gauges on display.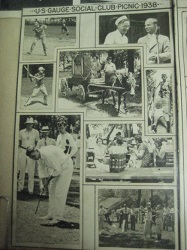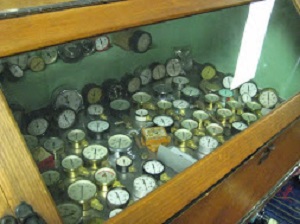 Images from the U.S, Gauge Social Club Picnic, 1938, and examples of gauges made by the company
In addition to fostering a variety of industries, Sellersville is the site of Bucks County's first hospital. Grand View Hospital opened in 1913 with only eight patient rooms and an operating room, but its staff was well trained and the hospital was considered well equipped. In 1915, Grand View started a training school for nurses. The Sellersville Museum houses the Grand View Hospital Auxiliary collection, circa 1913-2013, which mostly contains scrapbooks, hospital publications, and ephemera, but also has some photographs, correspondence and other documents. Some of the scrapbooks in the collection were compiled by individual nurses and date from the 1930s.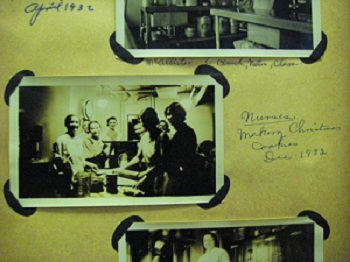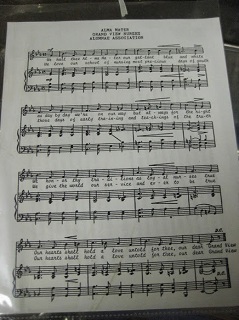 Grandview nurses making Christmas cookies, 1932, and the music for the Nurses Alumnae Association's Alma Mater
Dr. Clyde R. Flory (1892-1963) served as Chief of Surgery at Grand View in the late 1940s, but prior to that had served in both World Wars I and II. During his service in World War II, Dr. Flory invented a special traction bar which cut the amount of equipment used to reduce fractures, and also discovered a new technique for curing syphilis. In 1943, Flory was on board the USS Savannah as the Senior Medical Officer. The ship was hit by a German bomb in September 1943 while supporting Allied forces ashore during the invasion of Salerno, Italy and nearly 200 men were killed. The Sellersville Museum has copies of the death certificates issued for these men by Dr. Flory. Also among Dr. Flory's materials are two copies of a 35mm film reel, with sound, of the USS Savannah in combat.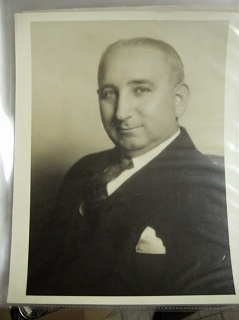 Dr. Clyde R. Flory
Sellersville was home not only to science and engineering folks, but also to artists. One of its most famous sons is Walter Emerson Baum (1884-1956), a well-known American impressionist painter and educator, who founded the Baum School of Art and the Allentown Art Museum. He also published writings about art and the history of the Pennsylvania Germans. Draft articles for Baum's newspaper column ("Art Story"), ephemera about and invitations for art related events and organizations, original sketches of Germany and other locations from Baum's trip to Europe in 1936, his passport, a scrapbook, and other materials, including some from his son, Robert, and grandson, David are available in the Sellersville Museum collections.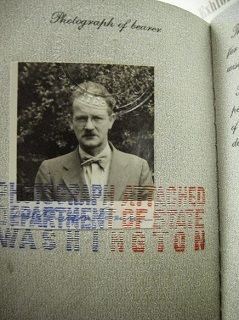 Walter Baum's passport, 1936
Other materials in the Museum's collections include organizational records from local clubs and nearby churches, records from various local businesses, fashion sketches by designer Katherine Berkemeyer, drawings and blueprints by Joseph W. Daub of ecumenical objects and buildings, numerous deeds dating between the 18th and 20th centuries, postcards from printer and publisher Charles Berkemeyer, photo albums, ephemera, subject files, and lots more! The Museum also has a special exhibit space, which features a different exhibit topic each month.