Bridesburg is a small neighborhood in northeastern Philadelphia, but it's a well-documented one thanks to the prolific efforts of photographer William H. Sliker and his son Charles. In the first decades of the 20th century, the Slikers traveled on a regular circuit through northeast Philadelphia. They advertised their services to local residents, who rushed to have their pictures taken while the photographers were in town. Then, the Slikers brought the negatives home to their Bridesburg studio to be developed. On their next circuit, they delivered the photographs to their satisfied customers.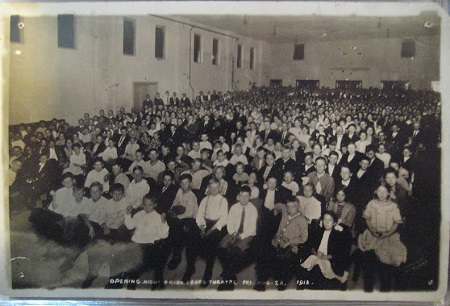 "Opening night, Bridesburg Theatre, Fri. Aug. 22, 1913"
A large number of Sliker photographs and real photo postcards are held by the Bridesburg Historical Society. To see more, head over to the Philadelphia History Museum at the Atwater Kent, where several hundred original glass-plate negatives from the Sliker Studio are held.