I don't know about you, but I was pretty excited when the National Archives launched the 1940 Census website a few months ago. Census records are an amazing research tool, especially for genealogy. If only the census happened more frequently than just once per decade! Luckily, savvy researchers know a trick: one of the best ways to learn about those census-free years is from tax records. If you happen to be researching Lower Pottsgrove township in Montgomery County, Pennsylvania, and want to fill in the gaps around the newly-released 1940 census, you're in luck--head over to the Lower Pottsgrove Historical Society and check out the Wilson D. Puhl tax collection records, 1934-1942!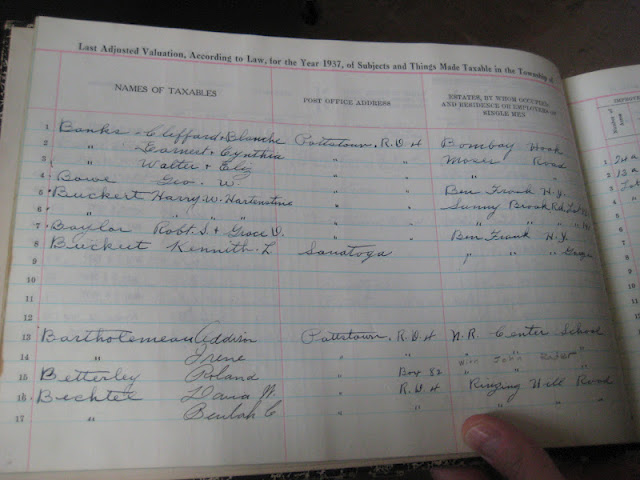 Wilson D. Puhl of Sanatoga was tax collector for Lower Pottsgrove in the 1930s and 1940s. The collection of his papers at the Lower Pottsgrove Historical Society features alphabetically-arranged tax ledgers for road, county and personal, and school taxes. These ledgers list names, address, property values, and other kinds of information useful for genealogy. Best of all, they aren't just from 1940!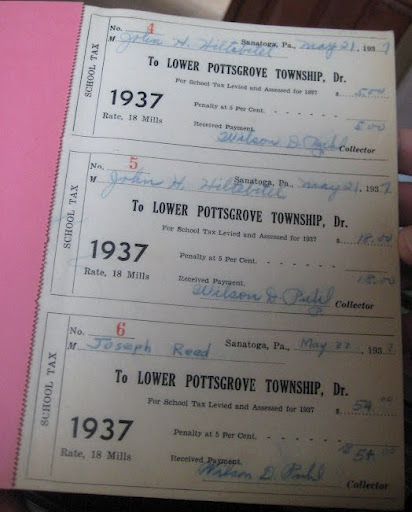 The data in the Puhl collection span from 1934 to 1942, outlining the story of a community struggling to maintain itself during the lean years of the Great Depression. Puhl's papers also include receipts for collected taxes, land valuations, check stubs, collector's notices, and yearly reports. There are also miscellaneous documents, correspondence, financial records, and forms relating to Wilson's work as Tax Collector and Township Auditor.
You may have noticed that the last name in the "Estates" column above is on "Ringing Hill Road." Lower Pottsgrove is home to Ringing Rocks Park, where the rocks "sing" if you hit them with a hammer! Unfortunately, we weren't able to visit on our trip to the Lower Pottsgrove Historical Society. When you head over to the Lower Pottsgrove to check out this useful collection, don't forget to bring a hammer and  check out the Ringing Rocks!
View all finding aids from Lower Pottsgrove Historical Society.