The riverfront location of Tinicum Township--along the Delaware River in Delaware County, Pennsylvania--has had a powerful influence on its history. Shipbuilding became one of its major industries in the 20th century, but before that, it was the site of another industry perhaps not as readily associated with waterfronts: sickness.
Tinicum was home to the Lazaretto Quarantine Station, one of the first quarantine facilities specifically built for that purpose in the world and the oldest extant in the United States. It was constructed between 1799-1801, spurred by the recent Yellow Fever Epidemic of 1793. The illness devastated Philadelphia's population, killing one in five residents, and moreover highlighted the failures of the city's minimal public health infrastructure. The newly-formed Philadelphia Board of Health (the first permanent municipal health organization in the country) decided to build a quarantine station to prevent accidental importation of communicable diseases in the future. 
Tinicum was selected as the site of the Lazaretto (named for St. Lazarus, patron saint of lepers) due to its remote location from the city. Ships passing through the adjacent section of the Delaware River were stopped and inspected, both cargo and passengers. Anyone of suspect health was held at the Lazaretto until the sickness (or the person) passed. The quarantine station was closed in 1895, when the state built a new quarantine station farther down the river, but the building still stands and was placed on the National Register of Historic Places in 1972.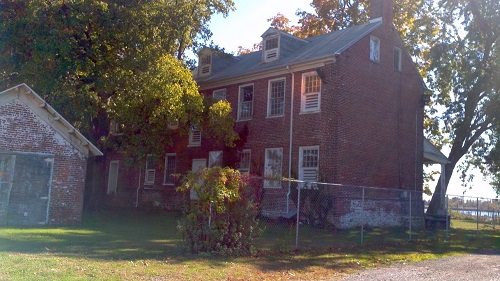 Extant Lazaretto building, 2013
Not long after the Lazaretto closed, Tinicum was selected to address another problem uncovered during a crisis: this time, a shortage of US Navy ships during World War I. The government subsidized an emergency shipyard on Hog Island, operated by the American International Shipbuilding Corporation. Although Hog Island was not able to produce any ships in time for combat in World War I, many were used in World War II.
Documents relating to the history of Tinicum, including historic site reports on the extant Lazaretto buildings and a photograph album from the American International Shipbuilding Corporation, circa 1918-1920, can be found at the Tinicum Township Historical Society. The Society holds over 40 feet of archival materials, dating from 1819 to the present.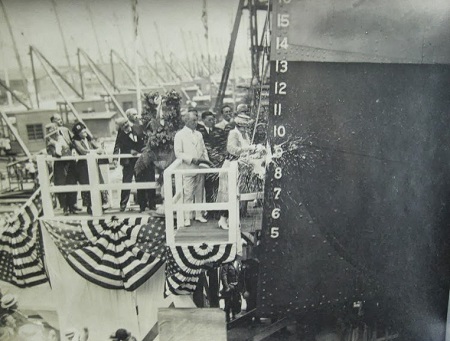 Hog Island's first ship, SS Quistconck, christened on August 5, 1918 by Edith Wilson (wife of President Woodrow Wilson)