Abraham Fetters met a tragic end, dead by his own hand at the age of 65 in 1893. However, he left a long and dispersed legacy, living in the hearts of over 1,800 pupils he taught in four decades as an educator, and recorded in the documents that are now gathered in the archival collections of the Upper Uwchlan Township Historic Commission (Chester County, Pennsylvania).
When Abraham Fetters was born in 1828 to Samuel and Mary (Acker) Fetters, Upper Uwchlan had not yet separated from Uwchlan Township. He attended public school at Valley Creek in nearby East Whiteland and Prospect Hill Academy in East Bradford, but it wasn't long before the classroom dynamic flipped. Abraham became a teacher at the young age of 18, working at several schools including West Chester Academy. Of these, he spent the longest time at the White School in Uwchlan Township. During his tenure there he established the first public school library in Chester County and developed the first vocal music curriculum in the area. Because of his important role in advancing education within the school and in the region generally, the school has since been nicknamed in his honor, the Abraham Fetters-White School.
During the Civil War Fetters enlisted in the Union Army, serving as captain of Company G, 12th Regiment, Pennsylvania Volunteer Militia and first sergeant of Company A, 43rd Regiment, Pennsylvania Volunteer Militia. His 1862 muster roll is still extant in the collections of the Upper Uwchlan Township Historic Commission.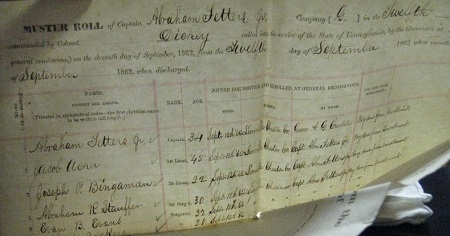 Abraham Fetters married Rebecca K. Brownback in 1866. After briefly trying his hand at farming, Fetters decided to start a day and boarding school at his residence. Edgefield Institute opened in 1868 and remained in operation for nearly 20 years. The Upper Uwchlan Township Historic Commission holds an 1882 ledger from the Edgefield Institute, as well as a volume of teacher's monthly reports from 1868 (excerpted class attendance page, below), and other papers pertaining to the Edgefield Institute and to schools and schooling more generally.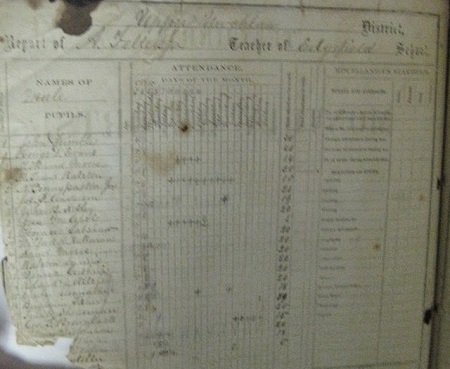 Fetters was very involved in community affairs, an active Democrat and one-time jury commissioner. He was nominated for the legislature from his district and was an (unsuccessful) candidate for county commissioner.  Fetters served as director of the National Bank of Phoenixville and of the Old Brandywine Bank of West Chester. He was a member of Upper Uwchlan Grange, No. 53.
Tragedy struck the Fetters family in 1885, when one of Abraham and Rebecca's two sons, John B., died of tetanus at the tender age of 18. He died within days of stepping on a nail at the family's farm. John's death clearly had a severe impact on the family; Abraham closed Edgefield Institute soon after, in 1886. Just a few years later, Abraham committed suicide. Complaining of ill health and severe insomnia towards the end of his life, in August of 1893 Abraham was discovered to have hanged himself. The family had observed Abraham making preparations for his death prior to the incident, but the local newspaper reported his suicide as a shock to the community.
Through his students, Fetters' influence on the Uwchlan community multiplied exponentially. A 1904 book eulogized, "many of [his students went on to] occupy honorable and influential positions in life and admit that their success is due to the training and inspiration received from Mr. Fetters" (Cope and Ashmead 441). His legacy also lives on in the documents he left behind. The Upper Uwchlan Township Historic Commission holds a variety of materials from Abraham Fetters, including the materials mentioned above as well as a manuscript volume with Fetters and Acker genealogy (circa 1880) and other items relating to the Fetters family and their Harper family descendants.
See all finding aids for Upper Uwchlan Township Historic Commission
Works Consulted
Cope, Gilbert and Henry Graham Ashmead, editors. Historic Homes and Institutions and Genealogical and Personal Memoirs of Chester and Delaware Counties, Pennsylvania, Volume 2. New York: Lewis Publishing Company, 1904. Page 441. 
Futhey, John Smith and Gilbert Cope. History of Chester County, Pennsylvania, with Genealogical and Biographical Sketches. Philadelphia: L. H. Everts, 1881. Pages 545-546. 
Obituary of Abraham Fetters. Daily Local, August 24, 1893. Accessed April 23, 2014.