The United States unemployment rate for February 2013 was 7.7%, which isn't great, but really isn't that bad. Especially when compared to unemployment rates during the Great Depression. When William E. Collier began working for the Pennsylvania Bureau of Employment Security in the 1930s, the national unemployment rate was upwards of 20%. His work with the Works Progress Administration, unemployment compensation, and labor unions--as well as his local history research and photographs of Bucks County--are meticulously documented in Collier's collection at the Historical Society of Hilltown Township.
Among other jobs, William Collier (1902-1977) worked as Labor Relations Representative for the Works Progress Administration in Philadelphia, Manager for the Pennsylvania State Employment Service for Philadelphia County, and Assistant Director of the Division of Unemployment Compensation at the Pennsylvania Bureau of Employment and Unemployment Compensation. Correspondence, pamphlets, conference proceedings, and other documents reflect Collier's involvement with employment, unemployment compensation, labor unions, politics, and other subjects. There are a few photographs as well, including the image above depicting the administrative staff of the Division of Unemployment Compensation, Pennsylvania Bureau of Employment and Unemployment Compensation, in 1940 (Collier is in the middle).
Collier's business files are arranged by subject and chronologically, covering the period from 1925 into the 1960s (bulk 1932-1945). But what truly makes the collection exceptional is the inclusion in most folders of a page-long document written by Collier in 1970/1971, describing the background and context for the materials contained in each. These explanatory notes address major events like the Stock Market Crash of 1929 and World War II, detail Collier's work and actions relating to the subject/event in question, and name the major players involved. See, for example, the explanatory note accompanying Collier's folder on the Willow Grove Relief Association: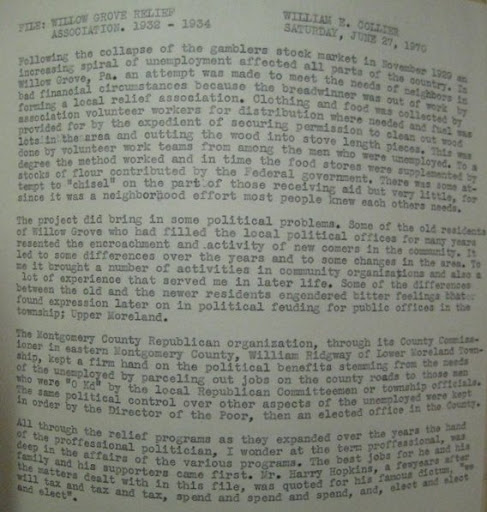 Collier applied the same meticulous attention he spent organizing his work files to gathering photographic documentation of Bucks County landmarks. From 1966 until his death, Collier traveled around Bucks County and surrounding areas to take color slides of covered bridges, barns, one-room schoolhouses, mills, and other sites. He focused in particular on the area slated to be flooded in order to create Lake Nockamixon. Like he did for his business papers, Collier carefully organized and described his slides. Each image is listed in a chronological register and indexed by topic and location in a card file. Collier also maintained files of research on the sites and other local history topics; many files include explanatory notes similar to those he wrote for his business papers.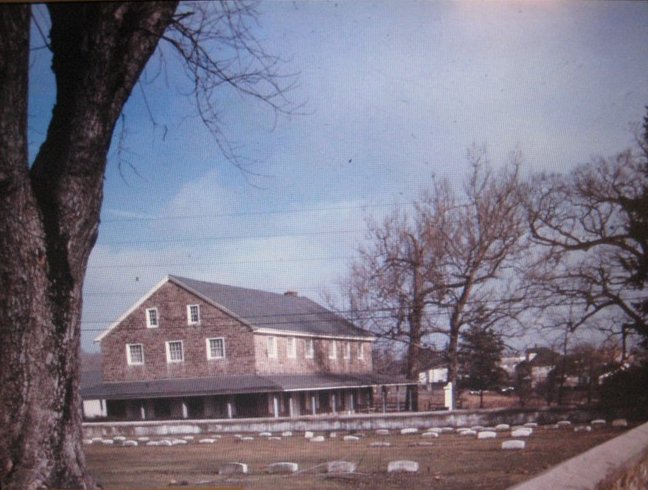 Horsham Friends Meeting House (Hicksite; Montgomery County, Pa.)
Collier's slides and accompanying research files form an extremely convenient resource for local historians and property researchers. His business files are also important but will appeal to a different audience: economic and labor historians, particularly those studying Pennsylvania's response to the unemployment brought on by the Great Depression, labor issues, and the development of unions. It is an important collection with something for everyone, so head over to the Historical Society of Hilltown Township and get to work!
See all finding aids for Historical Society of Hilltown Township