Early 19th-century newspapers and periodicals are filled with numerous accounts of the discovery of the fossilized bones of extinct mega-fauna, such as those of the mastodons and mammoths that once roamed the prairies and forests of prehistoric America. Dinosaurs in the United States are usually associated with the western states such as Utah, Montana, and Wyoming, where large fossilized deposits have been excavated. It may be surprising that one of the most significant discoveries in paleontology happened on the east coast in New Jersey.
In 1838, a number of large bones were uncovered on the property of Mr. John Estaugh Hopkins in a marl pit near present-day Haddonfield, New Jersey. Hopkins put the remains on display at his farm, which attracted friends and curiosity seekers. In the summer of 1858, they caught the attention of William Parker Foulke, a fossil collector. Believing there were perhaps other remains waiting to be found, Foulke began to dig at the site. He was rewarded for his efforts and curiosity when he and his workmen discovered the bones of a large unknown creature buried nine feet below the surface.
Foulke had discovered the first almost complete dinosaur skeleton ever found in the United States. The discovery would change the field of paleontology. The fossils were sent to the Academy of Natural Sciences in Philadelphia, where by 1868 it would become the first dinosaur skeleton to be mounted for public display under the direction of Dr. Joseph Leidy (pictured above). Leidy, a famed anatomist, aided in its reconstruction and drew artistic sketches of the dinosaur.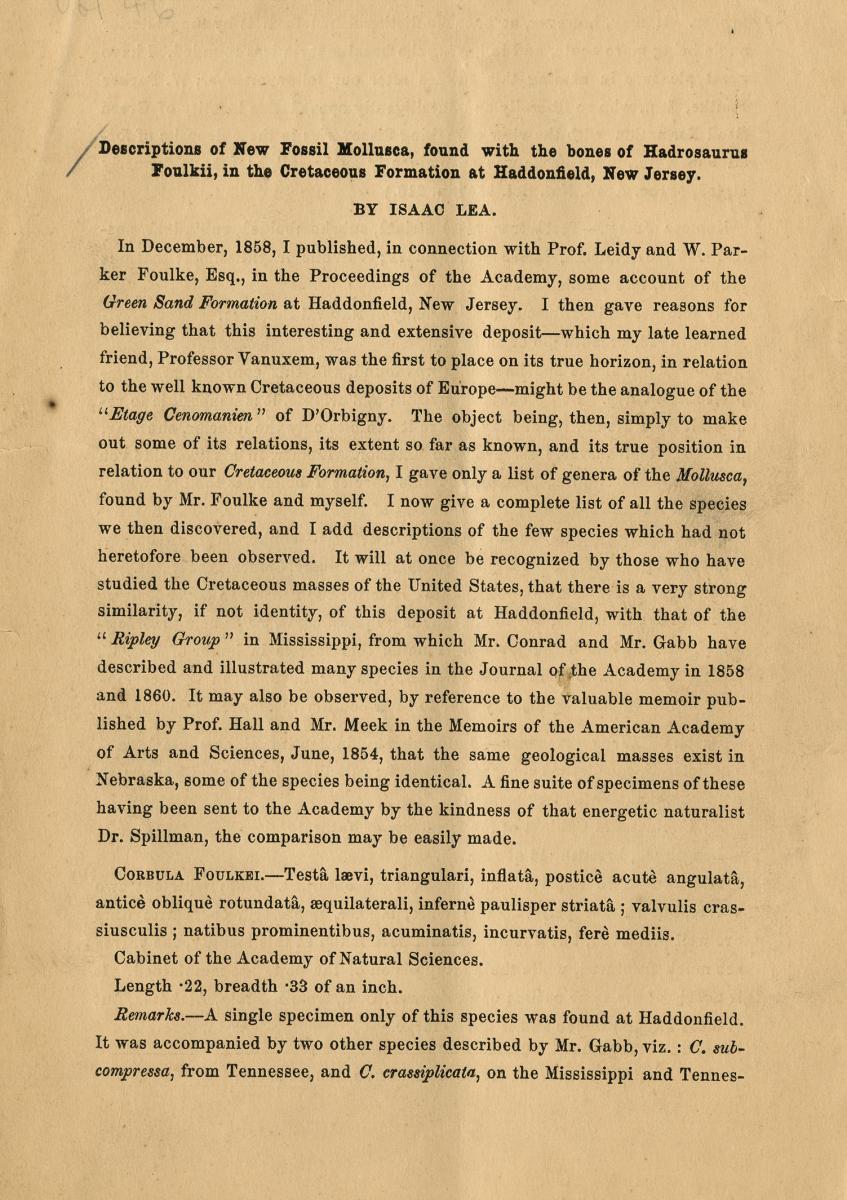 Named Hadrosaurus foulkii ("Foulke's bulky lizard"), the herbivorous animal was almost 30 feet long, 10 feet tall, and weighed from seven to eight tons! Known as a duck-billed dinosaur, other creatures of the same species have been discovered in New Jersey and elsewhere. According to the The New York Times in February 8, 1948, the partial skeleton of another Hadrosaurus was dug up in a pit near Sewell, New Jersey, which is  located about 15 miles from Philadelphia.
Hadrosaurus foulkii is the official state dinosaur of New Jersey. A monument now stands at the east end of Maple Avenue near the Cooper River in Haddonfield, close to the location of the original discovery.  The site is listed on the National Register of Historic Places and became a National Historic Landmark in 1994.