Prior to the Revolutionary War, thousands of indentured servants and convicts were transported (often against their own will) by Great Britain to either mainland America or to the British colonies in the West Indies. Though the majority of those who survived the voyage, disease, and physical abuse by their masters eventually became responsible citizens, a significant number failed to be reformed of their past criminal behavior. Perhaps surprisingly, many of these repeat offenders were women.

Various colonial newspapers are filled with hundreds of accounts of runaway servants which included women as well as men, some of whom led notorious and infamous lives. Ladies were quite innovative in their activities, identities, and fortune in the New World. A remarkable female convict, Sarah Wilson, led a life of uncommon activity well beyond the rest of her fellow convicts and criminals.    

Sarah Wilson was born in a small Staffordshire village in England. She arrived on a convict ship in the autumn of 1771, and was soon purchased by William Duval (or Devall) of Frederick County, Maryland. Wilson soon escaped and began a life of luxury up-and-down the coast of Colonial America. From Boston and New Hampshire in the North, to the Southern colonies of Virginia, Georgia, and North and South Carolina, Wilson was wined and dined by American aristocrats and governmental officials. She would introduce herself with sobriquets (aliases) such as: The Princess Susannah Carolina Matilda (sister to the Queen), Marchioness de Waldegrave, and the Princess of Cronenburgh. Once her true identity became known, the press would usually refer to her as the "extra-ordinary female traveler."

One natura

lly wonders how a "lowly convict" would have been able to dupe so many of the well-to-do in various colonies. First of all, she had served as a maid to the Hon. Miss Caroline Vernon who was a maid of honor to Queen Charlotte of England. During her employment, Wilson was caught stealing a diamond necklace, gown, and other jewels, and sentenced to death. Out of the kindness of both her mistress and the queen, the verdict was overturned and instead the young woman was transported as an indentured servant or convict to America. Somehow, Wilson still managed to keep within her possession a miniature portrait of the Queen, as well as certain jewels and wealthy apparel.

According to the British publication Gentleman's Magazine for July of 1773 (pictured left), Sarah Wilson toured the colonies as a member of British or European royalty and promising Royal appointments to many, yet all the time "imposing upon many credulous people, and defrauding them of considerable funds." One contemporary publication remarked how she was so successful in her impersonations of the nobility, that she "made astonishing impressions in many places…so inimitably, that many had the honour to kiss her hand…"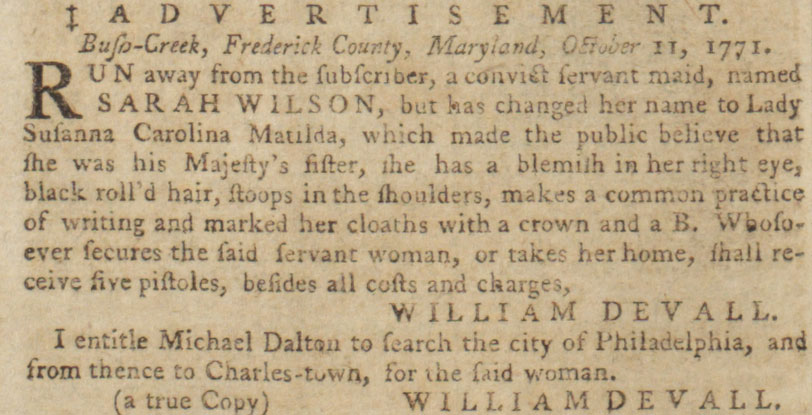 As can be seen in the image above taken from the Pennsylvania Gazette, William Duval had begun to advertise for her capture as early as October 11th, 1771, describing her for the next two years in newspaper accounts as having "a blemish in her right eye, black roll'd hair, stoops in the shoulders, makes a common practice of writing and marking her clothes with a crown and a B." Though eventually apprehended by Duval through the services of attorney Michael Dalton, she would escape a second time and make her way northwards in 1775.  It's here that Wilson married British Army officer Captain William Talbot, of His Majesty's 17th Regiment of Light Dragoons.
Prior to her marriage, Sarah Wilson had aligned herself with one of the most famous male criminals in American Colonial history, a Mr. Patrick O'Connor, better known by the alias of Tom Bell, an Irish traveling merchant. For a period of time, he introduced himself as "Mr.Edward Augustus Montague," a "gentleman of fortune," and betrothed lover of the Princess Susannah Carolina Matilda.

The Providence, Rhode Island Gazette & Country Journal in January of 1774, remarked how Wilson "is the most surprising genius of the female sex that was ever obliged to visit America." So much so, that she was never actually convicted of anything in the Colonies and eventually disappeared from history altogether. One wonders of her eventual fate.