Just recently, Penn Treaty Park on Delaware and Columbia Avenue in Kensington was listed officially on the National Register of Historic Places. This is the site where William Penn and the Lenni Lenape or Delaware Indians purportedly gathered under an elm tree and signed or at least worked out a mutual agreement. The Treaty of Friendship or Treaty of Shackamaxon of 1682 created a large amount of debate and controversy regarding its occurrence, date, and exact location. Eye-witness accounts, scholarly articles, poems, songs, and many illustrations by such famed painters as Benjamin West and Thomas Birch helped to confirm that the treaty did indeed transpire.
The original Penn Treaty document no longer exists. According to Chief Killbuck of the Turtle Clan of the Lenni Lenape, the record was lost while he and his people were fleein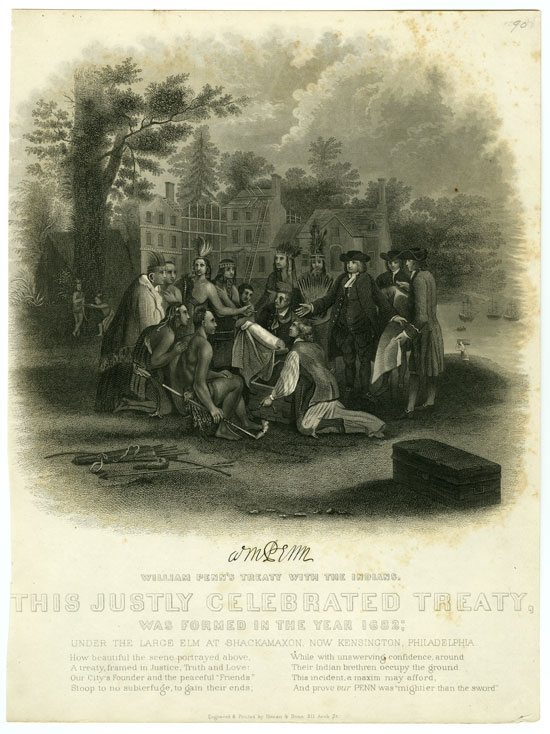 g pioneer settlers on March 24, 1782, somewhere near Killbuck Island, which was located near Fort Pitt. Regardless, Penn (or others in his name) negotiated land deals in the Philadelphia area both in 1683 and in 1685 in exchange for items such as kettles, shoes, scissors, combs, axes, glasses, beads, and knives. Many of these deeds bear the mark or identifying sign of the Native American chieftains.
Years later and thousands of miles away in Australia, John Batman, a native of New South Wales, negotiated with the Wurundjeri tribe of aboriginals for some 600,000 acres of land, in part where the present city of Melbourne now stands.  Batman was a resident of Van Dieman's Land (present-day Tasmania) and an early founder of Victoria. The treaty was signed on June 6, 1835.
It is said that Batman patterned his treaty off of William Penn's treaty. Unlike Penn's treaty, Batman's title deeds have survived, bearing the marks of aboriginal tribal leaders as well. The deeds exchange land for blankets, knives, tomahawks, scissors, looking glasses, and suits of clothing, reminiscent of Penn's traditional accounts with the Lenni Lenape. Testimonials by whites and aboriginals, as well as Batman's own journal entry for June 6, 1835, report Batman's treaty as having transpired "alongside a beautiful stream of water…where a tree is marked four ways to know the corner boundary." An 1857 painting by artist John Wesley Burtt commemorates the event and is now located at the State Library of Victoria.
The natural question that arises is: How did John Batman even know about William Penn's treaty with the Indian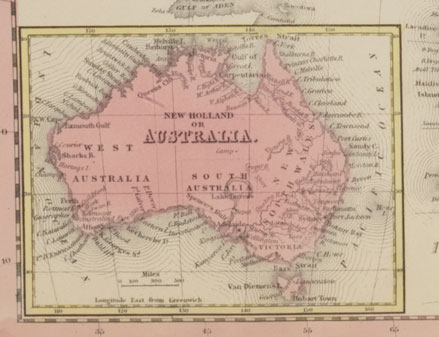 s of Philadelphia in 1682?  Remarkably, two Quaker missionaries, James Backhouse and George Washington Walker, both from England, helped spread the faith in Australia and Tasmania. Both men met with Batman one month prior to the treaty, on May 8, 1835.   
Batman's treaty would become null and void not long after its signing, since he carried out the treaty on his own accord under the auspices of the Port Phillip Association that had been formed to obtain and settle the lands that eventually became the city of Melbourne. The governor of New South Wales, as well as the British government, failed to honor Batman's amiable agreement as they did not recognize the native inhabitants' rights to the lands in question.
Such events reveal that the past does truly repeat itself in many ways. It also shows that a comparative analysis of two disparate locations across time and space can still offer remarkable similarities in the relationship between European settlers and native inhabitants in far-flung areas of the world.