The East Falls Historical Society, founded in 2004, is a non-profit organization dedicated to discovering, preserving, and promoting historic interest in the East Falls community. East Falls was originally settled by the Lenni Lenape, a Native American tribe. In 1732 Fort St. David was established as a fishery and the area became popular for this purpose. As the area became industrialized by mills and other enterprises, employee homes developed into a neighborhood of row houses. East Falls is well known for its prominent residents (including actress Grace Kelly) and history of rowing on the Schuylkill River.
The East Falls Historical Society is active in documenting historic buildings and sites in East Falls. It conducts oral history interviews with long-time area residents and directors of local organizations. The archival collections of the Society are comprised of materials relating to the history of East Falls and its prominent residents. Over 25 linear feet of archival materials span from 1897 to 2012.
Organization Logo: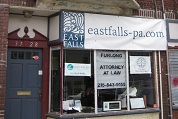 Organization Location:
3020 Midvale Ave.
19129
Philadelphia
,
PA
Pennsylvania US
Small Archival Repository Partner:
Small Archival Repository