Friends of Northeast Philadelphia History (FNEPH) encourages the preservation and promotion of Northeast Philadelphia (Pennsylvania) history by supporting the work of local historians and historical organizations, sponsoring local history activities, and, where appropriate, acquiring historic materials or property relating to Northeast Philadelphia. FNEPH grew out of Friends of Lower Dublin Academy, an organization founded in 2008 to protect the 1798 Lower Dublin Academy school building in the Holmesburg neighborhood. In 2013 the organization changed its name to Friends of Northeast Philadelphia History and broadened its mission to encompass the history of the greater Northeast Philadelphia area. FNEPH maintains about 20 linear feet of archival materials dating from the late 18th century to the present. These include the collections of several local historians, consisting of research materials such as newpaper clippings, articles, photocopies, photographs, and other materials; and a local history manuscript collection containing various primary-source documents such as ledgers, certificates, receipts, deeds, and other family papers and business records. Among FNEPH's strengths is its collection of mostly early 20th century real photo postcards depicting scenes of Northeast Philadelphia.
Organization Logo: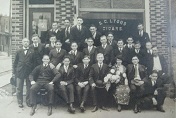 Organization Location:
Pennepack Baptist Church
8732 Krewstown Rd.
19115
Philadelphia
,
PA
Pennsylvania US
Small Archival Repository Partner:
Small Archival Repository