The Sharon Hill Historical Society in Delaware County, Pennsylvania was incorporated in 1991 by a group of citizens who wished to protect the historic railroad station on Sharon Avenue in the Borough of Sharon Hill from demolition. The restoration of this railroad station remains a priority of the organization, which also collects materials relating to and promotes the history of the area. The Society's archival holdings encompass about 15 linear feet of materials which date from 1879 to the present. Secondary-source materials such as clippings, computer print-outs, and copies of original documents form the bulk of the collection, but there is also a significant amount of original, primary-source materials including photographs, deeds, and sewer rent ledgers for the Borough of Sharon Hill (1959-1982).
Organization Logo: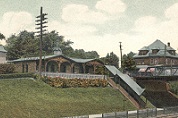 Organization Location:
Sharon Hill Borough Hall
220 Sharon Ave.
19079
Sharon Hill
,
PA
Pennsylvania US
Small Archival Repository Partner:
Small Archival Repository
Mailing Address:
PO Box 1191
19079
Sharon Hill
,
PA
Pennsylvania