The Colonial Yardley Historical Association was formed in the Borough of Yardley, Bucks County, Pennsylvania in 1964 after interest in preserving the community's history was stimulated by a 1963 "Canal Days" celebration. In 1970, the organization adopted "Yardley Historical Association, Inc." as its official name. At its headquarters in the Old Library by Lake Afton in Yardley, the Association maintains an archival collection of over 75 linear feet of material dating from 1741 to the present, with most of the materials documenting the 19th and 20th centuries. Holdings include materials such as minutes, ledgers, scrapbooks, personal papers, photographs (including a significant amount of photographs from the "Yardley News" newspaper), and oral histories that document Yardley individuals, families, organizations, businesses, and events. Of special interest are records of Yardley Borough, Yardley Library Company, Yardley Civic Club, and the Woman's Christian Temperance Union (WCTU) of Yardley.
Organization Logo: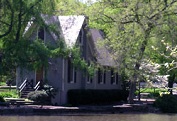 Organization Location:
The Old Library by Lake Afton
48 West Afton Ave.
19067
Yardley
,
PA
Pennsylvania US
Small Archival Repository Partner:
Small Archival Repository