I am a big fan of the TV show "Friday Night Lights," so when Faith and I found a set of scrapbooks about high school sports at the Quakertown Historical Society, my first thought was, "Go Panthers!" Of course, this collection pertains to the Quakertown Panthers, not the Dillon Panthers; and the "molder of men"--and creator of the scrapbooks--is Coach John O. Barth, not Coach Eric Taylor.
John Oexle Barth was hired by Quakertown High School in 1927, soon after his graduation from State Teachers College at East Stroudsburg. He taught various sports at the high school including football, basketball, and baseball. It was in baseball that Barth had the most success, at one point coaching four straight championship teams, and in total sending more of his baseball players into professional leagues (6) than any other coach in Quakertown High School history.* Barth spent nearly 40 years in sports at the high school, segueing to the position of athletic director after a quarter century as coach.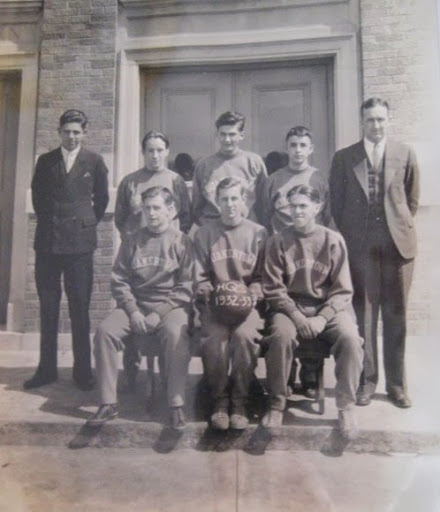 John O. Barth's 2nd team in the Bux-Mont [League], 1932-1933 (left)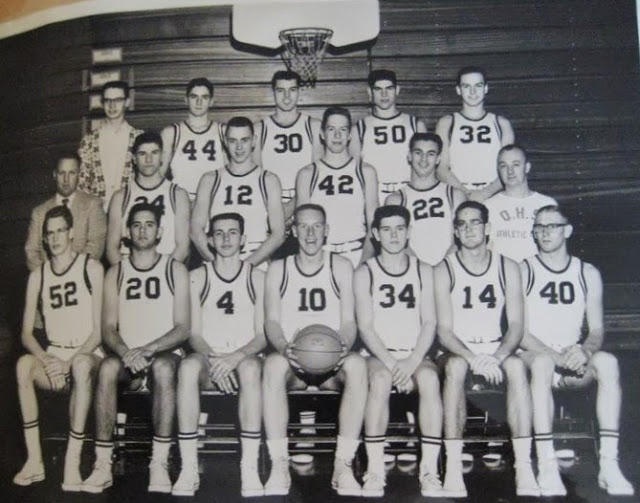 Another Barth-coached basketball team at Quakertown High School, decades later (right)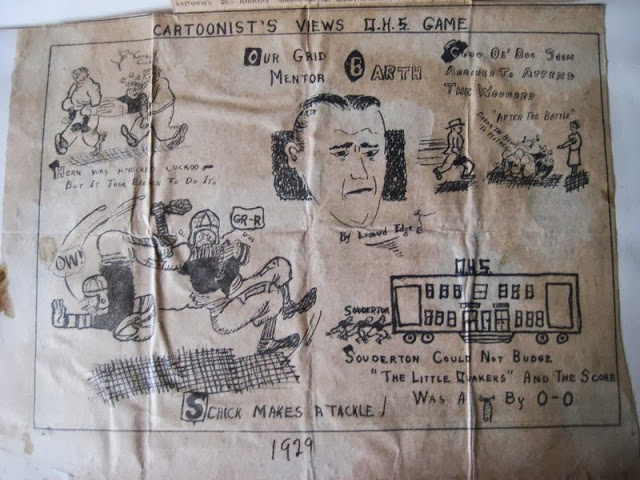 Graphic summary of a 1929 Quakertown High School football game by Leonard Edge, from the Q.H.S. student newspaper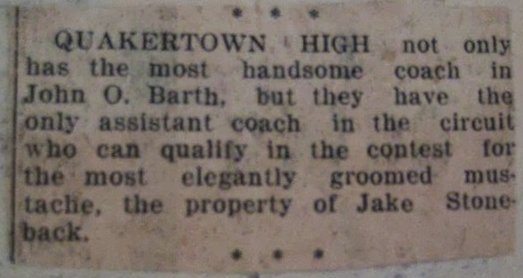 Barth was beloved by the boys he coached and by the community at large. He was inducted into both the Quakertown Teacher's Hall of Fame (1988) and the Pennridge-Quakertown Sports Hall of Fame (1990). Barth passed away in 1990 at the age of 87.
The John O. Barth Quakertown High School sports scrapbooks, located at the Quakertown Historical Society, tell the specific story of this dedicated and talented coach, but they also fit within broader narratives about the history of the local area, sports and recreation, and education. Since we found a similar collection of scrapbooks about high school girls' sports teams at the Bensalem Historical Society, Faith and I are starting to notice a pattern. Bucks County residents are, apparently, amazingly talented at sports, even at the high school level. All I have to say to that is, "Go Panthers!"
See all finding aids for Quakertown Historical Society
*Fox, George R. "Barth Should Be Remembered." The Free Press, April 23, 1988.