The Historical Society of Pennsylvania will be closed all of next week in observance of the Christmas holiday. That's why we wanted to take this time to wish all of you a wonderful holiday season. As we have often done in the past at this time of year, featured below are some of the Christmas inspired images we've seen in the archives of small repositories. Enjoy!
Christmas cards from the scrapbook of Florence Cox, circa 1940, at the Darby Free Library
Nurses at Grandview Hospital in Sellersville making Christmas cookies, 1932. Image from the Grand View Hospital Auxiliary collection at the Sellersville Museum.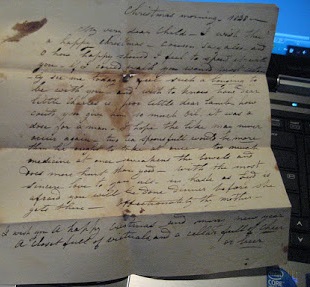 A letter at the Historical Society of Fort Washington written on Christmas morning 1838. "My very dear child- I wish thee a happy Christmas..."
A Christmas cookie recipe found at Glen Foerd
A sketch idea for a Christmas card from the Leon Clemmer records at Old York Road Historical Society