Newlin Grist Mill is the only historic site I know of where you can learn about history and do your grocery shopping all at once. The gift shop sells cornmeal ground on the site's 300 year old, still operational mill! 
The Newlin Grist Mill in Delaware County, Pa. has had many names during the two and a half centuries of its operation, including the Lower Mill, Society Mill, Markham Mill, and the Seventeen-O-Four Mill. It was built in 1704 by Nathaniel Newlin and remained in the Newlin family until the early 1800s. The mill was subsequently owned by several other families before being purchased in 1896 by John Hill, whose son Samuel N. Hill ran it as Concord Flour Mills. Concord Flour Mills ceased its operations in 1943.
The Dabbs Woodfin Library and Archives at Newlin Grist Mill holds a large archival collection of records from the Concord Flour Mills period and preceeding years, 1867 to 1941. Mostly consisting of financial records such as daybooks and ledgers, the collection also includes scattered Samuel N. Hill papers, mostly correspondence, invoices, and receipts, circa 1875-1920. Amongst the correspondence are some letters from a flour producer who is still very popular today: Pillsbury!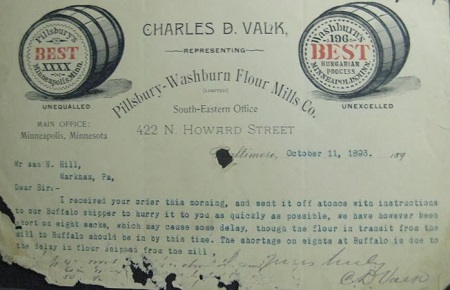 Letter from Charles D. Valk, representing Pillsbury-Washburn Flour Mills Co., to Samuel N. Hill, 1893
Samuel Hill sold Pillsbury as well as Concord Mills flour, although apparently not at the most favorable price. One disgruntled customer complained, "You are too high on Pillsbury's Best and that raises a doubt in my mind as to the price of the Concord."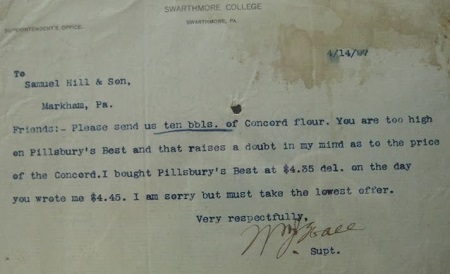 Letter from William J. Hall, Superintendent of Swarthmore College, to Samuel Hill & Son, 1897
Despite the concerns of that particular customer, Hill's business thrived, and Concord Flour Mills remained in operation for decades more before closing in 1943. Not long after the closure, in 1956, Nicholas Newlin descendant E. Mortimer Newlin purchased the mill and began renovating it. In 1960 he established the Nicholas Newlin Foundation, a nonprofit corporation which took title of the property. In 1984 the mill was recognized by the National Register of Historic Places.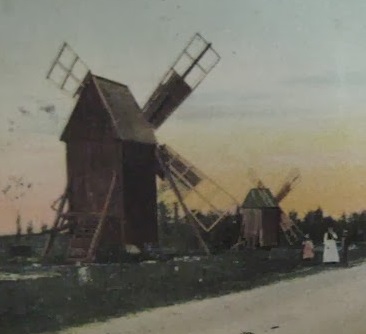 It is not surprising that Newlin Grist Mill holds a large quantity of records relating to its own history, but it is important to note that its Dabbs Woodfin Library and Archives is also the repository for the Society for the Preservation of Old Mills (SPOOM), a national organization founded in 1972 to promote interest in old mills. The SPOOM materials span nearly 100 linear feet and date from around the turn of the 20th century to the present, including assembled information on mills by location (photographs, clippings, research materials, and other documents), SPOOM institutional records, and sub-collections accumulated by individual SPOOM members.
Whether you are looking for information about Newlin Grist Mill or about any other mill in the United States, the Dabbs Woodfin Library and Archives is an exceptionally valuable resource. If you need to do a bit of grocery shopping as well, Newlin Grist Mill is doubly convenient! In addition to the cornmeal ground on-site, you can fish for trout in the Newlin Park pond. Bring your hunger for knowledge when you go to visit Newlin Grist Mill!