Wheat, Rye, Corn, Mix, Oats, or Corn Cobs? I know those options sounds delicious, but no, I'm not asking what you want for lunch. At a grist mill in the late 19th and early 20th centuries this would have been a familiar question. There used to be scores of mills, including about 20 grist mills, lining the banks of the Wissahickon Creek. Today, the Evans-Mumbower Mill is one of only a few that remain.
Abraham Evans built the first mill on the site in 1744. It passed through a quick succession of many owners and was rebuilt in the early 1800s before Henry Mumbower (1826-1892) purchased the mill in 1858. The mill would remain in the Mumbower family until about 1930. Henry's son, David Mumbower (1856-1930) operated the mill for most of his life. David's brother, Henry Mumbower, Jr., was also involved. The firm was, at times, known as Henry Mumbower, Henry Mumbower & Sons, D. Mumbower, and D. Mumbower & Bro.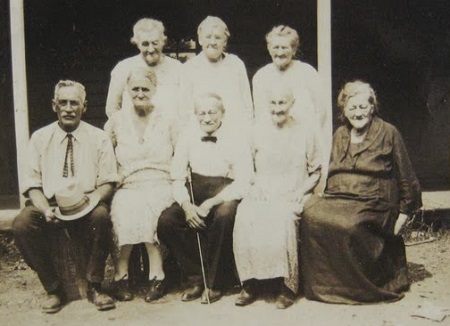 Mumbower "children" at family reunion, 1930. David Mumbower is in the center.
We know a lot about the daily operations of the mill because of an extant collection of ten ledgers dating from 1851 to 1920, roughly congruent with the period of the Mumbower family's ownership. There are a few account books, which organize transactions by customer name. Most of the volumes, however, are daybooks or "grist books," which list transactions chronologically.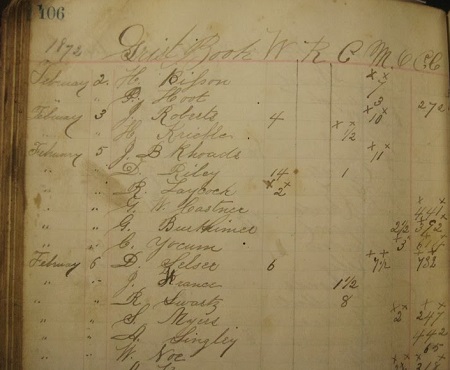 Page from Mumbower's Mill grist book (daybook), February 1872. The lettered columns represent Wheat, Rye, Corn, Mix, Oats, or Corn Cobs.
For scholars studying mills, the dawn of the industrial age in American history, or even trends in food (for people) and feed (for animals) preferences, the Mumbower's Mill ledgers could contribute to a fascinating study. Or, the collection could be useful to genealogists interested in seeing the transactions of their ancestors.
To see the ledgers for yourself, visit the Wissahickon Valley Watershed Association (WVWA). WVWA is also the steward of the Evans-Mumbower Mill structure, which is open for tours in the spring, summer, and fall.
See all finding aids for Wissahickon Valley Watershed Association