This past Friday, HCI-PSAR staff, including me, Celia, and project director Jack McCarthy, held a session about our project at the Mid-Atlantic Regional Archives Conference that was held here in Philadelphia. We were among many HSP staff who presented at the conference.
Our session included representatives from two Philadelphia repositories that participated in the project during the pilot phase (July 2011-September 2012): Erica Harman, the Archivist at Eastern State Penitentiary, and Bob Skiba, Archivist at the William Way LGBT Center's John J. Wilcox Library. Erica and Bob talked about their respective collections; how their participation in our project benefited them; and the projects that they are currently undertaking as well as those they plan to undertake as a result of their participation.
Jack McCarthy's presentation offered an overview of the HCI-PSAR project with information such as the fact that as of October 31, 2013, we have surveyed 93 small repositories (including 50 historical societies, 25 historic sites, 7 museums, and 11 other institutions with archival collections), 898 collections, and over 10,000 linear feet of materials. Not too shabby!
Celia and I focused on project specifics, including our workflow, deliverables, and findings and statistics that we've gathered.  Some interesting facts to share:
*Project Surveyors complete their survey work at a single repository in one day or less 65% of the time
*On average, each repository has about 10 collections
*About half of participating repositories have all-volunteer staffs
*Overall, repositories' archival materials are in good condition and are housed, stored, and organized appropriately
*On average, repositories do not have online finding aids or other collections descriptions (This provides confirmation that these archival collections are really hidden)
*95% of the repositories who responded to our feedback questionnaire said that the final report we provide them either met or exceeded their expectations
*All respondents said the report was at least somewhat likely or very likely to guide them in future work with their archival collections, such as processing, conservation, or applying for grants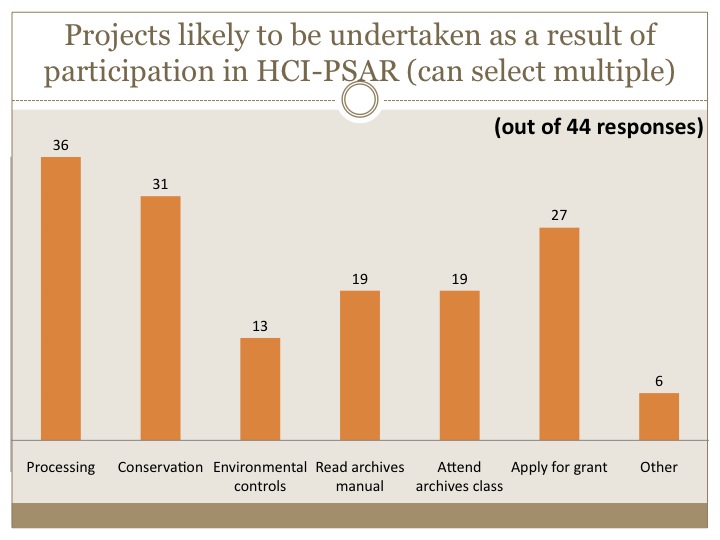 Over 2/3 of respondents who completed a questionnaire said that they will likely apply for a grant, engage in conservation efforts, and process collections as a result of their participation in the HCI-PSAR project
With regards to deliverables, Celia and I discussed our social media efforts, including our blog, Facebook page, and Twitter account; the resources that we have created for researchers, including a subject guide and newspaper listing; and resources that we have provided small repositories, such as the Resources page on our website and a processing internship that we started this fall.
All in all, I think we can confidently say that HCI-PSAR is going really well, and is poised to continue to do so as the project heads into the final year of its second phase.
Sadly, I will not be able to see Phase II until its end as I am beginning a position at Princeton University's Library. I really enjoyed visiting the many unique and interesting organizations located in the Philadelphia area and surveying their archival collections. A couple collections that I found particularly interesting include:
The William Edgar Geil papers, 1886-2013 (bulk 1900-1910), Doylestown Historical Society. Often referred to as "America's Forgotten Explorer," William Geil (1865-1925) was an evangelical missionary and international explorer from Doylestown, Bucks County, Pennsylvania who was most likely the first individual to travel the entire Great Wall of China (in 1908). He was meticulous in documenting his travels through writings and photographs. The collection includes nearly 2,000 photographs; book preparation materials covering all phases of the editorial process; diaries and field notes; personal correspondence; newspaper clippings; and artwork.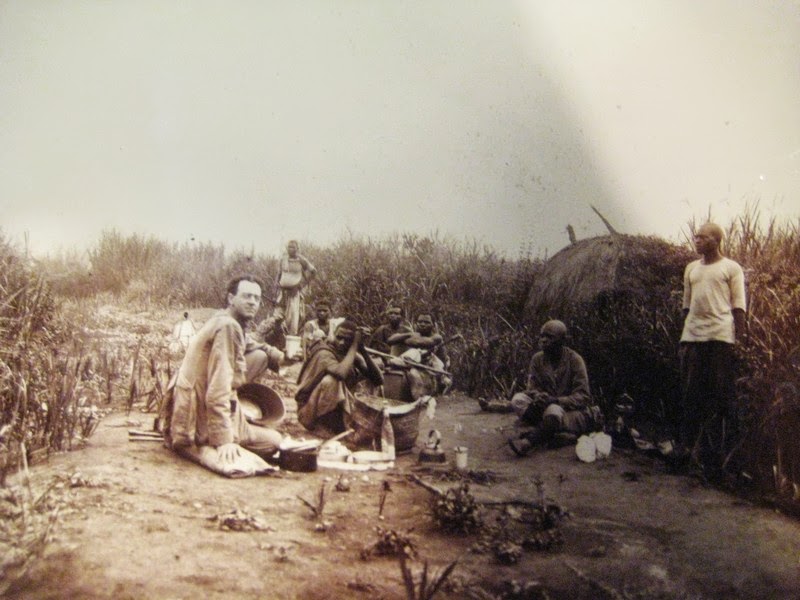 Henry Shmith scrapbooks, 1924-1979 (bulk 1950-1975), Delaware County Historical Society. Shmith's scrapbooks provide an intimate view into the life of a German immigrant in post-WWII America. Born in 1899, Henry Shmith traveled extensively--he loved to sail--working as a professional chef in some high circles in the Delaware Valley region, and frequently returning to Germany for visits. The scrapbooks, which consist of about 20 volumes, include photographs and clippings, ephemera, stamps, greeting cards, and letters that focus on areas in the Delaware Valley or in and around Germany.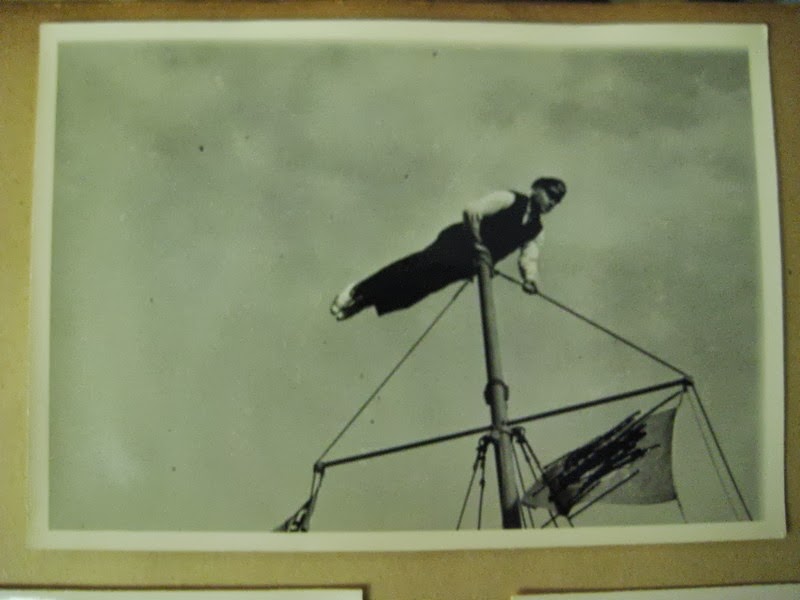 Last but not least: The Wharton Esherick family papers, 1905-2013 (bulk, 1925-1970), Wharton Esherick Museum. Wharton Esherick (1887-1970) was a sculptor who worked primarily in wood, readily extending his unique forms to furniture, furnishings, utensils, interiors and buildings, creating sculptural environments. He has been called the link between the Arts and Crafts Movement and the resurgent interest in furniture making following World War II; the dean of American craftsmen; and the foundation of the current Studio Furniture Movement. The collection consists of photographs, work documentation, correspondence, financial papers, publicity clippings, and other materials that primarily document Esherick's work and to a lesser extent his personal life and the personal life of his immediate family.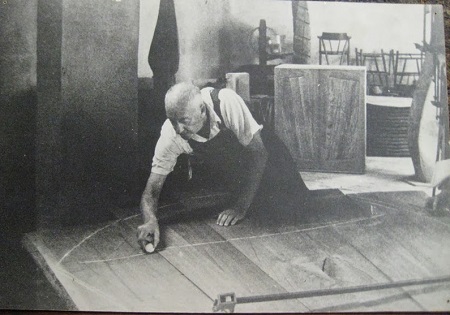 Although I will no longer be working on the HCI-PSAR project, I am definitely planning to stay abreast of its happenings as the project continues to go full steam ahead! Also, be on the lookout for a couple more blog posts from me about more intriguing sites that we've visited during the past few weeks. (I know you'll be waiting for them with bated breath! ;) )
Arrivaderla!