Chadds Ford in Delaware County, Pennsylvania is renowned as the home of the Brandywine School. The influential American illustrator Howard Pyle held art classes in the area around the turn of the 20th century, attracting an extensive list of important artists including Maxfield Parrish, Violet Oakley, and N.C. Wyeth.
(Violet Oakley's is a familiar name to us on the HCI-PSAR project: her name keeps popping up throughout our surveying--and her sketchbooks are at HSP. The image above is a watercolor by Violet Oakley, "Joy Followed by Tears," held at Glen Foerd.)
The Chadds Ford Historical Society is dedicated to preserving the history of Chadds Ford. This includes well-known events in the area's past, such as the founding of the Brandywine School and the Revolutionary War Battle of the Brandywine (for which the Society holds research files and records from the Brandywine Battlefield Task Force). It also means preserving the more routine aspects of history. My favorite archival collection at the Chadds Ford Historical Society doesn't have a big name attached to it, but nonetheless represents a significant resource: the Dr. Benjamin S. and Dr. Isaac Anderson account books, 1821-1905. 
Dr. Isaac Anderson (1796-1865) and his son Dr. Benjamin Smith Anderson (1821-1894) were both eminent physicians who practiced in Delaware County, Pennsylvania. Their collection consists of 32 volumes, mostly ledgers of medical practice from Drs. Isaac and Benjamin S. For someone studying the history of medical practice and its intersection with socio-cultural history, à la A Midwife's Tale, these journals covering a father and son's practice for about 2/3 of a century could be invaluable. There are also several ledgers of farm, business, real estate, and other transactions, and some volumes from other family members.
Confirming the status of Chadds Ford as a legendary muse, this collection includes illustrations by a young artist apparently inspired by the area's landscape.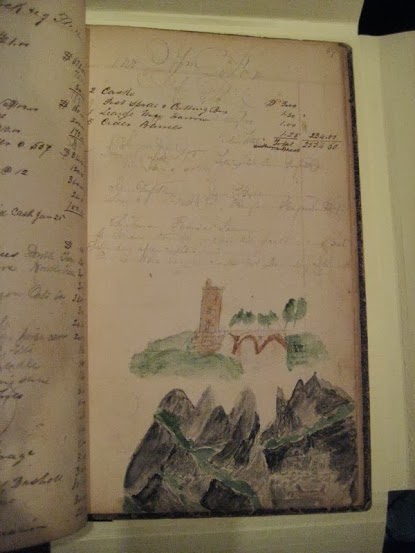 Of course, this crude artwork is the handiwork of a child, not a professional artist. Young Edward Lane Anderson commandeered blank space found in ledgers belonging to his father, Dr. Benjamin S. Anderson, to pursue his hobby. In the end, like his father--and grandfather before him--Edward would grow up to become a doctor. Lacking any comparison based on artistic ability, the Andersons do parallel the Wyeth's three generations of artistry with their medical dynasty.