It's tough being a holiday in June.  Just ask Flag Day.  Between Memorial Day and July 4th, people are out and about, vacationing, ending classes, and celebrating the beginning of summer.  Nobody has time to pay the ol' Red, White, and Blue any mind. 
June 14th marks more than just the middle of June.  On June 14, 1777, the Second Continental Congress approved the design of a national flag.  They "resolved, that the Flag of the thirteen United States shall be thirteen stripes, alternate red and white; that the Union be thirteen stars, white on a blue field, representing a new constellation."  This is the flag that was reportedly sewn by Betsy Ross in Philadelphia.  The well known naval lieutenant John Paul Jones was the first to display the new American flag overseas in France in 1778.
However Flag Day didn't become a holiday overnight. It took well over one hundred years before Flag Day was formally recognized.
In 1916, President Woodrow Wilson issued a proclamation establishing Flag Day on June 14.  (This same year Wilson also declared, by executive order, that the Star Spangled Banner be played at military and other official ceremonies.)  But it wasn't until 1949 that Congressional legislation designating a national Flag Day was passed and was recognized by President Harry Truman.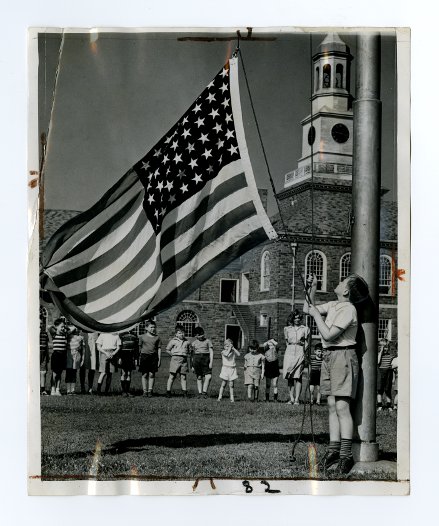 Bernard J. Cigrand, a Wisconsin grade school teacher, is often credited with the first Flag Day celebration in 1885.  William T. Kerr, of Pittsburgh, formed an American Flag Day Association of Western Pennsylvania in 1888, and was a leader in establishing the National American Flag Day Association in 1898.  Kerr served as president of the association for more than fifty years and he participated in the August 3, 1949 ceremony with President Truman.
So as you're enjoying your summer vacation, or waiting impatiently for it to start, take a moment on the 14th to remember the flag.  It has changed as over the years, but its symbolism and importance remain the same.