Before Stonewall, and long before the Christopher Street Pride Parade, there was Annual Reminder Day – a Philadelphia-based demonstration where gay men and lesbians protested for the same civil rights granted to their fellow heterosexuals.
The 50th anniversary of the first Annual Reminder Day, which occurred every July 4 from 1965 to 1969 in front of Independence Hall, inspired "Speaking Out for Equality: The Constitution, Gay Rights, and the Supreme Court," the new exhibit at the National Constitution Center.
One cannot underestimate the bravery exhibited by the demonstrators at the first Annual Reminder back in 1965. Visibly exposing oneself as a homosexual risked disastrous consequences, both personal and professional. If you weren't "passing" as an heterosexual American, you were inviting trouble.
And it's no surprise that in light of how potentially dangerous this visibility could be for the demonstration's activists, the way in which activists represented themselves during the Reminder picket became extremely important.
Surprising to those familiar with gay pride parades across the country, the Reminder Day picketers were bound to a strict dress code – ties and jackets for men, dresses for women. Organizer Frank Kameny also instructed demonstrators to picket in a single-file line.
"We didn't want people to gawk at us," explained Kameny, who aimed to give onlookers the impression that the demonstration's participants were, in his words, "employable." "We wanted them to gawk at the message on our signs and in our leaflets," he continued.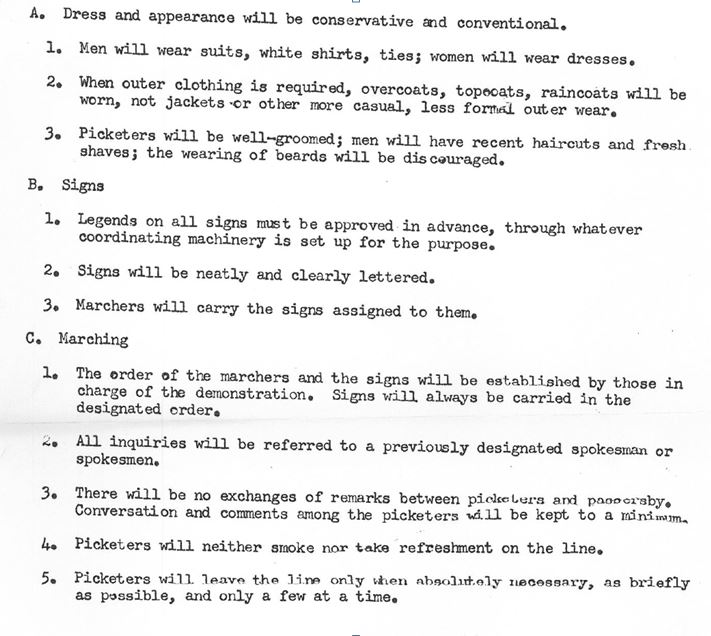 A copy of Frank Kameny's original dress code, courtesy of Bob Skiva at the John J. Wilcox Jr. Archives
Also important to Kameny was the time and place of the Annual Reminder Day demonstrations. The picketing occurred after the city's Independence Day parade, right in front of Independence Hall and the Liberty Bell, places which Kameny knew had an enduring symbolic appeal as emblems of the struggle for freedom.
When the flag-bearing – one of the most salient and sacred portions of the Independence Day parade – occurred during the demonstration, protestors would lower their signs, stand still, and place their right hand over their hearts, all in an attempt to communicate that they, too, were first-class citizens, and not just marginal people.
One could argue that this presentation was effective – the Annual Reminder Day demonstrations carried on in an overall orderly manner for the next three years. Each year, several more LGTBQ citizens would show up, growing from an initial group of about a dozen demonstrators to totals in the range of forty and fifty.
Then, Stonewall happened. Everything changed.
Often cited as the "true" beginning of the gay civil rights movement, the Stonewall riots were a series of aggressive, spontaneous demonstrations against an early morning police raid of the Stonewall Inn in New York City on June 28, 1969. These demonstrations were a sharp contrast to the orderly nature of the Annual Reminder Day; their participants seemed less interested in the idea of equality and more focused on the idea of liberation.
Less than a week later, a group of about forty or so gay men and lesbians from New York City chartered a bus to Philadelphia to participate in that year's Annual Reminder Day. The changing tides of the gay civil rights movement increased the number of demonstrators at 1969's Annual Reminder Day to nearly 150 participants, a number dwarfed by today's standards, but thrilling for veterans of the protests, such as Barbara Gittings.
The precise, orderly nature of the demonstration, however, struck many of these justifiably angry New Yorkers as overly decorous and mild-mannered. Most annoying to them was the still-honored dress code.
A pivotal moment occurred when two women decided to hold hands while demonstrating, breaking the rule of picketing in a single-file fashion. Organizer Frank Kameny demanded that the two women walk separately; his angered reaction was met first with quiet rage, and then with a total disregard for the Annual Reminder Day policies, with many demonstrators holding hands with their same-sex partners while picketing.
Once these rules had been shirked, there was no looking back. The following November, at the East Coast Homophile Organization's movement, Annual Reminder Day was phased out, and the Christopher Street Pride Parade was born.
The first Christopher Street Pride Parade in New York City in 1970 is now considered legendary, chockfull of confrontational activism, including dances, political meetings, a wild parade, and erotic art shows. Held on June 28, it visibly reflected the liberationist style of protest, with longhaired, shirtless protestors holding signs demanding GAY POWER and engaging in open drug use.
And while the precedent set by the first Christopher Street Pride Parade would go on to define the nature in which Pride functions nationwide were conducted to this day, it is important to remember not only the circumstances under which the first Annual Reminder Day took place, but the bravery it took these original demonstrators to flaunt their visibility as homosexuals.
As LGTBQ activist Barbara Gittings described in the documentary Gay Pioneers, "Coming out in a picket line in 1965 was downright revolutionary for that time. It took gumption, it really took gumption and the conviction that we were right [and] the world was wrong. We were just at the start of cracking that cocoon of invisibility."