by Timothy J. Lombardo
This article was published in the fall 2018 issue of Pennsylvania Legacies (vol. 18, no 2): Protest in 1960s Pennsylvania.
A large crowd gathered near the intersection of 22nd Street and Columbia Avenue in North Philadelphia on a steamy night in late August 1964. Police had responded to a call reporting a stalled vehicle and attempted to arrest its occupants after finding them uncooperative. This seemingly routine police action was the latest in a long series of tense encounters between African American communities and urban police forces. Years of distrust allowed unfounded rumors to spread throughout North Philadelphia that a white police officer had beaten and shot a pregnant woman. Before long, the area around 22nd and Columbia erupted into a large-scale urban uprising. Another two nights of rioting and looting followed. All told, the uprising lasted nearly three days, resulted in over 300 arrests, caused more than $3 million in property damage, and led to two deaths and over 300 injuries.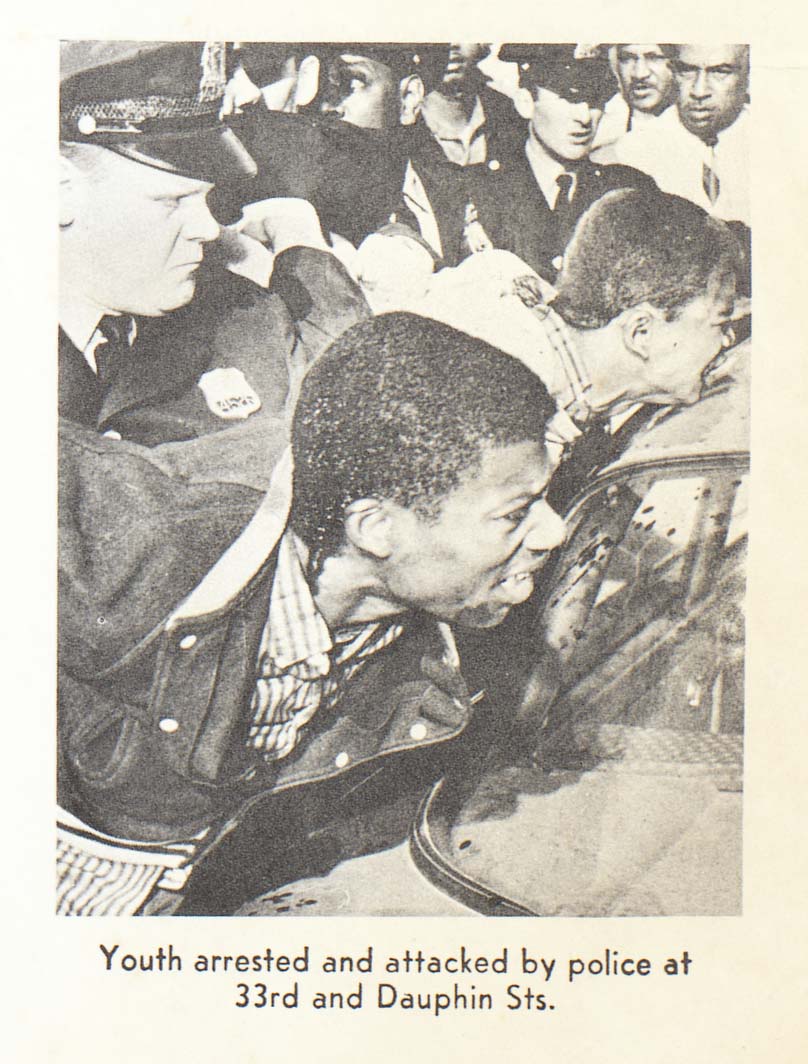 Philadelphia police officers push two African American youths against a car during the "Columbia Avenue Riots" of August 1964. Detail from "Fact Sheet" published during Rizzo's 1971 mayoral campaign. Thelma McDaniel Collection.
The so-called "Columbia Avenue Riot" was emblematic of a broader period of unrest in American cities in the 1960s; 163 similar uprisings struck American cities between 1964 and 1967. In ways large and small, they were the result of inequalities built into American urban social, political, and law enforcement systems. They also marked a key turning point in the nation's history. On the one hand, these urban uprisings shattered the myth that recent court decisions, landmark legislation, and social policies had succeeded in alleviating the conditions that created endemic racial inequality in the nation's cities. As a result, they hastened a move to a more militant push for civil rights. On the other hand, the uprisings also amplified a growing clamor for "law and order" from those who viewed the disturbances as little more than disorder and disrespect for law enforcement. These uprisings became touchstones for the problems that plagued nation's cities and another example of the social, cultural, and political divides that marked America in the Sixties.  
Portrait of Frank Rizzo, Philadelphia Magazine, July 1967. Richardson Dilworth Papers.
All of the major shifts in the American politics and culture in the 1960s were indelibly tied to the most transformative struggle of them all: the movement for African American civil rights. While the Black Freedom Struggle is often imagined as a primarily southern struggle against Jim Crow segregation, cities like Philadelphia likewise fostered broad-based movements that began as protests against segregation and expanded to broader calls for police accountability and urban power. At the same time, however, the reaction to challenges raised by the civil rights movement spurred the rise of an equally transformative conservative political movement. In Philadelphia, this was personified in the rise of Frank Rizzo. Calling himself the "toughest cop in America," Rizzo first rose through the ranks of the Philadelphia Police Department to serve as police commissioner in the late 1960s before using his police work as a springboard to a two-term mayoralty in the 1970s.
The rise of Frank Rizzo is an illustrative example of how thoroughly linked the rise of modern conservatism was to the militarization of civil rights activism in the United States. In Philadelphia, nothing made this clearer than the rising clamor for "law and order" as civil rights activists in the mid-to-late 1960s found themselves in a series of high-profile confrontations with Rizzo and the Philadelphia police. "Law and order" became a central part of the rise of conservatism on a national scale. Locally, the slogan boosted Rizzo's career and laid the groundwork for his shift from law enforcement to politics.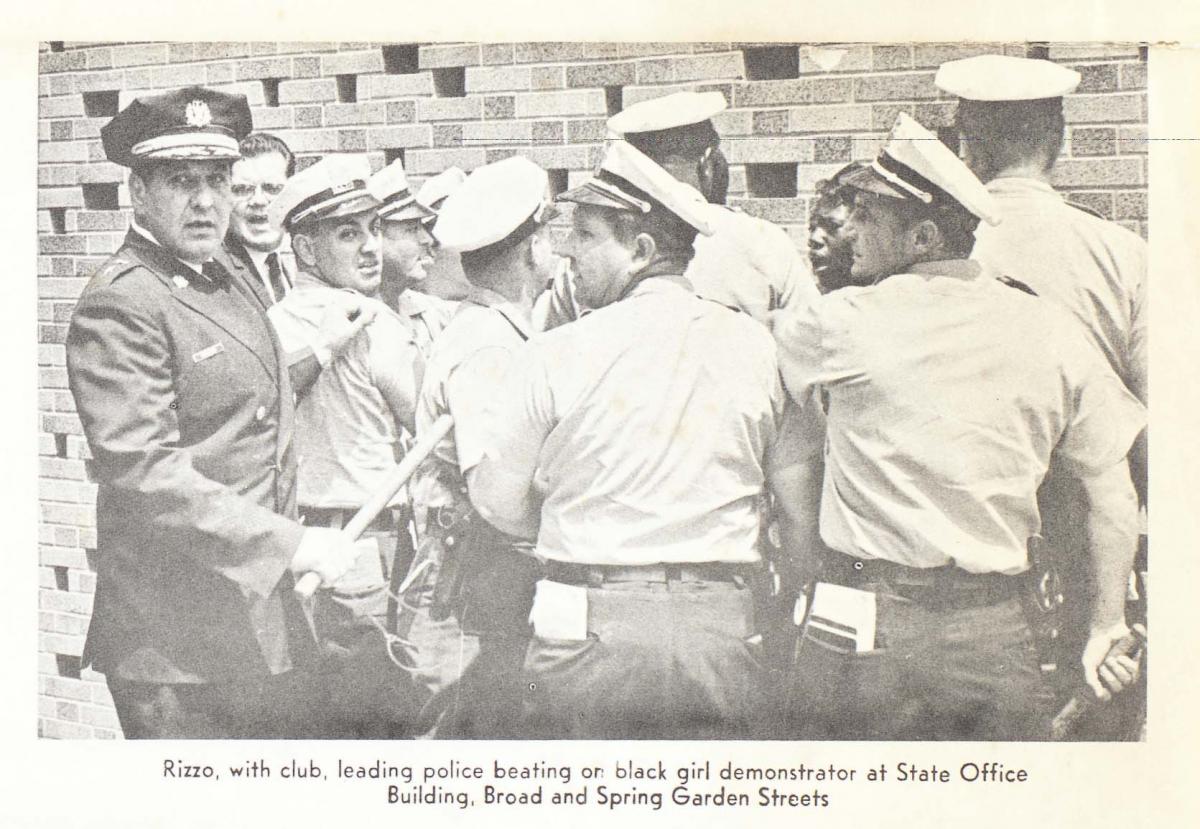 Baton-wielding police officers, including Rizzo, surround a young woman demonstrating to desegregate Girard College in July 1965. Detail from "Fact Sheet" published during Rizzo's 1971 mayoral campaign. Thelma McDaniel Collection.
One of the first events that pitted civil rights activists against Rizzo were the protests at Girard College, an all-white boarding school for orphaned boys located in majority North Philadelphia. Girard College was a powerful symbol of African Americans' exclusion from the city's white power structure. Its segregation stemmed from the century-old will of 19th-century Philadelphia banker and financier, Stephen Girard, which mandated that institution remain open exclusively to white orphaned boys. Confounding Girard's will, governance of the school passed to Philadelphia's Board of City Trust. When the landmark Brown v. Board of Education Supreme Court decision outlawed publicly-administered educational institutions, moderate civil rights leaders mounted a legal effort to integrate Girard College. The Board of City Trust then circumvented the Brown decision by turning control over the school to a private board made up of school alumni. With legal options thwarted, by the mid-1960s more militant civil rights activists, led by the fiery head of Philadelphia's National Association for the Advancement of Colored People (NAACP), Cecil B. Moore, began a direct-action campaign to protest Girard College's segregation.
Outspoken and brash, Cecil B. Moore had a more confrontational approach to civil rights activism than most NAACP leaders across the country. He often found himself at odds with moderates and liberals. He was also a frequent critic of the Philadelphia Police Department, which he blamed for years of deteriorating conditions that led to the Columbia Avenue Riot. Moore's more direct approach and forceful rhetoric found an audience among a growing segment of African Americans who had lost faith in working through traditional avenues of power. Between May and December 1965, Moore led marches and gave impassioned speeches outside Girard College. His activism brought him into regular confrontation with then-Deputy Commissioner of the Philadelphia Police, Frank Rizzo, who led the police response to the protests. The Girard College protests cemented Moore's role as the leader of Philadelphia's increasingly militant civil rights movement. They also secured Rizzo's reputation as the face of the police and a protector of "traditional values."
Moore's aggressive campaign and Rizzo's equally aggressive policing made for a volatile situation. On several occasions, the demonstrations led to shoving matches, arrests, and incidents of the police clubbing young protestors. Rizzo maintained that the police only worked to uphold "law and order," not segregation. To his critics, however, Rizzo's actions spoke louder than his words. Civil rights leaders increasingly viewed Rizzo as their enemy. That became clear when the Girard College protests flared up in July 1965 in front of the State Office Building, where Philadelphia Mayor James H. J. Tate was meeting to discuss the situation with Pennsylvania Governor William Scranton. Demonstrators specifically targeted Rizzo, and a scuffle between the police and protestors left Rizzo with a bloodied hand. Staying on the scene and refusing immediate medical attention, Rizzo cemented his growing reputation among detractors and supporters alike. John Harrington, the president of Philadelphia's Fraternal Order of Police, asked Mayor Tate to give him a commendation and called Rizzo "an outstanding example of one of our best policemen."
Cecil B. Moore and the protesters would eventually win their battle to integrate one of the city's oldest segregated institutions in 1968, when Girard College trustees admitted their first African American child. It was but a fleeting victory, however, because the protests also helped spur the rise of Frank Rizzo, who would go on to use his positions in law enforcement and politics to become one of the most powerful defenders of white institutions in Philadelphia history.  In the process, however, they helped spur the rise of one of the greatest protectors of white traditions in Philadelphia history.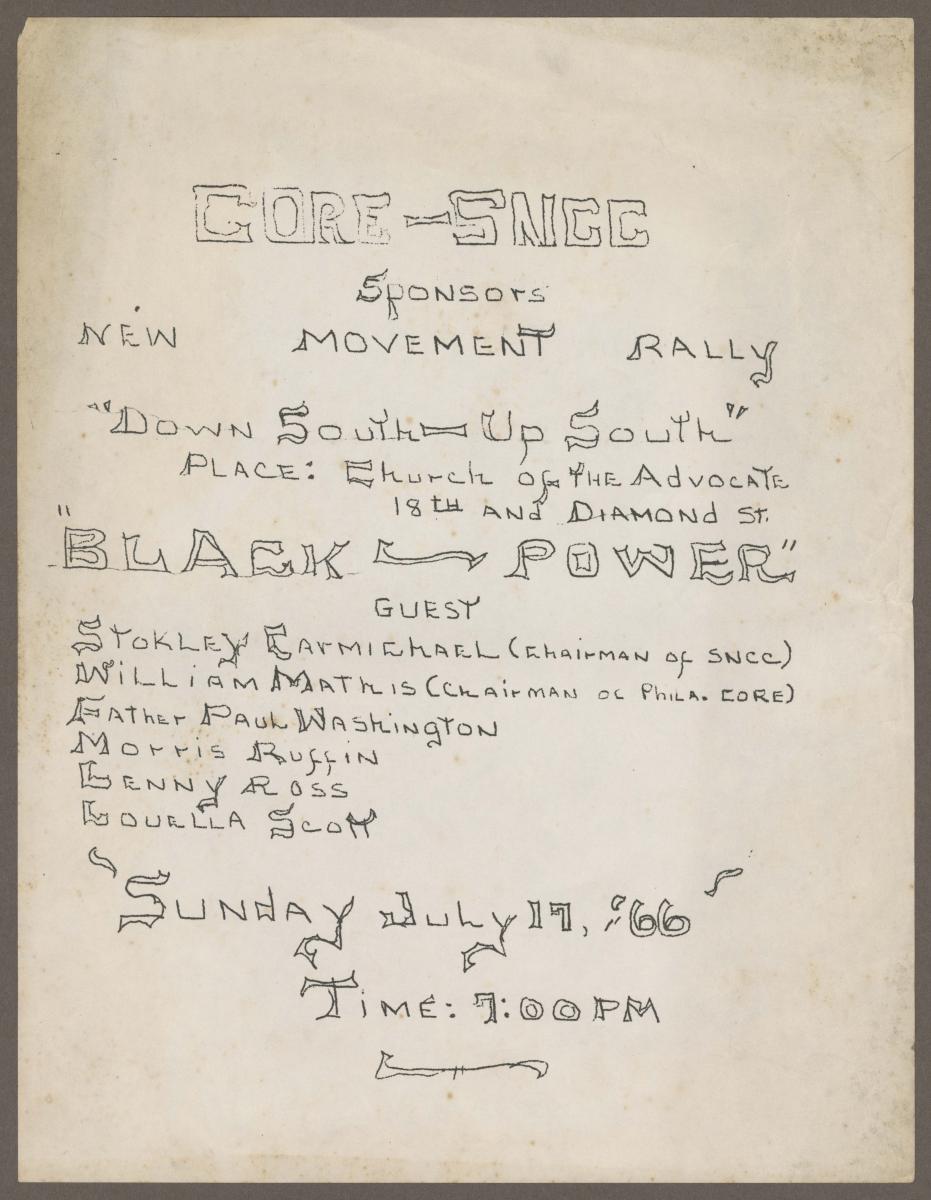 Flyer for CORE-SNCC Black Power event in Philadelphia, July 1966. Thelma McDaniel Collection.
Rizzo got his first opportunity to lead the Philadelphia Police Department in August 1966, while then-commissioner Edward J. Bell was vacationing. Not letting the opportunity go to waste, Rizzo orchestrated a series of raids against the city's chapter of the Student Nonviolent Coordinating Committee (SNCC), an organization that had been at the vanguard of the national student civil rights movement since the early 1960s. SNCC national chairman Stokely Carmichael had recently begun using the phrase "Black Power" and turning the organization's focus toward police action against civil rights demonstrations. Rizzo claimed local SNCC activists were stockpiling arms and preparing for an assault on police. In truth, he wanted to end the Black Power movement in Philadelphia before it started. The police raided four homes in North Philadelphia, where they claimed to find a few sticks of dynamite. SNCC immediately claimed that the police had planted the explosives, but Rizzo nevertheless charged four local SNCC leaders with plotting to blow up Independence Hall. Stokely Carmichael came to Philadelphia in response. Denouncing the actions of "racist Rizzo," Carmichael promised continued protests against the Philadelphia police. The cases against the SNCC members failed due to lack of evidence, but the damage had been done. Rizzo promised to get even tougher on militant civil rights activists, and SNCC all but disappeared as a local organization.
Rizzo's confrontations with militant civil rights leaders made him a hero to the Philadelphians who demanded "law and order." They also ensured his rise through the police department. When Edward Bell retired due to illness, Tate appointed Rizzo acting commissioner and promised he would have a "free hand" in running the department. As the Democratic mayor faced a tough reelection bid in 1967, Tate made retaining Rizzo as police commissioner a centerpiece of his campaign. Meanwhile, civil rights and Black Power activists held a series of rallies in predominantly African American schools. In addition to workshops on black pride and black history, the rallies also supported Cecil B. Moore's third-party campaign for mayor.
Preferring street-level police work over the administrative duties that came with being police commissioner, Rizzo personally monitored several school rallies. The largest and most volatile occurred on November 17, 1967, just days after Tate won one of the closest elections in the city's history. On that morning, African American students gathered at their schools and marched to the Board of Education building in Center City Philadelphia, where they demanded more black teachers, the inclusion of African American history to the curriculum, and permission to celebrate their African heritage. By noon, over 3,500 students had arrived. Superintendent Mark Shedd and Board of Education president Richardson Dilworth—a longtime liberal politician and James Tate's mayoral predecessor—sought to end the demonstration by inviting student leaders to meet with them. But while Shedd and Dilworth attempted to negotiate a peaceful settlement, Rizzo and the police arrived intent on quashing the protest. When two boys climbed on top of a parked car, witnesses heard Rizzo exclaim "Get their black asses!" before leading the charge into the crowd. Critics, including Shedd, characterized the ensuing violence as a "police riot."
While liberals and civil rights activists decried Rizzo and the police action, his white supporters believed Rizzo was helping to restore "law and order" in the schools by thwarting the influence of Black Power activists. James Tate received numerous messages of support for Rizzo from the city's white, blue-collar neighborhoods. Despite the controversy surrounding the police action at the student demonstration, the outcry of support for Rizzo convinced Tate to keep his campaign promise. He officially named Rizzo police commissioner on December 21, 1967.
Following the beatings of student demonstrators in November 1967, this flyer encouraged Philadelphians to boycott local businesses until Rizzo was fired. Thelma McDaniel Collection.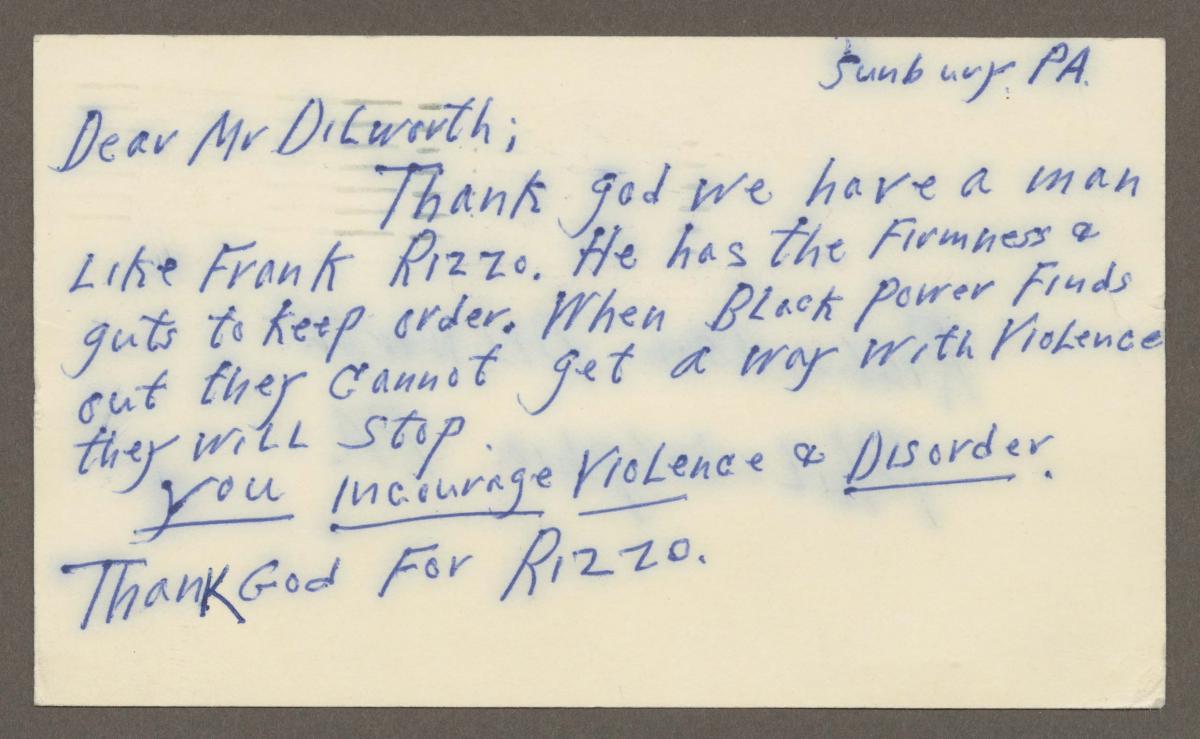 "Thank God For Rizzo," writes the anonymous author of this postcard to Philadelphia Board of Education President Richardson Dilworth following the student protests and police action of November 18, 1967. Richardson Dilworth Papers.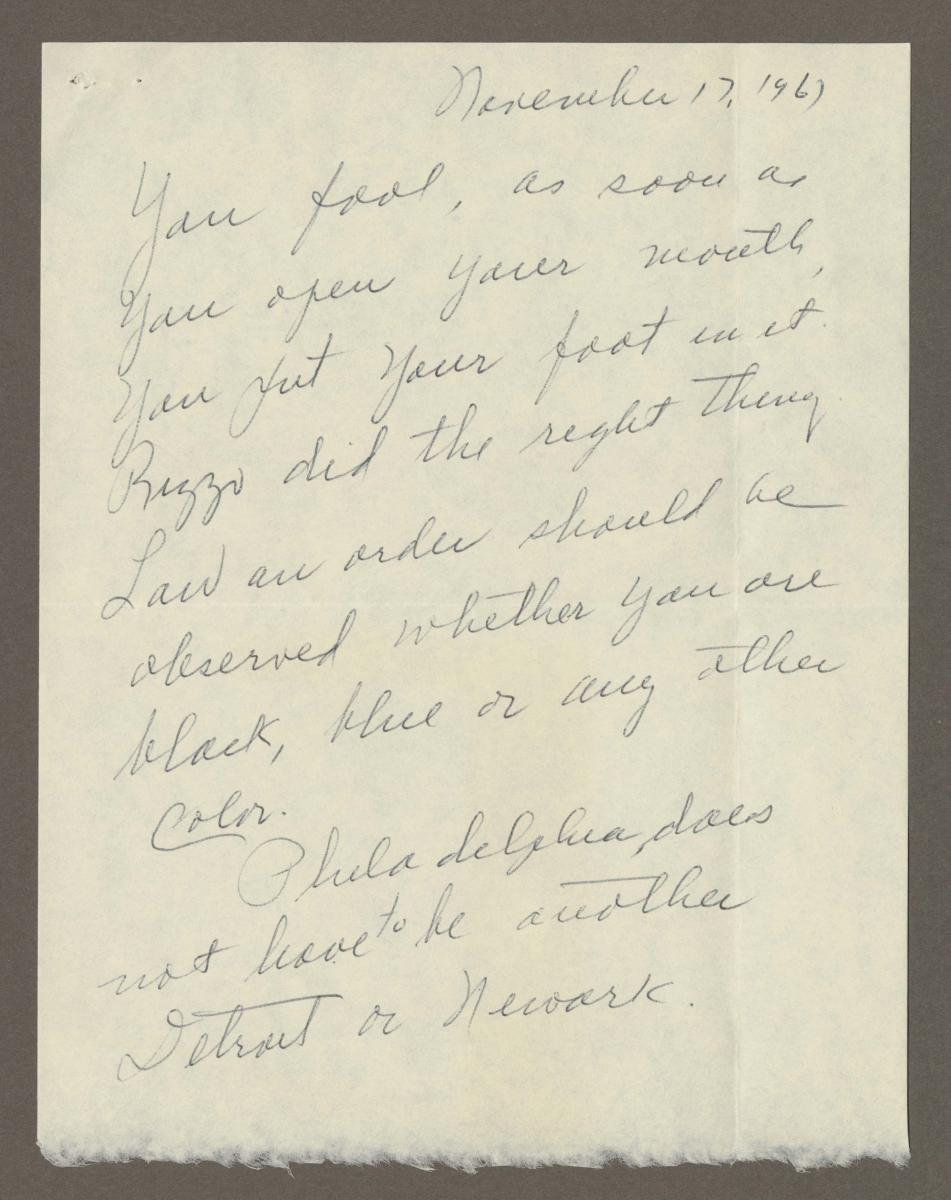 "Rizzo did the right thing. Law and order should be observed whether you are black, blue or any other color," writes "A mother" following the 1967 Philadelphia public school riots. Richardson Dilworth Papers.
The politics of "law and order" reached their national peak soon thereafter, as Richard Nixon adopted the slogan and put it at the center of his conservative campaign for president in 1968. His electoral win was a clear sign that "law and order" was a key factor in the conservative ascendancy. In Philadelphia, Frank Rizzo's "law and order" tenure as police commissioner provoked a renewed, even more militant response to police brutality among young African American activists, including the rise of the Black Panther Party in Philadelphia. In the few years since their founding in Oakland, California, the Black Panthers had become the most emblematic Black Power organization in the United States. Their revolutionary image, which included brandishing guns, wearing paramilitary garb, and warning of urban warfare with police, was especially attractive to the young activists who saw Rizzo's law enforcement and Nixon's election as part of a broader attack on the civil rights movement.
The Black Panthers' reputation preceded the Philadelphia chapter, helping to raise the specter of revolutionary action in the city. In fact, the local Black Panther Party attracted the attention of the wider Black Power movement when the organization's national leadership scheduled a Revolutionary People's Constitutional Convention in Philadelphia for September 1970. Rizzo made it a personal and professional goal to stop the gathering. He found the pretense for quashing both the convention and the local Black Panther Party after a violent weekend in late August 1970 left four police officers dead or wounded. Without evidence, Rizzo said the two nights of shootings were the work of a "band of organized revolutionaries." There was no link between the Black Panthers and the murders, but Rizzo equated violence against the police with black militancy. He immediately ordered raids on Black Panther headquarters. Police forced Black Panthers to strip naked at gunpoint in North Philadelphia. Photographers snapped pictures of the Black Panthers stripped not only of their clothes but of their revolutionary image. Once again, it seemed Rizzo had stopped a threat to "law and order." The Revolutionary People's Convention went on, but under intense police surveillance. Little resulted from the subdued event, and the local Black Panther Party soon disbanded.
Pamphlet promoting the Revolutionary People's Constitutional Convention in Philadelphia, September 1970. Rizzo directed police to raid the offices of the Black Panther Party before this meeting. Thelma McDaniel Collection.
Rizzo's reputation as a tough police commissioner who upheld "law and order" in the face of threats from black radicals allowed him to make the leap from law enforcement to politics. When rumors began to circulate that Rizzo might make his first run for mayor, longtime ally and fellow policeman John Harrington said "it wouldn't matter what ticket he ran on. He would have the backing of the silent majority that is fed up with permissiveness. A vote for Rizzo would be a vote for security." Although Rizzo ran for mayor and won as a Democrat in 1971, he nevertheless represented a shift to the political right. Rizzo's election, like that of his political ally Richard Nixon (Rizzo broke with his party to campaign for Nixon in 1972 and called him the greatest president in American history), showed how "law and order" politics heralded the rise of conservatism. As mayor, he expanded his conservative politics to include opposition to school desegregation, affirmative action, public housing, and other liberal programs he claimed gave "special privileges" to people of color. The roots of his politics and appeal, however, remain steeped in the confrontations between police and black activists in Philadelphia in the Sixties.
The long aftershocks of the Sixties era have yet to subside. Those divisions evident in the mutually constituted rise of civil rights militancy and "law and order" conservativism have arguably had some of the most long-lasting consequences. As renewed attention to police procedures and accountability has galvanized the rise of the Black Lives Matter movement, it has provoked an equally strong reaction from defenders of the police, who have often reacted with the slogan "Blue Lives Matter." Donald Trump made the connection even more explicit, first during his 2016 campaign for the presidency when he nodded to the politics of the 1960s by promising a return to "law and order" and, more recently, by deriding black athletes who have used their public platforms to bring attention to the issue of police brutality. These controversies have dominated news cycles for the past few years and show no sign of abating. Rather than see them as signs of a newly divisive political culture or the product of social-media driven outrage, we would be best to consider these events as a modern continuation of the still-unsettled turmoil unleashed in cities like Philadelphia in the Sixties.
"Stop Police Abuse" poster (circa 1978) listing individuals beaten, killed, or attacked by Philadelphia police. Thelma McDaniel Collection.
Timothy J. Lombardo is a Philadelphia native and an assistant professor of history at the University of South Alabama. His first book is Blue-Collar Conservatism: Frank Rizzo's Philadelphia and Populist Politics (University of Pennsylvania Press, 2018).
This article was published in the fall 2018 issue of Pennsylvania Legacies (vol. 18, no 2): Protest in 1960s Pennsylvania. Learn more and subscribe.