March 9, 2019 marks the 200th anniversary of the destruction of Philadelphia's original Masonic Hall. Erected in 1809 on Chestnut Street, the grand, gothic revivalist structure was designed by William Strickland, the famed architect behind many iconic buildings in Philadelphia including the Second Bank of the United States and the Merchants' Exchange. 
The hall served as a meeting place for the Freemasons, a fraternal society steeped in history. The Freemasons date back to medieval England when stonemasons banded together to set professional standards for their craft and ensure fair trade practices. This precursor to modern day trade unions evolved over time, gaining popularity among upper middle-class circles in Europe as a club that fostered Enlightenment principles.
The first reference to Freemasons in Philadelphia appeared in 1715, when John Moore—the Collector of the Port of Philadelphia—wrote in his journal that he "spent a few evenings of Masonic festivities with my Masonic Brethren." Benjamin Franklin's Pennsylvania Gazette printed information on Philadelphia's Masonic lodges in the 1730s, and by the middle of the 18th century Grand Master Freemasons in England were bestowing leadership titles on prominent colonists. 
As the nation's capital and seat of commercial power, Philadelphia witnessed a significant expansion in the organization's membership in the wake of the American Revolution. Strickland's Masonic Hall replaced the Freemason's headquarters on Filbert Street in order to accommodate the group's growing ranks during this period. The prestige associated with Freemasonry stemmed in part from the group's famous American adherents; George Washington and Benjamin Franklin were both members.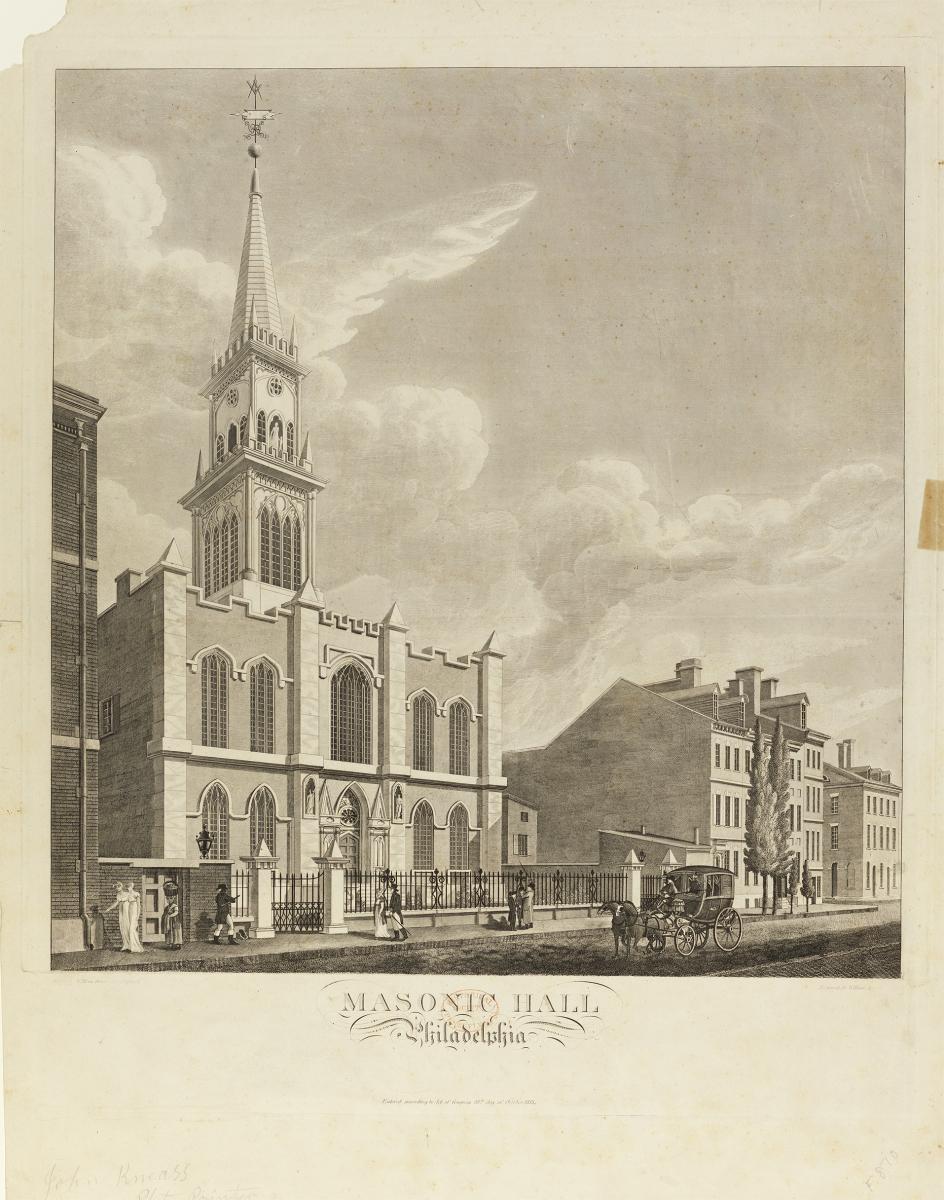 "Masonic Hall, Philadelphia," lithograph (1813), HSP large graphics collection (Call number Bc 05 S917a), Historical Society of Pennsylvania.
Sadly, the Masonic Hall met a grim fate on March 9, 1819. While Washington Lodge No. 59 was meeting inside, a chimney fire spread into the building and eventually engulfed the entire structure. Residents of New Castle, Delaware purportedly saw the flames from 32 miles away. A lithograph from HSP's archives dated from 1819 depicts the harrowing scene.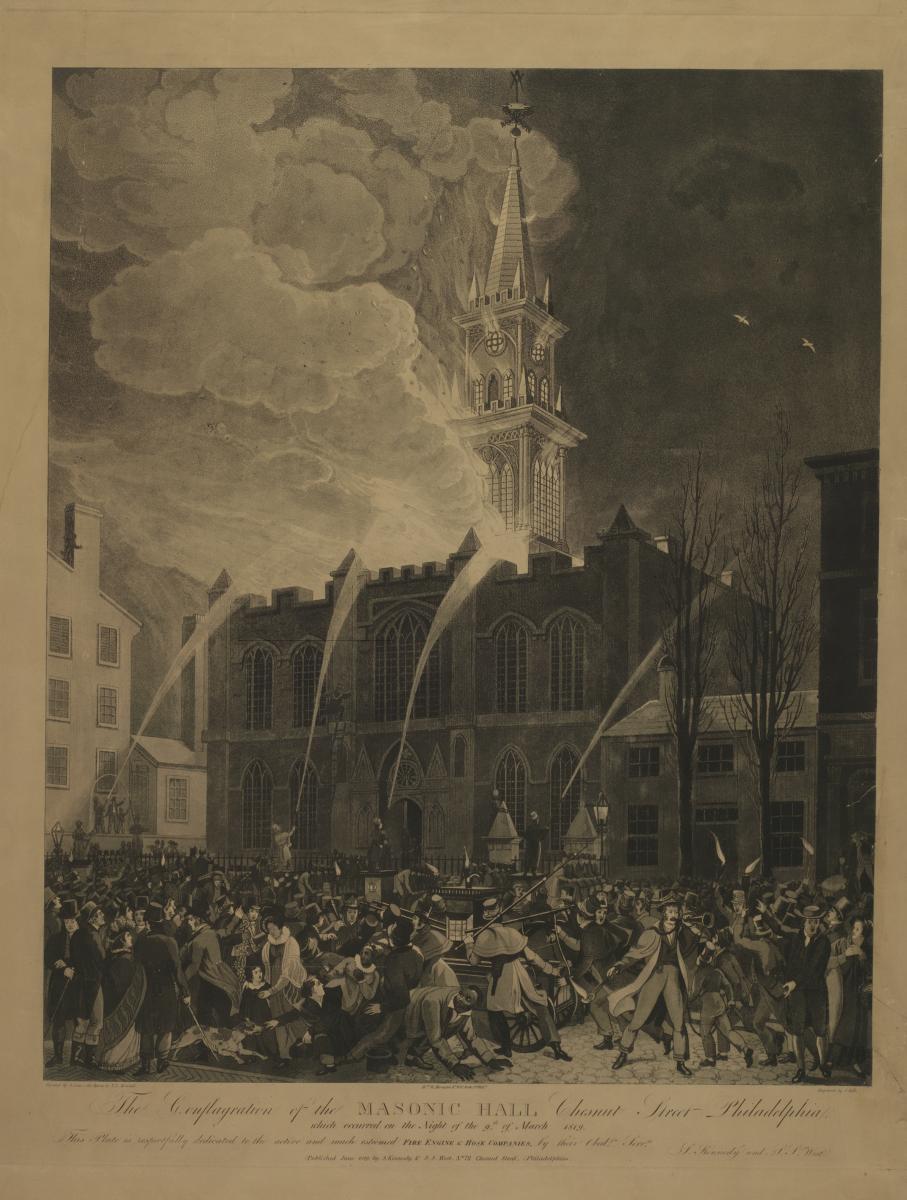 "The Conflagration of the Masonic Hall," lithograph (1819), HSP large graphics collection (Call number Bc 83 M412), Historical Society of Pennsylvania.
The Freemasons constructed another Masonic Hall on Chestnut Street in the 1850s, which they sold in 1873 upon the completion of the grand Masonic Temple on North Broad Street. (The fraternity's temporary headquarters on Chestnut Street met the same fate as its predecessor, burning down in 1883). 
Grand Lodge Room of the New Masonic Hall, Chestnut Street Philadelphia. print (1855). This building met a similiar fate as its predecessor in 1883. HSP large graphics collection (Call number Bc 05 S634), Historical Society of Pennsylvania.
Sitting across from City Hall on North Broad, the Masonic Temple has continued to serve as the Grand Lodge of the Freemasons of Pennsylvania since the 19th century. In 1985, the building became a National Historic Landmark.