The collections at the Historical Society of Pennsylvania include several manuscript recipe books. This includes Martha Washington's Booke of Cookery and the Mrs. Penn's cookbooks, along with several volumes from family papers. In the next few weeks before the holidays I thought I would post some of our favorite recipes from these books. If you are looking for something unique for your holiday table, check back weekly for delicious dishes. Recreating the recipes from these books is fun and educational. Those who enjoy such adventures in the kitchen will be well rewarded.
I will start with one of our favorites from Ellen Emlen's Cookbook. Ellen Emlen (1814-1900) was a Philadelphia housewife, who left comprehensive manuscript cookbook behind. Her recipe for Cherry Bread ([147) is easy and delicious.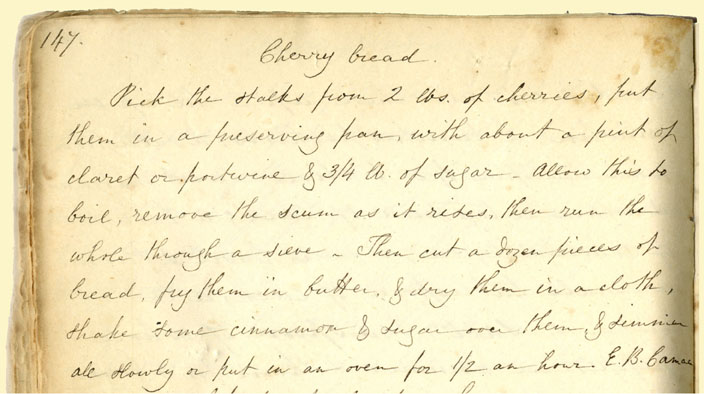 Pick the stalks from 2 lbs. of cherries, put them in a preserving pan, with about a pint of claret or port wine & 3/4 lb. of sugar – allow this to boil, remove the scum as it rises then run the whole through a sieve. Then cut a dozen pieces of bread, fry them in butter, & dry them in a cloth, shake some cinnamon & sugar over them & simmer all slowly or put in an oven for 1/2 an hour.
Written in typical paragraph style of recipes written pre 20th Century,the recipe is easy enough to follow, despite its unfamiliar form. The only piece of information missing is that the cherries should be sour cherries. The information is not provided as this would have been common knowledge to any cook in the mid 19th-Century. Luckily, all of these recipes are easily adjustable. You can substitute other cherries such as fresh, frozen (thawed first of course), or canned. Just be sure to adjust how much sugar you need by tasting the sauce as it simmers. If you are using regular cherries you will not need as much sugar.
Here is the recipe in modern terms:
2 – 3 cups of sour cherries, stems removed, pitted if you are keeping the fruit (as I do)
2c Claret or Port wine
1 1/2c sugar or amount to taste
butter for frying bread 
loaf of white or whole grain bread (you need about 12 slices of sandwich size and thickness)
extra sugar for sprinkling bread
cinnamon
Combine the first three ingredients in a saucepan. Bring to a boil, turn the heat down to medium and allow mixture to reduce to a syrup. Meanwhile, prepare a baking dish such as a 9x13 cake glass cake pan, unless of course, you have a copper pan as mentioned. Fry the bread in butter until it is golden brown and slightly crispy. As you remove the bread from the frying pan place it in the baking dish and sprinkle cinnamon and sugar over it. When the cherry mixture has reduced a bit you can strain it if you wish. I choose not to because I like the fruit with the bread. Note: if you choose not to use all of the sugar, the mixture will not be quite as syrupy. But this will not affect the flavor of the dish. Pour the cherry mixture over the bread and put it in a 350°F oven for 20 minutes. The cherry syrup can be made ahead and refrigerated. Bring to room temperature before baking.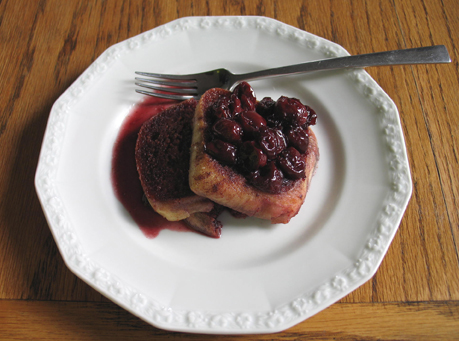 An easy post-Thanksgiving breakfast perhaps?
Next week - a surprise favorite from Martha Washington's Cookbook.
If you would like your own adventure of cooking directly from original historic recipes, you can purchase a facsimile of Ellen Emlen's Cookbook here.