We invite you to visit the Historical Society of Pennsylvania's exhibition in its final month, Fiber Points: Textile and Handcraft Heritage now through June 15th.  HSP staff researched and prepared the exhibit, which spans six display cases and features various ways in which our rich library collections contextualize the history of fiber art, handcraft and textiles in the Philadelphia area. Read more about the exhibit in this blog post.
One of my favorite collections on display in the exhibition is the Horstmann-Lippincott papers (PDF Finding Aid). The textile factories of William H. Horstmann & Sons and Horstmann Brothers & Company were founded by William H. Horstmann who immigrated to Philadelphia from Paris in 1816. His sons, William J. and Sigmund H. Horstmann were officially taken into partnership in 1843 and gained sole ownership in 1850. They were effective managers and received most of the Union army contracts during the Civil War, which added greatly to their assets. By 1863, they were touted as "the largest business in the line [military goods] in the United States," with an estimated worth of more than one million dollars.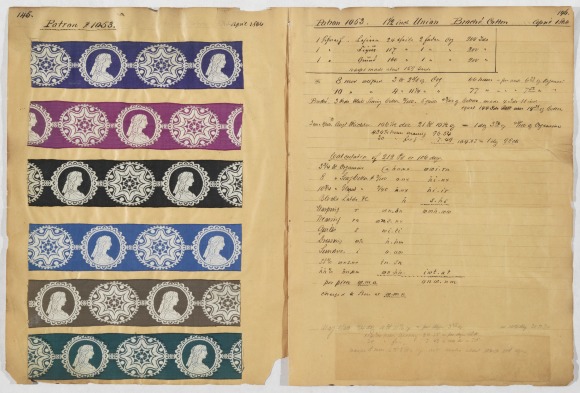 On display are reproductions of pages of ribbon sample books from the company.  Last week, D'Arcy White, our Cased Photograph Specialist, noted that one of the women captured in a cased photograph had fantastic ribbons on her bonnet - and she should!  The cased photograph came from the Horstmann-Lippencott papers, so we can guess she was showing off the family wares.