I'm excited to report that we've moved on to the next phase of the Greenfield Digital Project: researching and annotating our 324 selected primary-source documents.
After all, to really understand the impact of the 1930 failure of Bankers Trust Company, you need to know more about what it was like to live in Philadelphia during the 1920s and 1930s. People like Gifford Pinchot, William D. Gordon, and Moses Annenberg haven't made headlines in decades, and their roles in Philadelphia business and politics have faded from memory.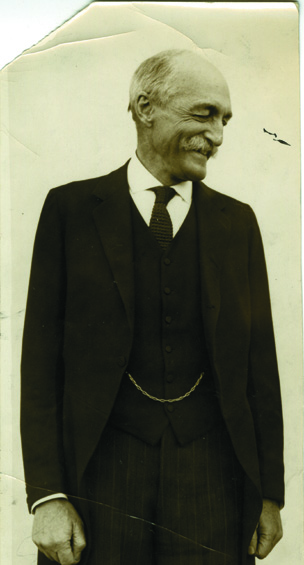 Gifford Pinchot, twice governor of Pennsylvania, circa 1932
(Philadelphia Record Photograph Morgue collection, V07)
That's where our annotation comes in.
As we were transcribing each document into its own XML file (following the guidelines set out by the Text Encoding Initiative), we encoded personal names with the element <persName>. Each <persName> then references our master "personography" file, which provides more biographical information about that person and how he or she was involved in the Bankers Trust story.
Once the project goes online later this year, users will be able to roll over or click on the names encoded in the document transcriptions to learn more about that person.
We could have created mini-biographies in each document's XML file, but by compiling all the people into one master list instead, we can be more efficient and allow the documents themselves to help fill in the gaps on who these people were. For instance, I know by looking at the personography list that William Alsberg was a stock-owner in Bankers Trust in August 1929, just weeks before the stock market crash. R. M. was a typist who worked for Albert Greenfield in August 1931, and Mrs. Connery was a cleaner at Bankers Trust in 1927. Arthur Crossan, of Crossan Construction Company, served on the board of Bankers Trust Company in 1930.
When we first encountered "Mr. Netter" in a 1927 letter, we knew that he was somehow connected to the National Bank of Commerce, another Philadelphia bank. By the time we finished transcribing, we had learned that his full name is Jacob Netter, and he was the president of the National Bank of Commerce from 1915 to 1927, when it merged into Bankers Trust. He served as chairman of the Bankers Trust board from 1927 to the bank's closure in 1930, and was also president of the Netter & Oppenheimer Clothing Company.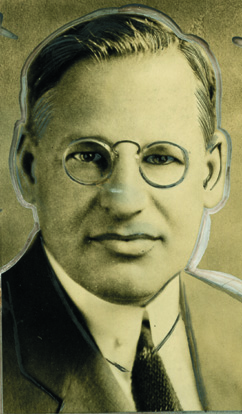 Jacob Netter, 1927 (Philadelphia Record
Photograph Morgue collection, V07)
Our personography list now has about 860 names, and we're just in the early stages of expanding its biographical details. We're doing similar research and annotation on another 600 or so businesses and organizations compiled in our "organization-ography" list. Due to time constraints, we won't have a chance to expand every name on those lists, but I look forward to shedding light on some of the key players involved in the Bankers Trust story in the months ahead.
You can learn more about our text encoding here. You can read past blog posts on the Greenfield project, part of a larger effort funded by the Albert M. Greenfield Foundation, here.