These reviews were published in the fall 2018 issue of Pennsylvania Legacies (vol. 18, no 2): Protest in 1960s Pennsylvania.
Book Reviews
By Christopher A. Brown
She Persisted: 13 American Women Who Changed the World
By Chelsea Clinton
Illustrated by Alexandra Boiger
New York: Philomel Books, 2017, 32 pp. Ages 4–8.

Taking inspiration from Senator Elizabeth Warren's stand against the appointment of Senator Jeff Sessions as US Attorney General, this collected biography introduces young readers to 13 American Women who have "persisted" during various periods in American history. The book captures a range of well-known and less-familiar women, from civil rights activist Ruby Bridges to union organizer Clara Lemlich. The chapters are designed to give young readers a taste of each woman's story and will hopefully encourage readers and their families to go out and learn more about each subject. The watercolor illustrations are soft, airy, and full of movement—they dance across each double-page spread. This informational picture book is appropriate for children ages 4–8.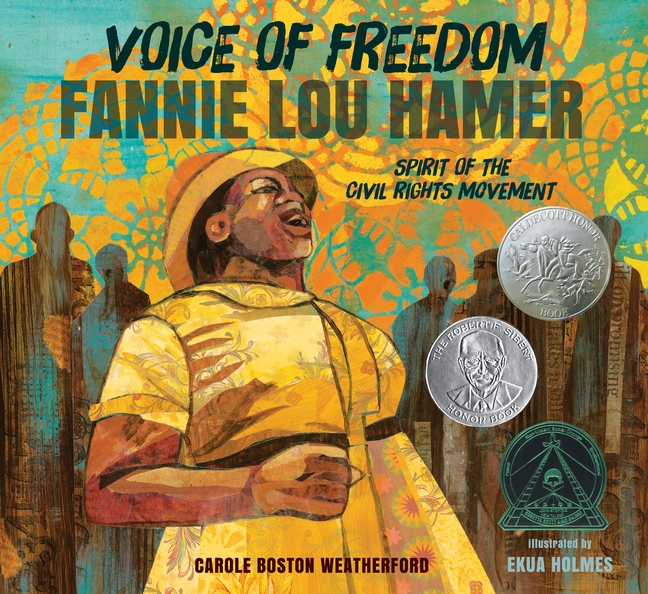 Voice of Freedom: Fannie Lou Hamer, Spirit of the Civil Rights Movement
By Carole Boston Weatherford
Illustrated by Ekua Holmes
Somerville, MA: Candlewick Press, 2015, 56 pp. Ages 10 and up.
This bold and engaging look at the life of Fannie Lou Hamer will amaze young readers (and many adults, too). Hamer's story began in 1917 as the 20th child of Mississippi sharecroppers. From her youth, she tirelessly fought for the rights of African Americans on local, regional, and national levels. Weatherford's free-verse poetry quotes Hamer frequently, providing readers with a sense of Fannie Lou's dialect and cadence: "Black people work so hard, and we ain't got nothin' / to show for it." Painful moments in Hamer's life are also depicted, including a brutal police beating that occurred after she attempted to register to vote. These troubling moments, sadly still real in many American's lives, provide a well-rounded portrait of this freedom fighter. The text is enhanced with Holmes' collage illustrations. Although young readers may not know who Fannie Lou Hamer is when they start the book, they'll wonder why her story isn't required reading after finishing it. Strong back matter includes an author's note, a timeline, source notes, and a bibliography. A must-read picture book/poetry biography for children ages 10–14.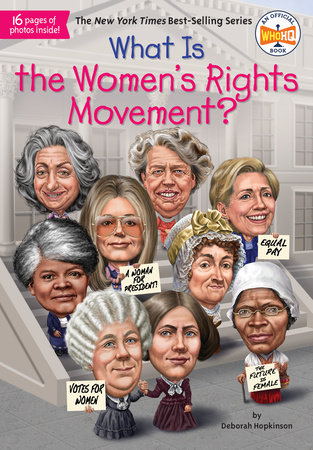 What Is the Women's Rights Movement?
By Deborah Hopkinson and Who HQ
Illustrated by Laurie A. Conley
New York: Penguin Workshop, 2018, 112 pp. Ages 8–12.

The Who Was/What Was? series continues with this engaging look at the women's right movement.  Beginning in the 19th century, this title weaves together stories of famous American women. Hopkinson links the lives and works of suffragists Susan B. Anthony and Elizabeth Cady Stanton to Gloria Steinem and the 1960s equal rights movement and on to modern subjects and events, such as Hillary Clinton and the 2017 Women's March. This inspiring title brings these moments of history alive to young readers. This nonfiction title is appropriate for ages 8–12.  



Turning 15 on the Road to Freedom: My Story of the Selma Voting Rights March
By Lynda Blackmon Lowery; retold by Elspeth Leacock and Susan Buckley
Illustrated by PJ Loughran
New York: Dial Books, 2015, 128 pp. Young adult.

In 1965, Lynda Blackmon Lowery turned 15 during the three-day voting rights march from Selma to Montgomery. She captures this experience in a page-turning memoir of resilience, courage, and equality. Lowery's tone throughout the book is informal and conversational as she juxtaposes the role she played and the events she witnessed during her early teen years. Although she was the youngest member of the march, by her 15th birthday she had been jailed nine times as a protester, once for six days and once in a hot, windowless sweatbox that caused the occupants to lose consciousness from the heat. Earlier in the year, a state trooper beat her so badly she needed 35 stitches in her head, and the trauma of that moment haunted her during the march to Selma. The book's back matter includes appendices and profiles people who died on or around "Bloody Sunday." This memoir is written for ages 10–14, but reluctant teen and YA readers will also find value in its pages.  



Franny's Father is a Feminist
By Rhonda Leet
Illustrated by Megan Walker
New York: POW! Kids Books, 2018, 32 pp. Ages 3–7.

As savvy readers know, the women's movement is not for only for women. Leet takes her readers on an informative (yet never preachy) adventure where everyone learns what it means to be a feminist. As the title proclaims, Franny's father is a feminist: someone who believes "that girls can do everything boys can do, and . . . [that girls deserve] all the same rights, freedoms, and opportunities that" boys have. The story also includes several real-world examples of how feminism influences Franny's development. Although the main characters are Caucasian, Franny's friend Sasha and her father are portrayed as African American, quietly reminding readers that feminism is not limited by race.  Walker's color palette combines shades of pink, blue, and green, helping readers to further separate traditional gender roles and "gendered" colors.  This picture book will be a hit among ages 4 to 7.  



The Port Chicago 50: Disaster, Mutiny, and the Fight for Civil Rights
By Steve Sheinkin
New York: Roaring Brook Press, 2014, 208 pp. Ages 10–14.

On July 17, 1944, the largest man-made explosion at that point in history killed more than 300 men at the Port Chicago Naval Magazine, 30 miles northeast of San Francisco. The results of that disaster lead to the largest mass trial in the history of the United States. Port Chicago's navy ships were loaded with bombs and ammunition supporting World War II, but even at war, the country was segregated: the officers were white, but all of the sailors handling the dangerous explosives were black. Of the 320 men killed, 202 were African American sailors. After the explosion, fifty African American sailors refused to work because of unsafe conditions and were subsequently charged with mutiny, a charge that could potentially lead to execution. Sheinkin is a master of historical research, and this title shines with extensive quotations drawn from oral histories, information from trial transcripts, and archival photographs. This precursor to the civil rights movement is a valuable read for nonfiction fans aged 10–15.


Christopher A. Brown is Special Collections Curator of the Children's Literature Research Collection at the Free Library of Philadelphia.
 
These reviews were published in the fall 2018 issue of Pennsylvania Legacies (vol. 18, no 2): Protest in 1960s Pennsylvania. Learn more and subscribe.