The closest I have come to knowing my great-grandmother is through my mother's stories of sitting in Grandma Mary's hot kitchen as a child while her homemade apple dumplings and sticky buns baked in the oven.  A story about Grandma Mary is not complete without mentioning that her made-from-scratch sticky buns and apple dumplings were out-of-this-world.  Since my great-grandmother was Pennsylvania Dutch, I was very excited to come across Leonard S. Davidow's 1930s book Pennsylvania Dutch Cookbook of Fine Old Recipes at the Historical Society of Pennsylvania.  While I enjoyed bringing the book to life by testing out its recipes for "Eb'l (Apple) Dumplings" and "The Famous Dutch Sticky Buns," the cookbook turned out to be lively on its own, complete with poetry, cartoons, and a unique sense of humor interspersed among the pages of recipes.  Watch this historical cookbook come alive as I connect with my own Pennsylvania Dutch culinary roots below and view additional pictures of in the photo album to the right!
In the 18th century, a large influx of German immigrants settled in Pennsylvania and came to be known as "Pennsylvania Dutch" for their hybridized English-German language.  In the introduction to the cookbook, Leonard Davidow briefly explains how immigrants' cooking evolved along with their language as they became acquainted to life in America:
"It was not always possible to secure the prescribed ingredients and it became necessary to develop new recipes to utilize the plainer foods in the creation of tasty dishes.  Necessity was again the mother of invention and these good women became famous for their fine cooking until now Pennsylvania Dutch cooking is renowned throughout the world" (Davidow, Introduction).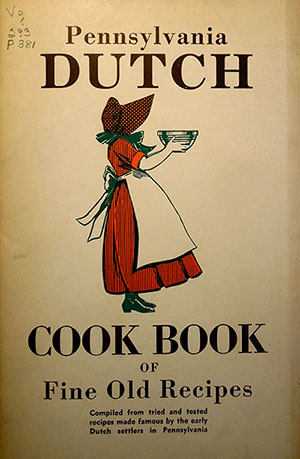 Cover of the 1934 Pennsylvania Dutch Cookbook of Fine Old Recipes: Compiled from tried and tested recipes made famous by the early Dutch settlers in Pennsylvania, by Leonard S. Davidow.
Davidow's Pennsylvania Dutch Cookbook of Fine Old Recipes contains a broader reflection of Pennsylvania Dutch culture then you might initially expect from a cookbook, with bits and pieces of witty poetry and cartoons paired alongside recipes.  Below is a "Ballad in Pennsylvania German," which is just one example of the additional cultural history that appears in the cookbook.  The author does not include a note explaining the additional non-recipe material in the book, but you can see that including translated song lines and animated dancers like the ones below surprises the reader with a light-hearted, humorous glimpse into Pennsylvania Dutch life.  While the Pennsylvania Dutch are most often remembered for their distinct style of cooking, this cookbook works to highlight the value of a broader view of their culture.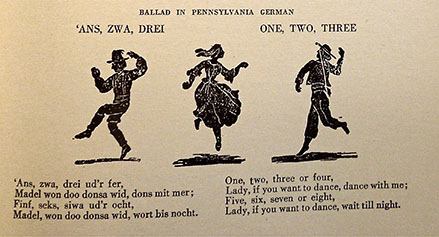 "Ballad in Pennsylvania German." The lyrics read: "One, two, three or four, / Lady if you want to dance, dance with me; / Five, six, seven or eight, / Lady, if you want to dance, wait till night" (pg. 31).
---
Now on to the Cooking!
In honor of my great-grandmother, I baked up a batch of cinnamon buns and two batches of apple dumplings using the recipes in this cookbook.  While you can find the original recipes below, I will admit that I did adapt them to suit my own cooking skills and supplies.  For example, the apple dumpling recipe was confusing to me at first when it called for the baker to: "Place (the) apple on each piece of dough... fill with cinnamon and sugar... wet edges of dough and fold over apple."  My impression of these directions is that the original author meant for the apples to remain wholly intact while the baker pared and cored them before wrapping them in dough.  I have seen Personally, I do not have the skill or tools to core an apple without slicing it into wedges first and so I decided to slice the apple into chunks for this recipe.  Admittedly, I have never made apple dumplings before and I initially encountered difficulty in rolling the apple wedges in dough.  The first one I attempted to roll looked more like a wonton then a dumpling and I ended up scrapping the whole pastry after looking through Google images of what apple dumplings should really look like.  The cinnamon bun recipe proved to be easier.  The only change I made was to omit the citron from the rolls, on account that I could not find it in my local grocery store.

Recipe for "Eb'l (Apple) Dumplings" (pg. 46).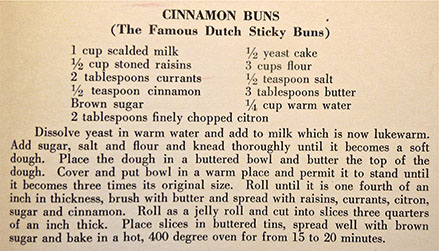 Recipe for "Cinnamon Buns," also known as "The Famous Dutch Sticky Buns" (pg. 47).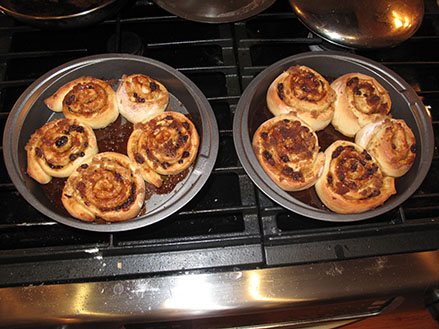 Handmade sticky buns hot out of the oven.
Thanks to the Pennsylvania Dutch Cookbook of Fine Old Recipes, I was able to connect with my own culinary roots and enjoy the product of my efforts in good company.  Less the 24 hours after baking the apple dumplings and sticky buns, I had given away all my Pennsylvania Dutch goodies to friends and co-workers.  I'd say that the historic recipes were a big hit! 
---
Want to try out some Pennsylvania Dutch recipes on your own?  Find cooking inspiration in HSP's 1934 copy of Leonard Davidow's Pennsylvania Dutch Cookbook of Fine Old Recipes. 
Learn more about this blog series A Philly Foodie Explores Local History.