Through February 17th, Philadelphians have the opportunity to enjoy Philly Theatre Week, which boasts more than 100 stage events across the city. The festival continues Philadelphia's rich theater legacy, offering traditional stage performances as well as experimental productions in non-traditional settings, including local breweries.
Highlighting Philadelphia's creative reuse of historical buildings, a major institution from the city's theater past reopened this past year: the Metropolitan Opera House.
Originally named the Philadelphia Opera House, the famous classical revivalist structure was erected at Broad and Poplar Streets in 1908 by the famous German-born composer Oscar Hammerstein I. His creative control over the theater, however, lasted only two years.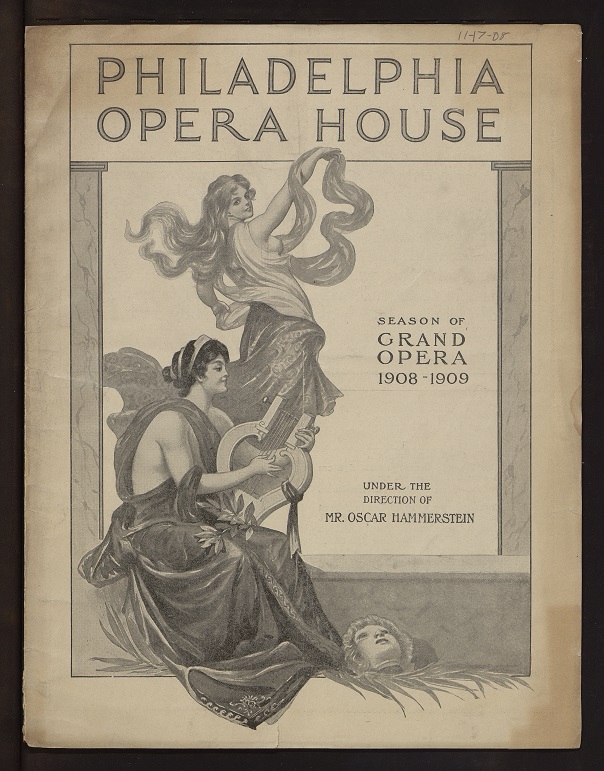 Philadelphia Opera House playbill cover and cast list (1908 November 17), Historical Society of Pennsylvania playbill collection (Collection 3131), The Historical Society of Pennsylvania.
Cast list for "Carmen"  (1908 November 17), Historical Society of Pennsylvania playbill collection (Collection 3131), The Historical Society of Pennsylvania.
Performing regularly at the Academy of Music in Philadelphia, New York City's Metropolitan Opera served as Hammerstein's chief rival in the city. While both companies won praise from critics and audiences alike, Hammerstein's popularity wasn't enough to keep his business afloat; mounting debts compelled him to sell the building to the Metropolitan Opera in 1910. The building subsequently became known as the Metropolitan Opera House or "The Met."
From 1910 to 1920, the Metropolitan Opera performed at the venue annually, renting out the stage to other opera companies during its off-season. The Met continued to host opera performances by the Philadelphia Civic Opera Company, the Philadelphia Grand Opera Company, and the Philadelphia La Scala Opera Company throughout the 1920s and into the 1930s.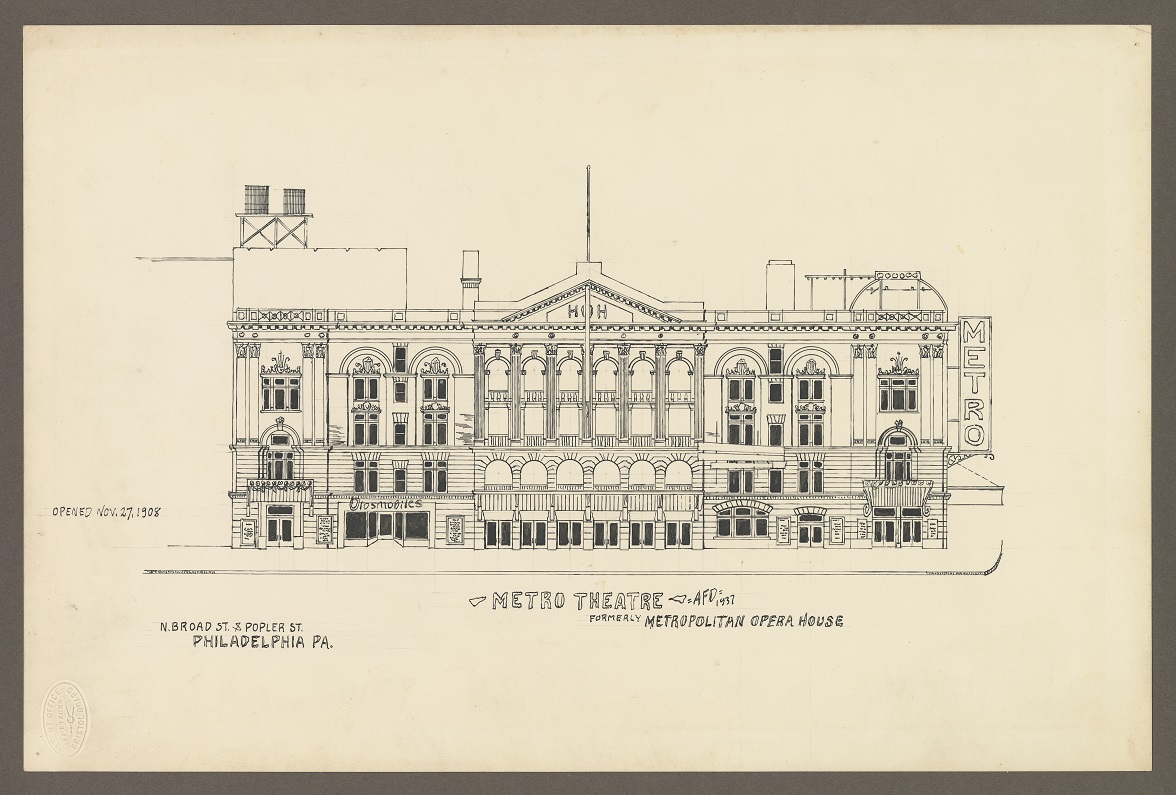 Anthony F. Dumas architectural drawing of The Met (1937), Frank McGlinn collection, The Historical Society of Pennsylvania
Following its heyday, promoters utilized The Met for other purposes, including film screenings, ballroom dances, and even wrestling matches. In the 1950s, it became a house of worship, though the Philadelphia Orchestra still made use of the structure's formidable acoustics, occasionally recording at the venue.
As the 20th century progressed, the building fell into disrepair. An effort by the Pew Foundation to restore The Met to its former glory fell through in the early 1990s, after which the building faced periodic threats of demolition. 
After all its ups and downs, The Met has persevered, reopening as a performing arts venue in November 2018 with an inaugural concert by folk legend Bob Dylan.