(The following entry was written by Marie Jordan and Patrick Glennon.)
HSP's collections include documents of many types. Personal letters in particular provide insight into the private lives of their authors and recipients.
For this entry, I want to look at five letters in HSP's collection. Written between 1908 and 1912, these letters record the friendship and intellectual collaboration between Philadelphia's Joseph Fels and the Russian Prince and political writer Peter Kropotkin.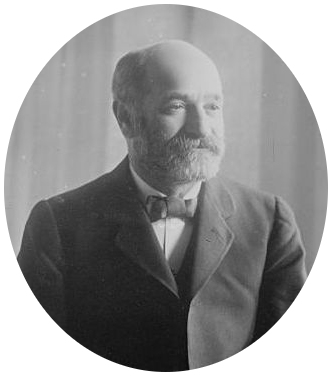 The intellectual lives of these evolved within the tumultuous evolution of political thought that defined the late 19th and early 20th centuries.
Throughout industrialization, new ideas for the organization of labor and the distribution of wealth proliferated. Densely populated cities served as the central points of production in the increasingly mechanized economies of North American and Europe. These environments inspired various macro-level political and economic systems that set the stage for the great ideological battles of the 20th century.
There were, however, other currents of thought that focused on agrarian and/or small-scale economic organizing. These models often positioned local communities front and center. Fels and Kropotkin - born on opposite sides of the world - both belonged to this latter category of progressive political and economic theory.
Fels was born in 1853. He became a philanthropist and social reformer, thanks in no small part to the formidable wealth he inherited. He was a particularly vocal proponent of the single tax movement, which advocated for a system that abolished all taxes except those based on the value of land. He funded several land reform experiments and remained an advocate for these issues until his death in 1914.
Peter Kropotkin was born into Russian royalty in 1842. He was a scientist, activist, and philosopher who ranks among the most prominent advocates for anarchism. Kropotkin's ideal society involved small voluntary associations of self-governing communities, supported by worker-run enterprises. Much of his theory grew out of his experience pursuing scientific research in Siberia, where he saw the utility of small, tightly-knit, self-sustaining communities. After escaping imprisonment for subversive political activity, Kropotkin lived and wrote in exile from 1876 to 1917. He was able to return to Russia only after the 1917 revolution.
Both men supported the taxation plan laid out by Henry George in his 1890 essay "The Single Tax and Why We Urge It," seeing it as a model that permitted much-needed land reform while accommodating private ownership.
These topics come up in the letters from HSP's archives. Yet the documents provide a humanizing view into the lives of both men that expands our understanding of these important historical figures. Although not dull, these accounts are ordinary. They mention the weather and family matters. In one, Kropotkin thanks Fels for books he had sent.
One letter written by Kropotkin in 1908 reads:
All this time I have been working under high pressure. In August we have spent, we two, with my wife, four weeks in a lovely place in Suffolk, and I took advantage of the [illegible] for pushing on with my work.
One of Kropotkin's letters from 1912 reads:
We have passed the winter without illness, and are very pleased with our stay at Brighton.  The house is quite comfortable and the winter was so mild that the lungs behaved quite satisfactorily. […] Still I have not had much to complain of, as all winter I have been working.
Though he includes fewer detail about his personal life in the one letter he wrote to Kropotkin in HSP's collection, Fels nonetheless writes warmly, closing a letter on the Single Tax by writing:"I am glad to see the cheerful note running all through your letter."
It is sometimes easy to forget that people from the past - especially those like Kropotkin who are survived by their writing - had daily lives to attend to in addition to matters of politics and philosophy. There is a narrative moving through the lives of Fels and Kropotkin, connecting the influences of early activities on their later writings and beliefs. They are both products of their age, formed by their experiences. These letters remind us that they also knew life's daily victories and disappointments. They were real people, who cared about one another, each other's happiness, and the books they sent to one another.
Letters such as these let us connect with the past in a personal way that formal writings and historical surveys cannot.