I never thought that when working as an Archives Intern at HSP I would come across a collection that had some personal resonance.  But when handed the Robert Proud collection to process, I learned that history can connect to one's life in bizarre ways.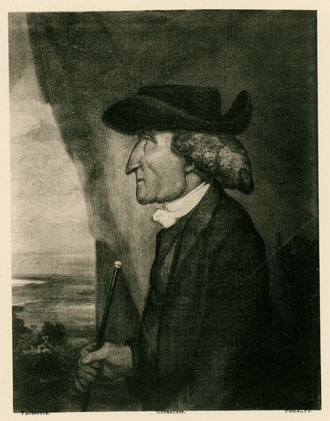 Portrait of Robert Proud, print of phototype by Gutekunst (undated)
Robert Proud was born in Yorkshire, England in 1728.  He attended a Quaker boarding school, where he was formally trained in classical studies.  He tutored for prominent London families after his studies, and in 1759, decided to move to Philadelphia to see what prospects lay for him there.
While he attempted to start his own Latin school for boys, it closed after only two years.  He then began one of two teaching positions at The Friends School (also known as the "Friends Academy" and "The Public School") in the 1760s.  After trying to learn more about Proud's time at The Friends School, I learned that it is now Friends Select School (FSS), which I attended for my final two years of high school.  It is at FSS where I was inspired to study classical studies in undergraduate school, and I believe that Robert Proud tried to instill this in his students almost 250 years ago.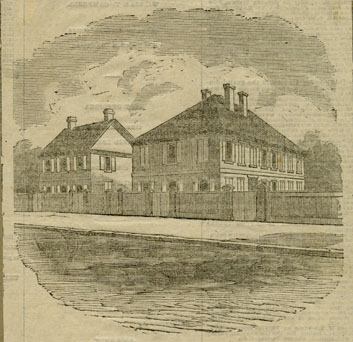 "The Public School, or 'Friends' Academy,' Fourth Street, Below Chestnut. Built A.D. 1697." newspaper clipping (undated)
His views on education can be found in one of his many memoranda/notebooks that are part of this collection, and it is clear that his views on Quakerism were a strong part of his teaching philosophy:
"To render the Minds of youth attentive to Instruction & to habituate them to a decent & agreeable Deportment, in improved Society, are great Points in Education; but too little attended to by many, with so much Propriety & Utility, as the human Mind's capable even in juvenile years: –For, in the best & most proper Sense, the Education of youth ought to be considered, as it really is, a Religious Duty & Concern, as being introductory to the great Interests of Virtue & Happiness; while at the same Time, it also embraces the Qualifications for the necessary Employments & other active Concerns of human Life."

Robert Proud, "Some short Notes & Memoranda by R.P. Philadelphia, Respecting the Scholastic Education of youth among Friends", 1788 (emphasis original).
His teaching at The Friends School was short-lived and interrupted.  From 1775 to 1780, Robert Proud "retired" and went into seclusion.  His reasoning was very clear—as a Loyalist, he was in a severe minority in Philadelphia, and he was worried that Patriot committees in the city would arrest him.  He felt so persecuted as a Quaker that he petitioned the Pennsylvania Congress representatives, including John Dickinson and others, to ask for assistance in ending religious persecution, comparing the Patriotic "uprisings" and his worries of physical safety to that of Elijah, the ninth-century B.C.E. prophet in Israel (1775).
While in seclusion, he was a prolific writer and authored his only published work, The History of Pennsylvania in North America.  However, his extensive translations of Latin poetry, and his own poetry seemed to keep him occupied as well.  In one poem, he extols his beliefs on what "American Liberty" had become in the colonies during the Revolution:
"Behold!  O land of boasted Liberty,

The State to which thy Sons have hurried thee?

My Patriots banished, & thy Charters torn,

Thy Cities languish, & thy Sages mourn!

By thy own Hands, thy Misery is brought,

By they own Hands all thy Evils wrought!"

("American Liberty explained, as it is now understood, in the Spring of the year 1776")
While I certainly am a 21st-century American, and still strongly believe in Quaker practices, I can understand why Robert Proud felt that his Quaker beliefs were put into question during a time of war against what he considered his true homeland, England.  While it's only speculation on my part, Robert Proud, during his long life (he died in 1813), probably questioned his decision to ever move to Philadelphia, to a place that underwent a dramatic change during the potential "height" of his academic career.
The finding aid for this collection is available online.