By Sarah Leu
In 1794, the New Theatre in Philadelphia premiered Slaves in Algiers; or A Struggle for Freedom, a play written by the author, lyricist, and actor Susanna Haswell Rowson. The pioneering production—deemed radical by critics—dealt with poignant themes relating to gender and liberty, topics that Rowson explored regularly in her novels. 
Rowson was born in England to Susanna Musgrave and William Haswell, a lieutenant in the British Royal Navy. Her mother died a few days after she was born and Rowson was initially raised by relatives while her father was stationed in Massachusetts. In 1767, her father's ship was decommissioned and he returned to England briefly to escort her to Massachusetts, where he had obtained work as a customs officer. Rowson lived with her father and his new wife Rachel Woodard in the town of Hull, Massachusetts, where she met James Otis. A prominent political activist, Otis took an interest in Rowson and oversaw her education.
When the Revolutionary War broke out, Rowson's father sided with the British and was placed under house arrest. His property was confiscated and eventually he and his family were sent to Halifax and deported back to England in 1778. Looking for work, Rowson took a position as a governess for the renowned socialite, political influencer, fashion icon, and author Georgiana Cavendish, Duchess of Devonshire. The Duchess helped Rowson publish her first novel, Victoria, in 1786. That same year, she married William Rowson, the owner of a hardware store and trumpeter in the Royal House Guards. In the early 1790s, her husband declared bankruptcy and the two of them turned to theater for work. The Rowsons and William's sister, Charlotte, acted in the British Isles until 1793 when Thomas Wignell hired them to be members of his acting company at the New Theatre (later known as the Chestnut Street Theatre), which was scheduled to open in Philadelphia that year.
After moving to Philadelphia, Rowson's novel Charlotte: A Tale of Truth was republished in the United States, and became one of the young nation's first best-sellers. The novel—better known by the title Charlotte Temple—tells the story of a schoolgirl who is seduced, brought to America, and later abandoned by a British officer.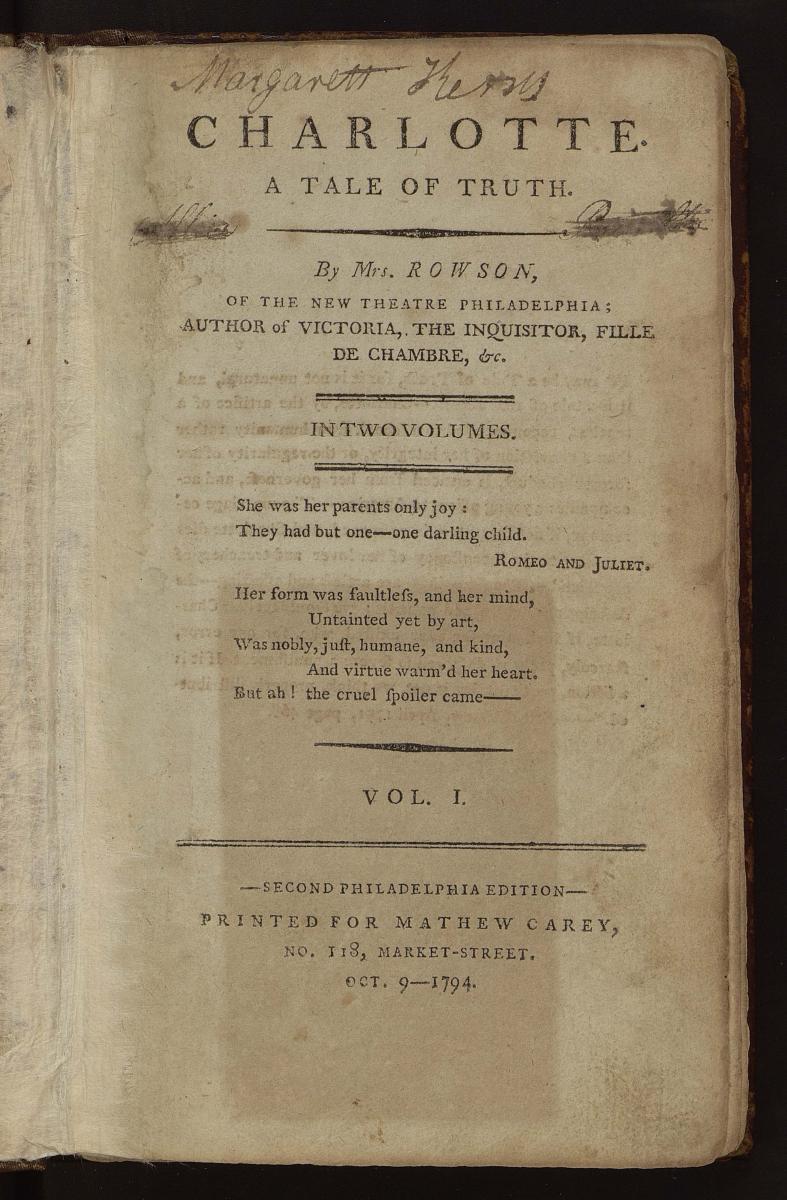 Title page of Charlotte: A Tale of Truth
In addition to acting on stage, Rowson began to write plays. Her first play Slaves in Algiers; or A Struggle for Freedom premiered on June 30, 1794 during the New Theatre's inaugural season. Her libretto for Slaves in Algiers offers a rare glimpse into the feminist perspective in early American theater. 
Title page of Slaves in Algiers; or A Struggle for Freedom
William Cobbett, a political writer and publisher of pamphlets, publicly criticized Rowson's writing, especially Slaves in Algiers. Writing under the pseudonym "Peter Porcupine," he denounced Rowson's "radical" feminist views and called her the "American Sappho." She replied to his criticism in public, but also responded to him in the preface of her 1795 novel Trials of the Human Heart, referring to him as a "kind of loathsome reptile" who had "crawled over" her writings.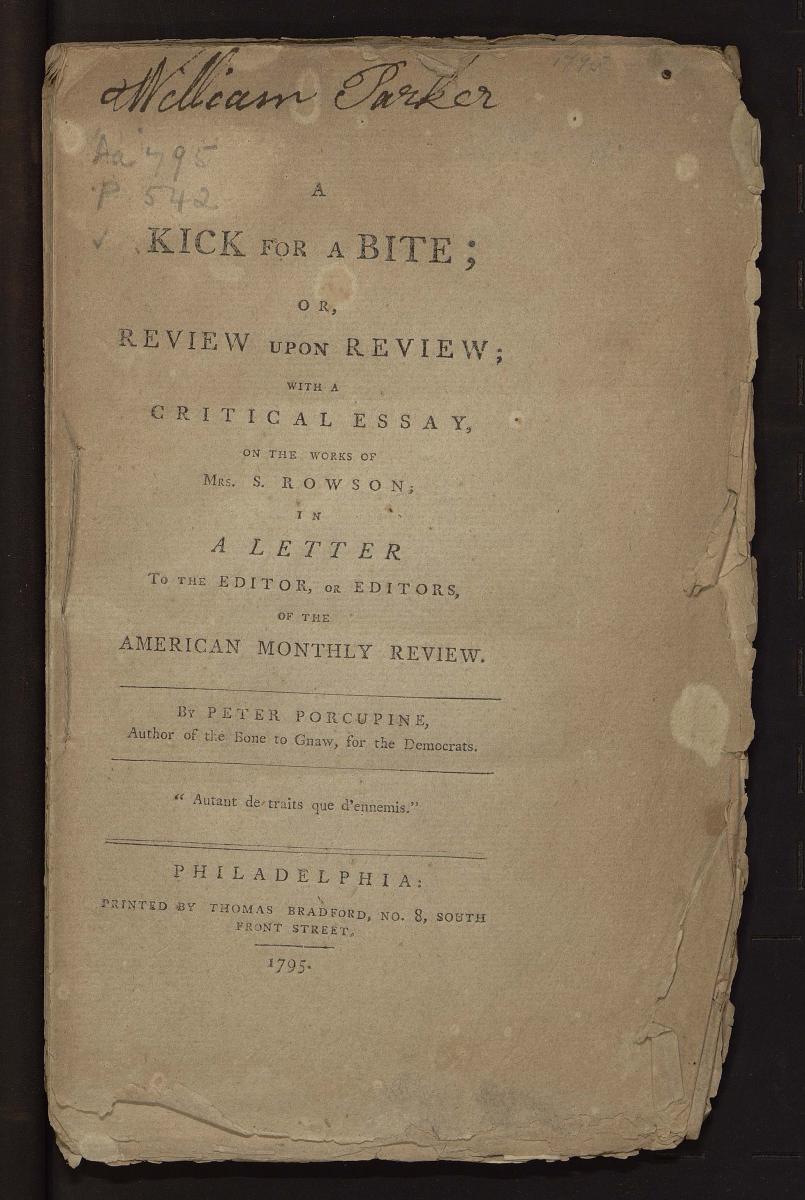 A critical essay by William Cobbett on Rowson's work
In 1796, Rowson and her husband moved to Massachusetts after she reconnected with a director she had worked with in Edinburgh who had taken over Boston's Federal Street Theatre. Shortly after moving to Boston, she left the stage and established a boarding school for girls. She continued to write novels, plays, and poems, but also authored several educational texts on topics including geography, spelling, and history. Rowson retired in 1822, and remained in Boston until her death in 1824.