We recently finished processing the John Fryer papers (Collection 3465) and are very proud to have among his documents the original manuscript of the speech Fryer gave at the 1972 Annual Meeting of the American Psychiatric Association (APA). The event is considered one of the most significant moments in the history of the gay-rights movement, persuading the APA to remove homosexuality from the list of diseases listed in its Diagnostic and Statistical Manual (DSM II).
John Fryer was born in Kentucky in 1938 and, after attending Transylvania College and Vanderbilt University's School of Medicine, relocated to the Philadelphia area, becoming a professor of Psychiatric Medicine at Temple University. Fryer had many patients at Temple University Hospital, Friends Hospital in northeast Philadelphia, and at his private practice in Germantown. He focused his therapy and research on drug and alcohol dependence, death and bereavement and in the later years of his life took particular interest in the needs of people suffering from AIDS. Fryer also was, for more than thirty years, organist and choirmaster at St. Peter's Episcopal Church in Germantown.
Fryer's papers at HSP cover all these aspects of his life and more. The collection is quite large, with more than 120 boxes containing correspondence, manuscripts of his writings, newspaper clippings, postcards, concert programs, music, church bulletins, documents produced during his years at Temple University, travel diaries, photographs, subject files, and materials that will be restricted to the public like patient records, student files, and Fryer's own medical files. Customized enclosures constructed of archival materials have been created to house many of these materials.
Among all of Fryer's papers one of the most interesting items is the manuscript of the speech he gave as Dr. H. Anonymous at the American Psychiatric Association's 1972 Annual Meeting. I wrote the following as part of the collection's background note.
In 1964 Dr. Franklin E. Kameny publicly criticized the listing of homosexuality as a disease or pathology in medical literature and in 1971 Kameny and other gay activists confronted psychiatrists attending the annual convention of the APA. As a result of this incident Kameny and Barbara Gittings, another well-known gay advocate, were invited to the 1972 meeting of the APA to make a presentation to help educate their members about homosexuality. Originally a panel composed of Kameny, Gittings and two psychiatrists, Gittings felt that what they needed was a person both a psychiatrist and gay. After making inquiries among people they knew, Fryer accepted on the condition of keeping his participation anonymous.
Fryer hadn't yet acquired tenure at Temple, and had had several negative experiences with managers terminating his employment after discovering he was gay. Insisting on maintaining his identity a secret, Fryer called himself Dr. Henry Anonymous and wore a baggy suit, a mask, and used a microphone that distorted his voice. Starting his speech with the words "I am a homosexual. I am a psychiatrist," Fryer electrified an audience that found itself listening to a gay psychiatrist speak in a public forum for the first time. Fryer's appearance had a galvanizing effect, playing a crucial role in prompting the APA in 1973 to remove homosexuality from its lists of mental disorders. Fryer did not reveal he was the man behind the mask until the 1994 APA annual meeting in Philadelphia. In recognition, the Association of Gay and Lesbian Psychiatrists (AGLP) honored Fryer with its Distinguished Service Award in 2002.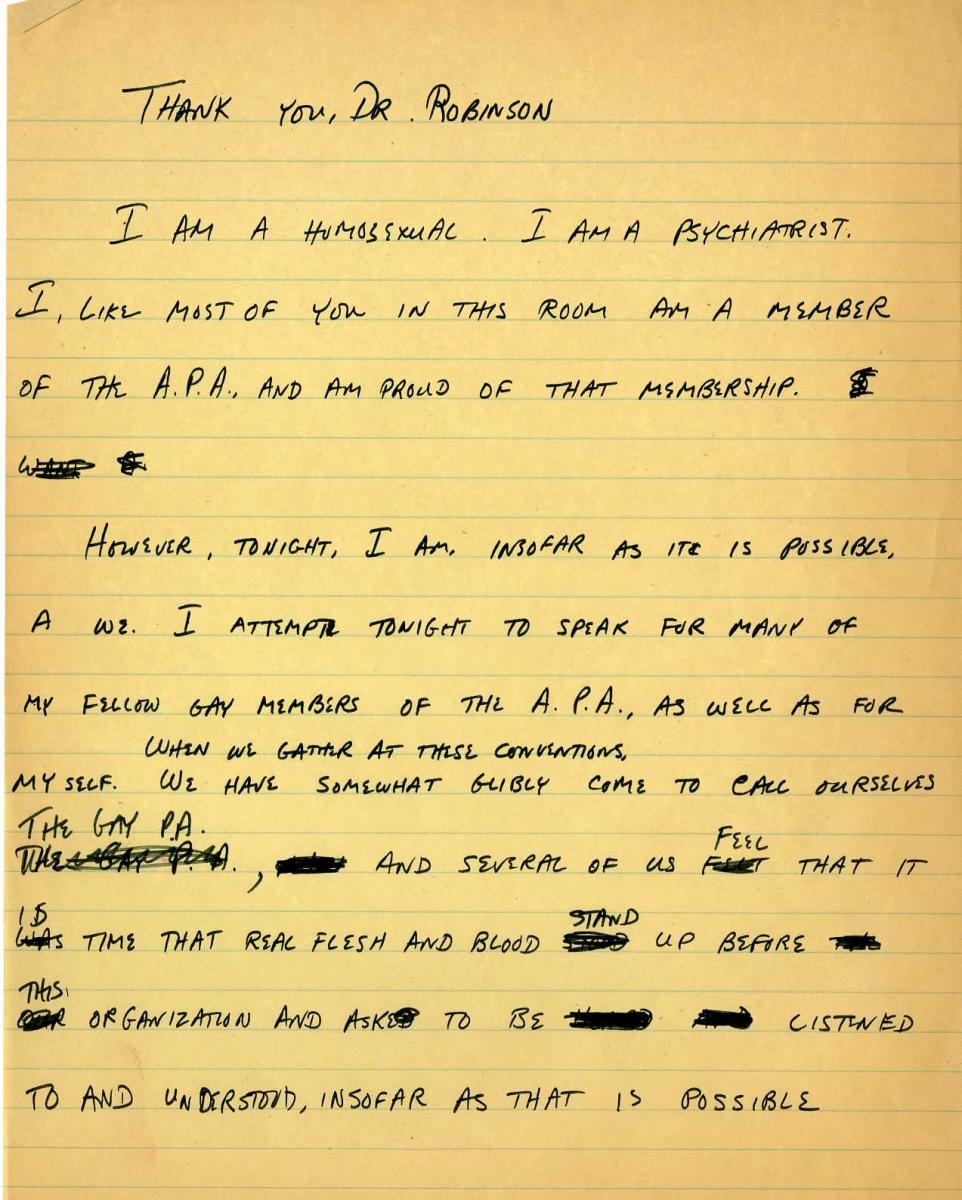 To see the rest of Fryer's speech click on the image above and you'll be redirected to HSP's Digital Library.
Entries in one of Fryer's diaries reflect his feelings the day after the speech was given. And there are several documents in the collection (letter from Frank Kameny to Robert Spitzer, letter from Robert Spitzer to Fryer, letter from Fryer to Spitzer) that show that completely removing references to homosexuality from DSM II was not an easy process. By 1975, three years after the speech at the Dallas meeting, Kameny and Fryer were still exchanging correspondence with Robert Spitzer (who was the chairman of the Task Force in charge of DSM III) on the "re-introduction" of references to disorders caused by sexual orientation. It is not until the late 80s that APA removes all references to homosexuality from their Diagnostics and Statistical Manual. Content related to this important event from a 2002 article from Philadelphia Gay News can be found here.
By the end of Spring 2012 we expect to have a finding aid for the John Fryer collection with an inventory of all his papers available to researchers.