A 1776 draft for the Articles of Confederation in John Dickinson's hand resides at the Historical Society of Pennsylvania, and it was recently conserved during a project funded by Bank of America.
The text itself can be studied in digital or transcribed form, but the physical object offers additional clues to its material life. Such clues can come in the form of watermarks, designs embedded in the paper during its manufacture, and this document presents various such marks and countermarks. Legal documents of the 1770s were still written on high quality imported paper, often from Dutch papermills. A sheet of the draft bears a watermark of a rampant lion, holding seven arrows (a symbol of the seven provinces) and a staff, standing on a platform labeled: VRYHEIT, inside a crowned oval strap inscribed: LIBERTATE, PRO PATRIA, EIUSQUE.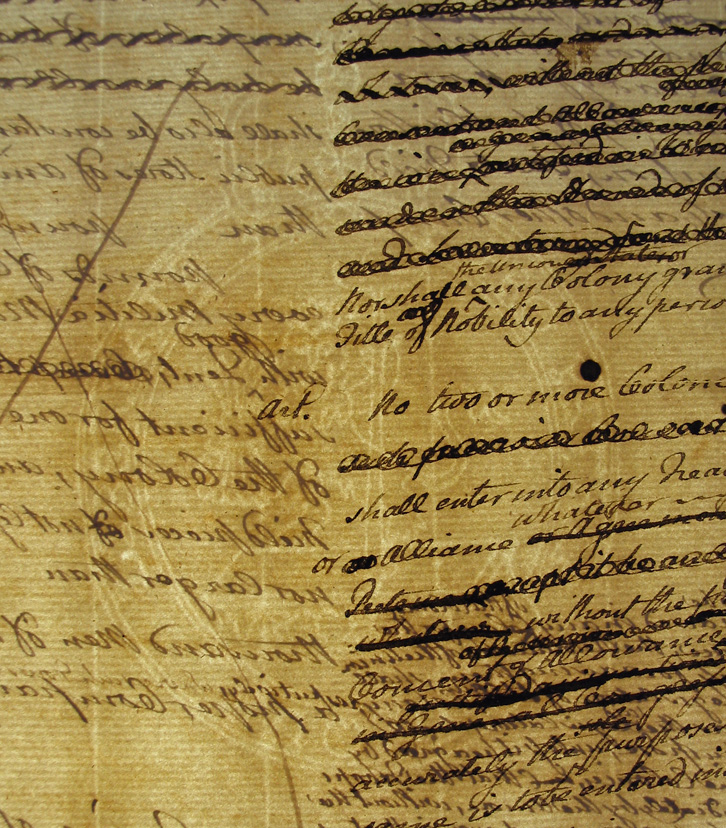 In a much earlier effort to preserve the document, both sides of the paper had been covered with a thin, transparent material. This process is called silking and it was pioneered at the turn of the 20th century by William Berwick, an influential Library of Congress conservator. Silk, or some other type of thin fabric was adhered to both sides of a fragile sheet. Silking is no longer in favor, as its long-term effects tend to be detrimental to the object it is meant to protect. Paper that has undergone this process has been observed to become brittle and yellow faster than paper undergoing natural deterioration. A silked document tends to have a veiled, opaque appearance, making manuscripts especially difficult to parse.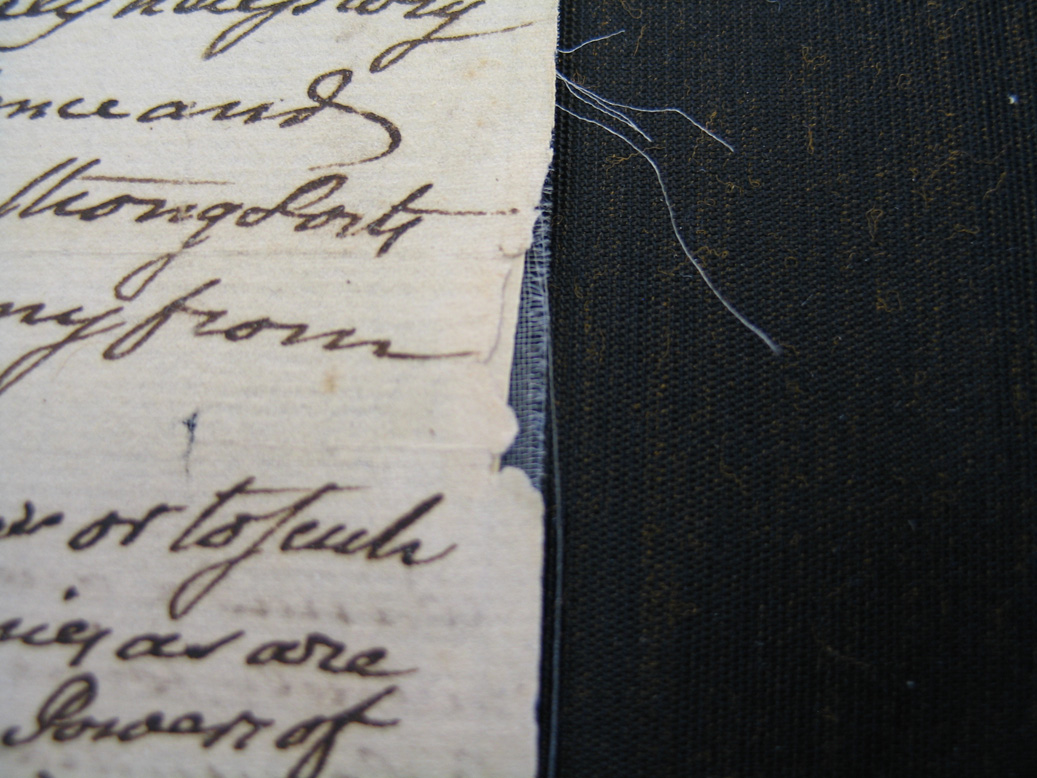 After testing the ink and paper, we decided to remove the remaining silk, to slow down further natural damage and improve the structural integrity of the paper as well as the legibility of the text. Once the silk was removed and the paper surface was selectively cleaned of residual grime and adhesive, tears were mended and losses were filled.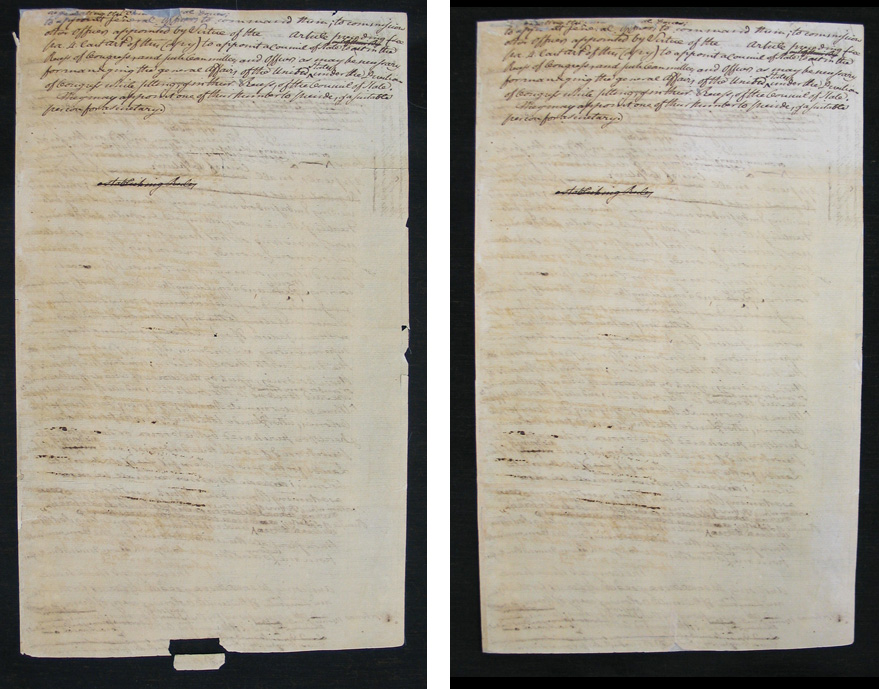 Some pages of the draft no longer retained the silk layer and heat-set tissue had been used on some of the tears. This was removed and replaced with Japanese mulberry paper, toned to match the original.

Finally, the individual leaves were placed in acid free paper folders and housed in a custom-made cloth covered protective enclosure.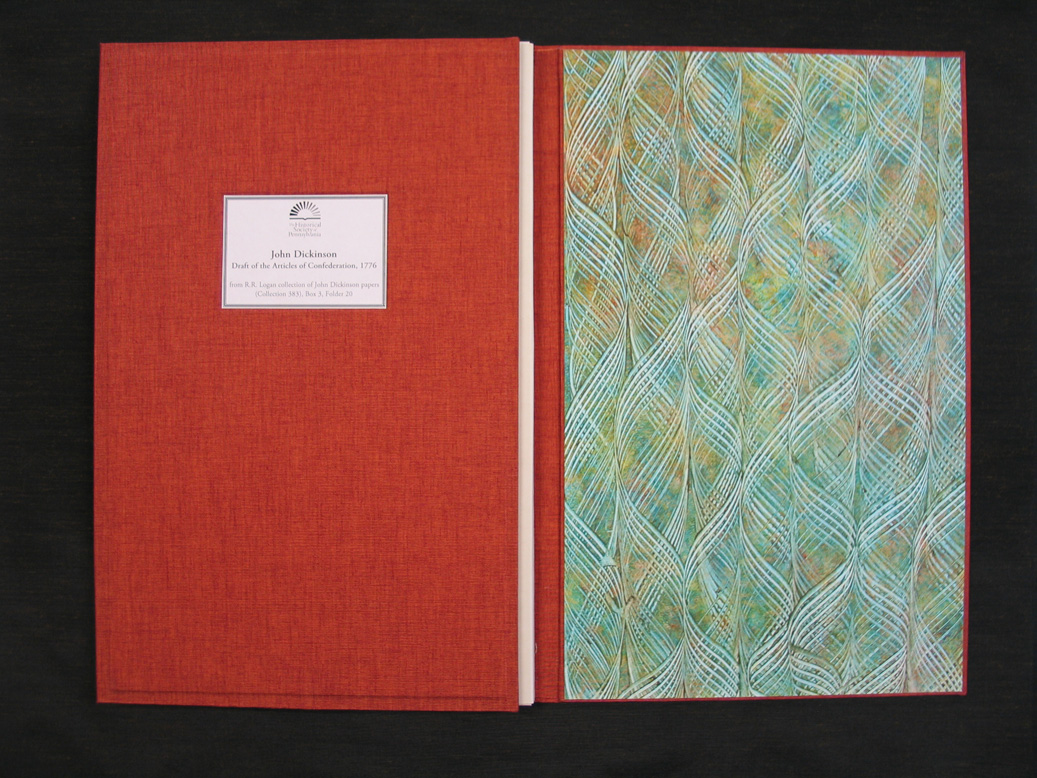 The draft and other notes by Dickinson relating to the Articles can be found in the John Dickinson papers of the R. R. Logan Collection (1671-1863) or in the Digital Library.