As this blog series, A Philly Foodie Explores Local History, approaches the halfway point in its two-month journey in food history, I think it's about time that we visit one of Philadelphia's best-known historic food landmarks-- the 9th Street Italian Market!  With early beginnings in the 1880s when Italian immigrants began to settle in a neighborhood South of the original city center, the Philadelphia Italian Market is a collection of specialty food shops and outdoor vendors concentrated around 9th and Christian Streets.  Inspired by historic photographs and local family recipes in our archives here at the Historical Society of Pennsylvania, I decided to connect with this historic Philly foodie neighborhood by shopping for fresh ingredients at the Italian Market and cooking a dish from Celeste Morello's The Philadelphia Italian Market Cookbook: The Tastes of South 9th Street.  Experience the market with me as you read about my multi-layered culinary adventure below and view additional pictures in the photo album to the right!
Not-knowing what to expect when I went searching for material on the Italian Market in our archives, I was blown away when I happened to stumble upon the Penrose Collection of early and late 20th century photographs of businesses along 9th Street.  In particular, the picture below of Tony Anastasio in front of his produce business really caught my eye.  The best way I can describe this photo is that it carries a sense of weight with it-- of accomplishment and hard work.  Started in 1938, Anastasio Produce has been in business over 75 years.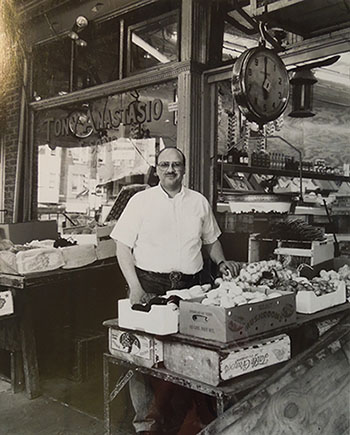 Tony Anastasio in front of Tony Anastasio Produce, as photographed by Joseph V. Labolito, in 1991. Check out the photo album in the top right corner to see other historic pictures of the Italian Market!
---
I also came across a fabulous collection of family recipes from shop owners and residents in the South Philadelphia neighborhood compiled alongside a history of the Italian Market in the Historical Society's copy of Celeste Morello's The Philadelphia Italian Market Cookbook: The Tastes of South 9th Street.  After encountering a cheesesteak recipe from the founder of Geno's Steaks, Joseph Vento, and reading a recipe for "Sicilian Blood Orange Salad" that was humorously connected to local accounts of Sylvester Stalone running through the market in Rocky movie scenes, I decided that it was only fitting to test out one of these historic recipes myself!  To take advantage of all the seasonal produce available at the Italian Market, I decided upon "John & Marie LaTerza's Recipe for "Jumbot.""  Below is the recipe and author's description directly from the cookbook: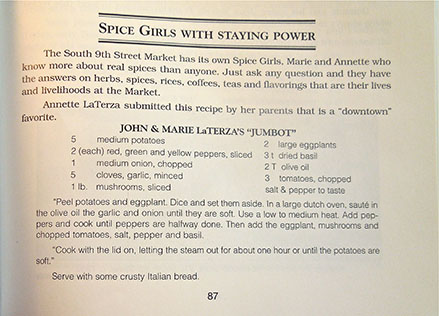 ---
Shopping list in hand and eager to get cooking, I headed to the market.  Walking up and down 9th Street, I spent most of my time admiring the fresh produce belonging to street vendors lining the sidewalk and talking with them as I made notes of what items to purchase.  Shops and vendors at the Italian Market are well-known for selling produce at some of the most affordable rates in the area and my ingredient hunt turned up a number of good finds.  My prized steal-of-a-deal was spending only a $1 for two large, vibrant eggplants.  Since eggplant is in prime season now, vendors were practically giving them away by the box.  Perhaps it was my inner foodie or former experience working a farm stand that made me so excited about the eggplant-- I'm sure I told at least three people about it that day!
I also visited Anastasio Produce for my first time and left the shop with a smile after stopping in search of mushrooms.  Although the store mainly sells to restaurants in the area, the warehouse is open to the public and when I asked about mushrooms, one of the gentlemen organizing morning deliveries was happy to stop his work to help me.  After deciding which mushrooms would be the best fit for the dish I was making, he brought out a box of beautiful Portobellos for me to choose from.
Below is a picture of one of the outdoor produce stands along 9th street. Underneath the picture is a list of the items I purchased and their prices.  The grand total was $18, not bad!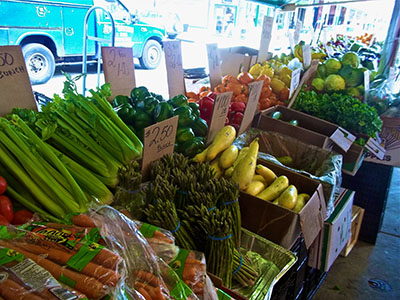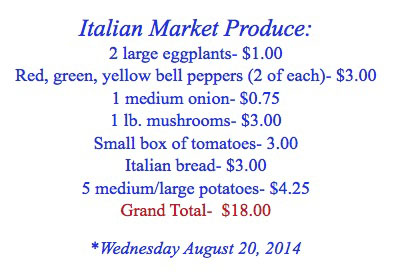 Just as you travel to a museum or historic landmark to engage with history in a memorable way rather then remember every knitty-gritty historical fact related to your area of interest, my exploration of the Philadelphia Italian Market was centered around experiencing history rather then analyzing it.  As you might have guessed, I came away from this journey focused not just on the product of my efforts in the kitchen, but more-so on the multi-layered experience of 9th Street that I encountered through historic photographs and family recipes and through my conversations with vendors and shop keepers in my hunt for cooking ingredients.  Even though John & Marie LaTerza's Jumbot has secured a spot within my personal collection of recipes, what I will cherish even more from this culinary experience is the feeling of personally connecting to bits and pieces of history in this iconic food-filled neighborhood.