Several months back, I discussed a recently processed collection, the Vauclain family papers. Well, HSP's archives have been abuzz with processing projects of late, and a few new genealogical collections have recently been made available since then. Here's a sampling with links to our online catalog Discover. 

Batcheler, Hartshorne, and Sahlin families papers (Collection 3173)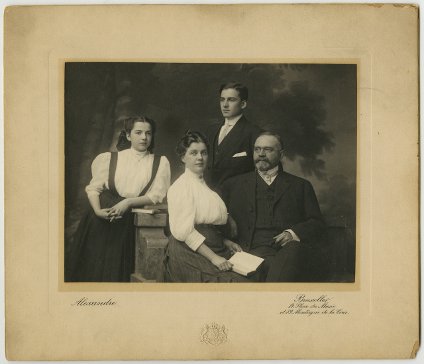 This collection contains the papers of the Batcheler, Hartshorne, and Sahlin families, descended from Axel (1826-1909) and Axeline Sahlin (1834-1922), a Swedish couple whose children lived in Europe and the United States. Four generations of the family are documented, with documentation centering around five families. In the United States, the family is represented by Gertrude Chandler (1860-1953) and Axel Sahlin (1855-1937); their daughter Ellen Sahlin (1895-1988) and her husband, Judge Richard Hartshorne (1888-1975); and their daughter, Penelope Hartshorne (1928-2007) and her husband, George Batcheler (1926-2009). The Swedish side of the family is represented by Axel and Axeline Sahlin and the family of their daughter, Essie Sahlin (1859-1950) and her husband, Simon Johannes Boëthius (1850-1924). The contents of this collection are mostly correspondence and other personal papers, including diaries, artwork, school work, and genealogical research on all branches of the family. There are also a good deal of photographs, documenting all four generations of the family and their relatives.
---
Brake and Wineman families papers (Collection 3606)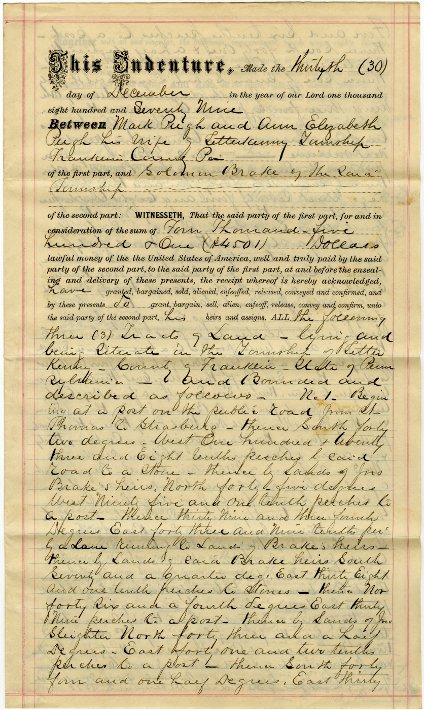 The Brake (Brecht or Break) family owned a farm in Letterkenny Township, Franklin County, Pennsylvania, from the 18th century. The Brake and Wineman families came together with the marriage of Solomon Brake (1828-1919) and Sarah Belle Wineman (1855-1925). The collection documents several generations of the two families and includes correspondence, vital records, military records, copy books and other school documents, farm records including account books, property and estate records, receipts, photographs, eighteenth century currency notes, and other items. There are several Civil War letters, primarily from Private George Wineman of the 107th Pennsylvania Infantry, who was killed at Gettysburg. Most of the collection is in English, with a few items in German.
---
Lois Dare family history collection (Collection 3571)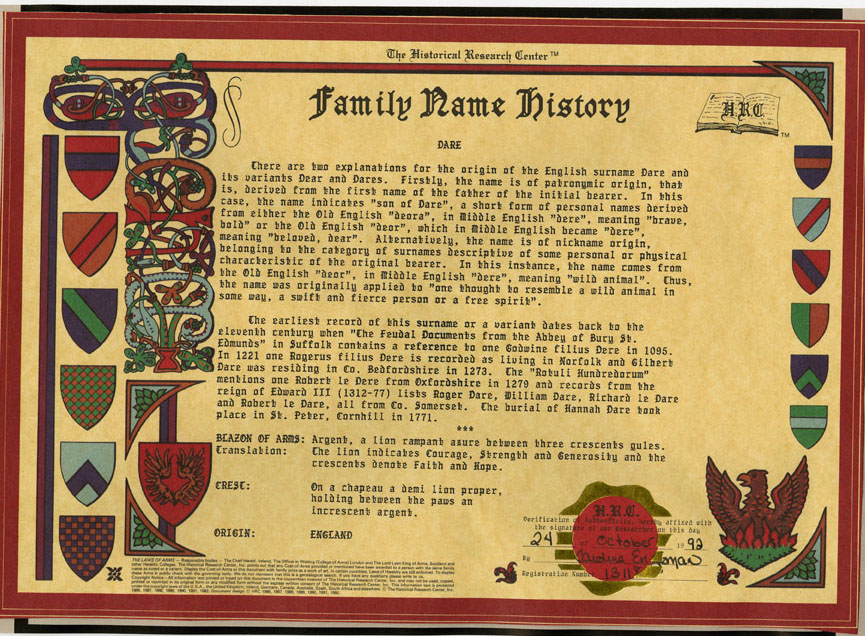 The Lois Dare family history collection focuses on the genealogies of the Dare and related families, such as the Townsend, McCalmont (Mac Calmont), Everts, and Buchanan families. Lois Dare collected numerous items in her search for her family's history, including genealogical records, notes, clippings, and family charts. The collection also contains the original naturalization certificate for Charles Frederick Everts (born 1816) and a certificate of recognition of his son Fred Everts (1839-1920) for his service during the Civil War. Using these materials, Dare was able to trace her family's history back to 17th century England and Ireland. She compiled some of her findings into a scrapbook, "Ancestral Record," which is in the collection and contains a plethora of family data, photographs, vital records, correspondence, deeds, amps, and other notes all on or from various family members. Dare finished the scrapbook in 1984, and most of the items date from the late 1800s to the mid 1900s.