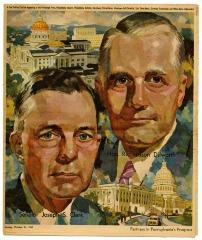 Richardson Dilworth's career as a politician was not immediately successful.  He lost his first election in the 1947 race for mayor of Philadelphia to Republican incumbent Mayor Bernard Samuels.  Philadelphia had been led by Republican mayors for more than six decades and many did not support Dilworth's campaign platform, which criticized municipal corruption in an effort to strengthen the local government's role in city planning.  It would take years, as well as a series of scandals on the part of Republicans, for the city's political atmosphere to change and for Philadelphians to be ready for reform. 
In the 1947 mayoral race, Dilworth and Joseph Clark organized thousands of young and middle-aged professionals as campaign volunteers, fresh and energetic faces in electoral politics, to work the phones and canvass door-to-door.  Dilworth campaigned and spoke across the city with the poise and self-confidence of a veteran trial lawyer.  On October 24, 1947, he debated Republican Sheriff Meehan and attacked police corruption in the first televised political campaign in Philadelphia.  Finally, political success came two years later when Dilworth was elected city treasurer, Clark was elected city controller, and Democrats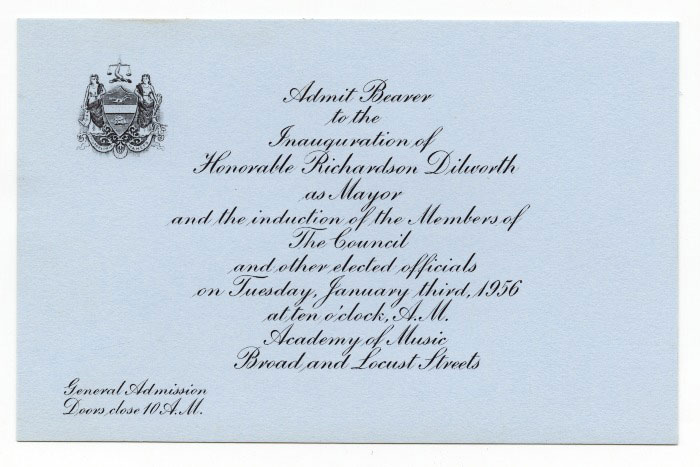 won fifteen of the seventeen council seats.  This election established a legacy of Democratic governance; the Republican Party has not held a majority in City Council since 1949.  As city treasurer, he contributed to the draft of a new city charter that consolidated government offices and made official examinations mandatory for civil service employees.  The next year, Dilworth ran for governor of Pennsylvania, but lost a close race to John Fine.  After this election, Clark and Dilworth received the support of Americans for Democratic Action (ADA), a nationwide organization of liberal activists and reformers, which brought more attention and support to their campaigns. 
In 1951, at the same time that Dilworth was elected district attorney, Clark was elected the first Democratic mayor of Philadelphia in 67 years.  In 1955, Dilworth was elected mayor as Clark went to the U.S. Senate.  Together, their administrations launched one of the largest urban renewal programs in the nation and ushered in an era and tradition of political reform in Philadelphia.