PHILADELPHIA, PA - The October 2016 issue of the Pennsylvania Magazine of History and Biography (PMHB), "Immigration and Ethnicity in Pennsylvania History," has now been published.
How do people from different cultural backgrounds and identities coexist, interact, and flourish together, and on what terms? In this special issue of the Pennsylvania Magazine of History and Biography, we bring together scholars of Pennsylvania history to revisit some of these questions using current approaches to immigration and ethnicity.
The issue is FREE to read online through December 16!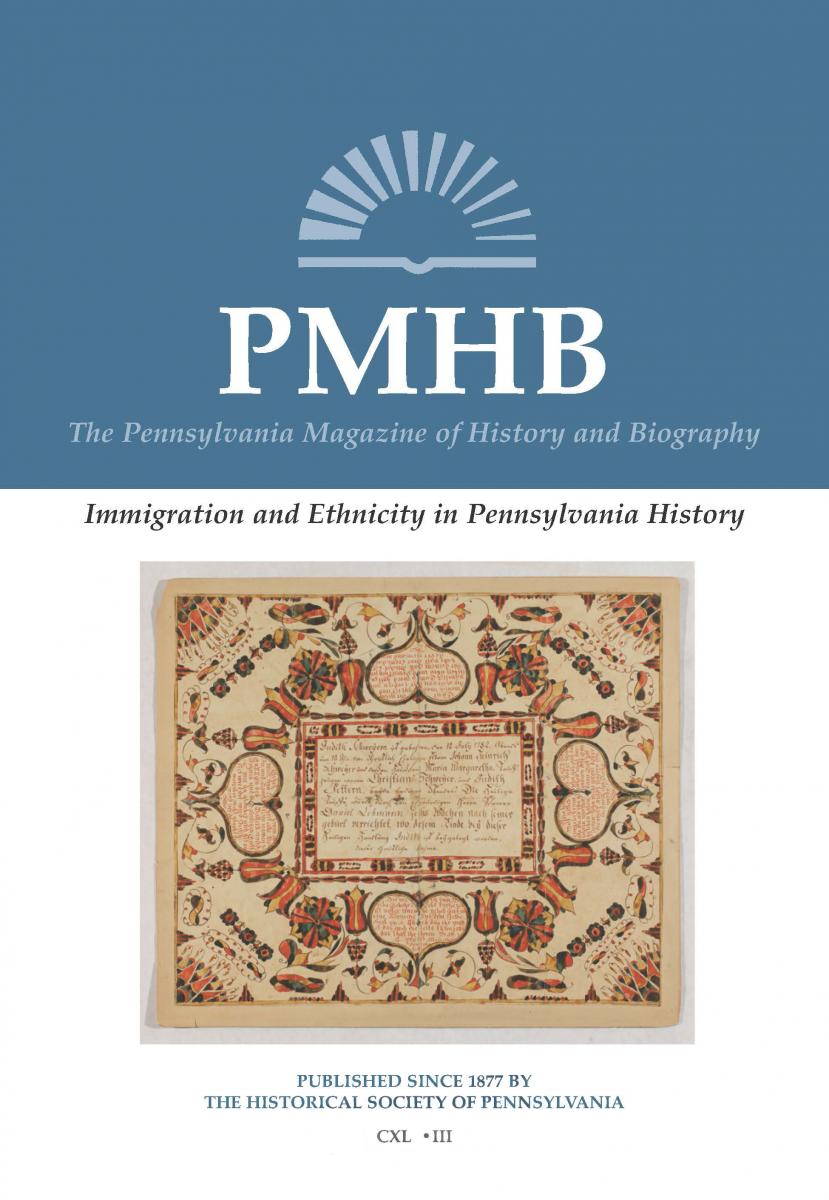 Contents include:
From Peopling to Postethnic: Pennsylvania Pluralism Reconsidered | Kathryn E. Wilson and Rosalind Beiler
Commerce and Community: Philadelphia's Early Jewish Settlers, 1736–76 | Toni Pitock
Palatines or Pennsylvania German Pioneers? The Development of Transatlantic Pennsylvania German Family and Migration History, 1890s–1966 | Katharina Hering
Interpreting American Ethnic Experiences: The Development of the Balch Library Collections | Dominique Daniel
Dutchirican: The Growing Puerto Rican Presence in the Pennsylvania Dutch Country | John Hinshaw
Identifying and Mapping Ethnicity in Philadelphia in the Early Republic | Billy G. Smith and Paul Sivitz
Fort Shirley's Copper Charm: Investigating Muslim Ethnicity on Pennsylvania's Colonial Frontier | Jonathan M. Burns, Andrew Dudash, and Ryan Mathur
Pennsylvania Migrants in the Austrian State Archives and Hungarian National Archives: Dual Repositories for Migrants from a Dual Monarchy | Kristina E. Poznan
Fort Indiantown Gap and Pennsylvania's Role in Refugee Resettlement | Stephanie Hinnershitz
"Same Struggle, Same Fight": Yellow Seeds and the Asian American Movement in Philadelphia's Chinatown | Kathryn E. Wilson
Tracing Filipino Philadelphia in the Pedro Supelana Papers | Christina Capozzola
The Pennsylvania Magazine of History and Biography (PMHB), HSP's scholarly magazine published since 1877, is one of the country's most prestigious state historical journals. PMHB is a benefit for Friends of HSP members and is also available to individual and institutional subscribers in print & digital formats.
Online access to the full run of PMHB, from 1877 to the present, is available on JSTOR to subscribers and to Friends of HSP at the Patron level and avove. Visit hsp.org/publications for more information.
Beginning in 2016, PMHB has moved to a new schedule. The journal will now be published three times per year – in January, April, and October – allowing PMHB staff to produce a special topical issue each year.