By Madison Arnold-Scerbo, an intern from Haverford College
"We feel the future belongs to us, but we must take action to make sure we get 'that' kind of future, not the kind those in power now are willing to 'give' to us. Nobody gives you anything, especially freedom – this you must fight for" (The Black Ghetto, Sept-Oct 1968)
The Black Ghetto was a newsletter created by young black folks in Philadelphia who called themselves the "Groovers." The goal of the newsletter was to bring people from different Philadelphia neighborhoods together in order to address problems facing the entire black community while eliminating gang violence. The Groovers also sought "to educate Black people to a 'Black' point of view." Their newsletters included coverage of current events and issues concerning the black community. As part of this coverage, the Groovers regularly touched upon a number of themes including police brutality, institutional racism, and black identity.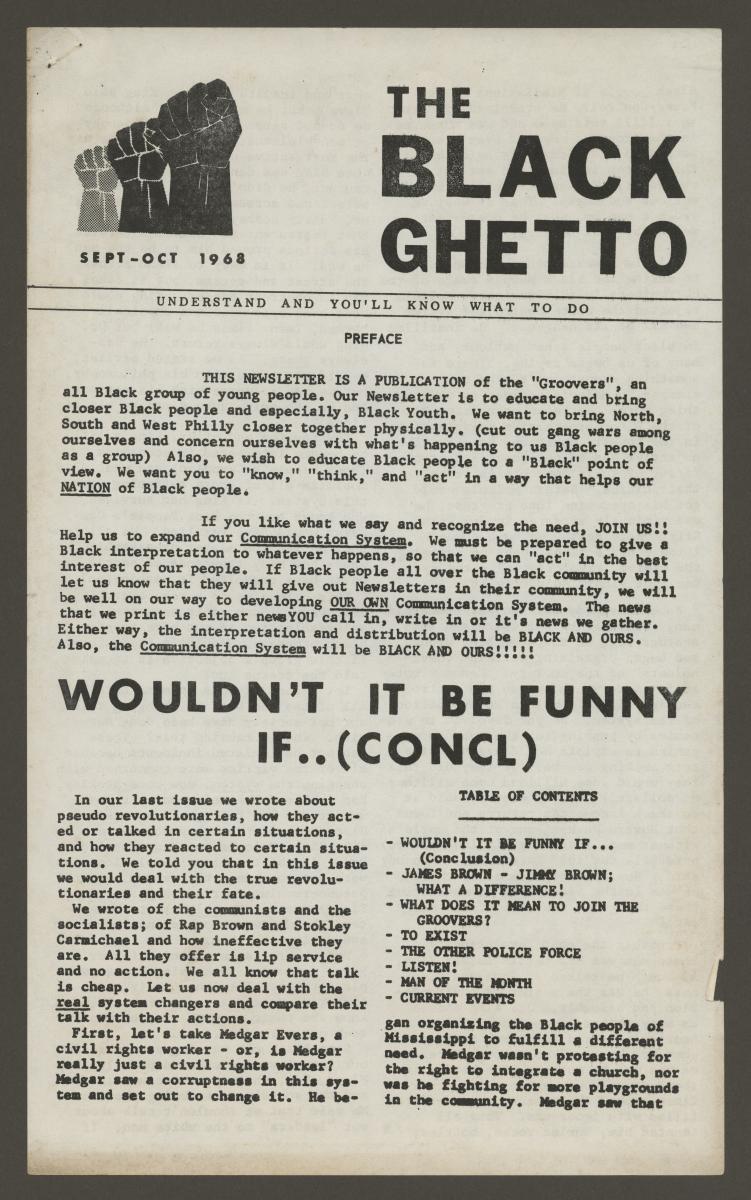 The Black Ghetto front page, Sept-Oct 1968
The Black Ghetto is just one example of the many different student publications created in Philadelphia in the late 1960s. Creating and circulating newspapers was one way that black young adults in Philadelphia spoke out about their lives in that period. These publications gave them a chance to convey their experiences on their own terms and to communicate with each other and the general public. As the slogan of one such publication proclaimed, "say what we wanna say the way we wanna say it!!"
The Thelma McDaniel Collection at the Historical Society of Pennsylvania contains an impressive collection of student publications that gives a sense of the goals of young black Philadelphians and the ways that they imagined creating social change in the 1960s and 1970s.
"What would happen if the 'gangs' themselves took a stab at inner-city communications? What if they tried to put out a newspaper themselves? Dig it now. They did." (Dig This Now, Vol. 1 No. 3 Monday July 21, 1969).
Dig This Now was a newspaper published by teenagers from "Francisville and the adjacent ghetto areas." It received funding from the Urban Coalition of Temple University as well as from advertisements and paper sales (10 cents per copy or one year of 24 issues for $2.50). Dig This Now was largely a celebration of Black artists: it published  poetry, short prose pieces, photos, and illustrations submitted by young people throughout Philadelphia. The paper also alerted readers to events in Philadelphia that showcased black artists, like a weeklong Black Arts Festival or a production of one of Lorraine Hansberry's plays.
Another notable student publication from this time was Black Torch: The Voice of Black Students, a paper put out by students at Temple University. Black Torch regularly included news, information about upcoming events, and even a crossword puzzle. When Temple University proposed an expansion in the late 1960s that would displace a number of low-income black Philadelphians, Black Torch ran an impassioned article calling for black students to organize in opposition to the project. Each issue of Black Torch also included a short description of "the mother continent" of Africa since "No knowledge of the Black American is complete without knowledge of the mother continent as it stands today." As with the other papers, this array of content was intended to engage young black Americans with questions of identity, community, and justice.
Black Ghetto, Dig This Now, and Black Torch are just a few samples among similar periodicals in the collections of the Historical Society of Pennsylvania. Some of the publications primarily covered hard news while others contained a more diverse array of written and visual work, but they shared a number of common goals: broadcasting black voices that were traditionally silenced by white power structures, mobilizing young black Philadelphians, and exploring questions of black identity and community in contemporary America. At their core, these newspapers allowed students to voice their concerns and stand up for what they believed in during a period of unrest and racial tension in Philadelphia.
Fifty years later, the racial discrimination of the late 1960s persists. Where young black Philadelphians once created newspapers and journals to address the wrongs they experienced, contemporary black Americans have capitalized upon social media as a tool for mobilization and expression. Hashtags, Twitter threads, and articles shared on Facebook have brought a unique set of benefits and challenges as a new generation attempts to confront systemic racial injustices.
References:
McDaniel, Thelma. Thelma McDaniel Collection. Historical Society of Pennsylvania.