With 21 million manuscripts and hundreds of thousands of graphical items in HSP's collections, choosing what materials to digitize and make accessible via the Digital Library is a daunting challenge.  To assist us in this endeavor, we recently revamped our Digital Collections and Humanities Internship to focus on describing and digitizing one entire collection.  Throughout the spring, Digital Center staff nominated collections for digitization, considering such factors as research value, visual appeal, and types of materials.  Ultimately, the Edith Madeira papers [2053] emerged as the clear favorite and became the project of our summer intern, Arek.
HSP acquired the Edith Madeira papers [2053] in 1975 and the collection was processed in 2008 through a generous donation from Dorothy Del Bueno.  Born in Philadelphia in 1865, Edith Madeira served as the chief nurse for the American Red Cross Commission to Palestine from June 1918 to January 1919.  After British forces invaded the Turkish-occupied Middle East during World War I, the demand for medical and social services among the region's civilian populations led to the creation of the Red Cross Commission to Palestine.  As chief nurse for the Commission, Edith Madeira oversaw the nursing staff, which worked in over fifty-four towns, villages, and refugee camps extending from Port Said, Egypt to Acre on the northern coast of Palestine.  The Commission's operations included twelve hospitals and sixteen dispensaries run by nurses, surgeons, sanitary engineers, and additional staff, including social workers and teachers.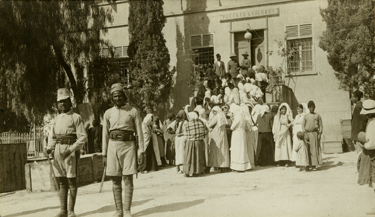 The collection primarily consisits of Madeira's correspondence chronicling her experiences in the Middle East, as well as biographical notes and her nursing diploma and license. One of the items that made the Edith Madeira papers [2053] an attractive candidate for digitization was Madeira's scrapbook of her journey to Palestine and her service in the region.  To reach Palestine, Madeira traveled by way of Cape Horn, the Indian Ocean, the Red Sea, and the Suez Canal before reaching Port Said on June 11, 1918.  The scrapbook includes striking photographs of Cape Town and the Egyptian Pyramids, as well as refugee camps and the Red Cross hospital in Jerusalem.  Even more intriguing are the items of ephemera scattered throughout the scrapbook, such as dried flowers, postcards, and, most notably, a palm leaf with a prayer scrolled on it.

While HSP's Digital Library now includes over 50,000 images, many of these images offer users only a small snapshot of a collection's holidings.  Digitizing and describing an entire collection is a time-intensive effort and we were fortunate to have our intern, Arek, assist us with the digitization of the Edith Madeira papers [2053]. Over the course of his two-month internship, Arek created new image records and described materials so they would be discoverable to users searching the Digital Library.  Arek then digitized the materials using both an Epson scanner and Hasslblad camera and edited these images in Photoshop.  This fall, distance interns from the University of Wisconsin-Milwaukee will add additional descriptive information, as well as georeference key locations and places.  For both on-site and distance interns, the Digital Collections and Humanities internship provides hands-on experience in an archives environment similar to that of an entry level digital humanities position.  At the same time, interns play a vital role in the development of HSP's digitization program by allowing us to make more materials accessible online.  Look for future updates on new collections our interns have digitized and visit our website for additional information, including how to apply, for a Digital Collections and Humanities internship.