In my previous blog post, I introduced the watermarks of several English papermakers and their forgers. In this post, I would like to share some of the watermarks of the pioneers of American paper manufacturing found in ledgers from the Bank of North America collection.
The earliest American paper mills were established in the 1690s near Germantown, Pennsylvania by William Rittenhouse -- a German who emigrated from Holland where his family might have been engaged in papermaking. Most of the early mills in colonial America were started by immigrant papermakers who modeled their mills after those in Europe. These mills required a constant supply of fresh water to wash fibers and also to turn the beating machine, as well as a reliable supply of rags, the main raw material at that time. Pennsylvania, with its city of Philadelphia as the epicenter of American literacy, was the ideal place for paper mills with a high population that could supply enough rags and a sufficient flow of water from the creeks and rivers around the city.
One thing that I could not just pass over during my short research was the name Nathan Sellers who was a mould maker in Pennsylvania. He used his wire drawing skill to manufacture paper moulds. Nathan Sellers supplied moulds for hundreds of American papermakers around 1776 to 1820.  According to Thomas L. Gravell and George Miller in A Catalog of American Watermarks, 1690 – 1835, "Although William and Nicholas Rittenhouse were making paper as early as 1690, it was not until 1775 that American-made paper of fine quality began to be widely produced and used. It was only when the supply of foreign paper was cut off with the passage of non-importation agreements following the Stamp Act of 1765 and the Townshend Acts of 1767 that the industry really began to develop in this country. Its growth was greatly promoted by a single man – Nathan Sellers. . .  Paper was in extremely short supply during the Revolution; the war meant that foreign supplies of paper and paper moulds were virtually cut off. . . Although [Sellers] was called into military service in 1776, a special petition was presented to and passed by Congress on August 26 to order him home 'to make and prepare suitable moulds, washers & utensils for carrying on the paper manufactory.'"
Nathan Sellers kept a journal with elaborate records of his mould making and his association with many paper makers which have been a great resource for historians to learn about watermarks, papermakers and mills, etc.  He recorded which mill or manufacturer ordered which pattern of watermarks in each specific year or duration besides the dimension and wood type that he used for the mould. For example, Thomas L. Gravell and George Miller often referenced Nathan Seller's journal in A Catalog of American Watermarks, 1690 – 1835, published in 1979, which contains many image samples of watermarks that can be found in the BNA collection.
Based on what the watermarks indicate, most of the papers used for the ledgers in the Bank of North America collection were from local paper mills, except those English papers. (Although papers with English watermarks had also been produced in America because of the popularity of English papers, the moulds from England were frequently imported with their watermarks intact.)  Although there have been hundreds of mills located near Philadelphia, the world of the papermaking industry seemed to be small. Many paper makers had been somehow connected or engaged to each other as business partners or an employee/employer, a lender/leaser or a seller/purchaser of the mills or the properties, or family relations.  
These watermarks, 'MW' and the "Post horn," possibly belong to Mark Willcox (1744 ~ 1827) the son of Thomas M. Willcox from Ivy Mill (1729 ~ 1866) in Aston, Concord Township in Chester County, Pennsylvania.  Thomas Willcox, originally from England, started a paper mill in 1729 with Thomas Brown and formed a partnership to operate the mill. Thomas Willcox is known to have made some paper for Benjamin Franklin and for colonial currency. His son Mark Willcox took over operation of the mill by 1767 and inherited it after his father's death. The name Ivy Mill was adopted around 1828 while the mill was under the management of James M. one of Mark Willcox's grandsons.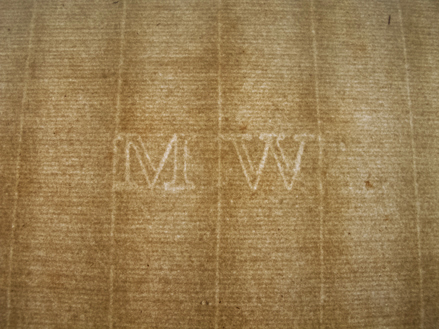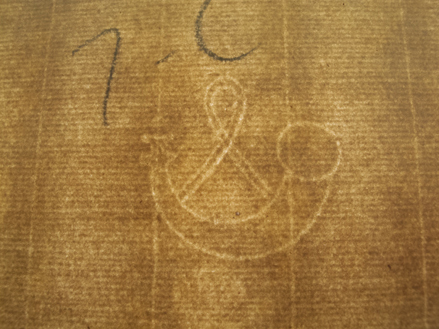 Watermarks of Mark Willcox
Although we couldn't find many of his watermarks in the BNA ledgers, Mark Willcox is a significant name for the collection. He made the paper for the first issued bank note of the National Bank of North America. Below is the sample of the original paper used for bank currency and the receipt of order issued in 1781 can be found in the BNA's Extra Illustrated volume.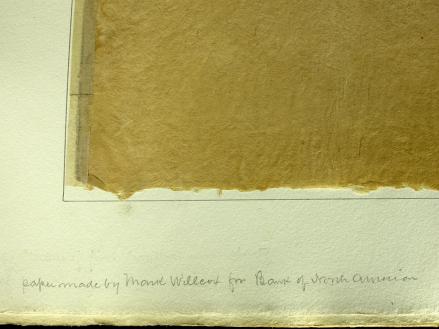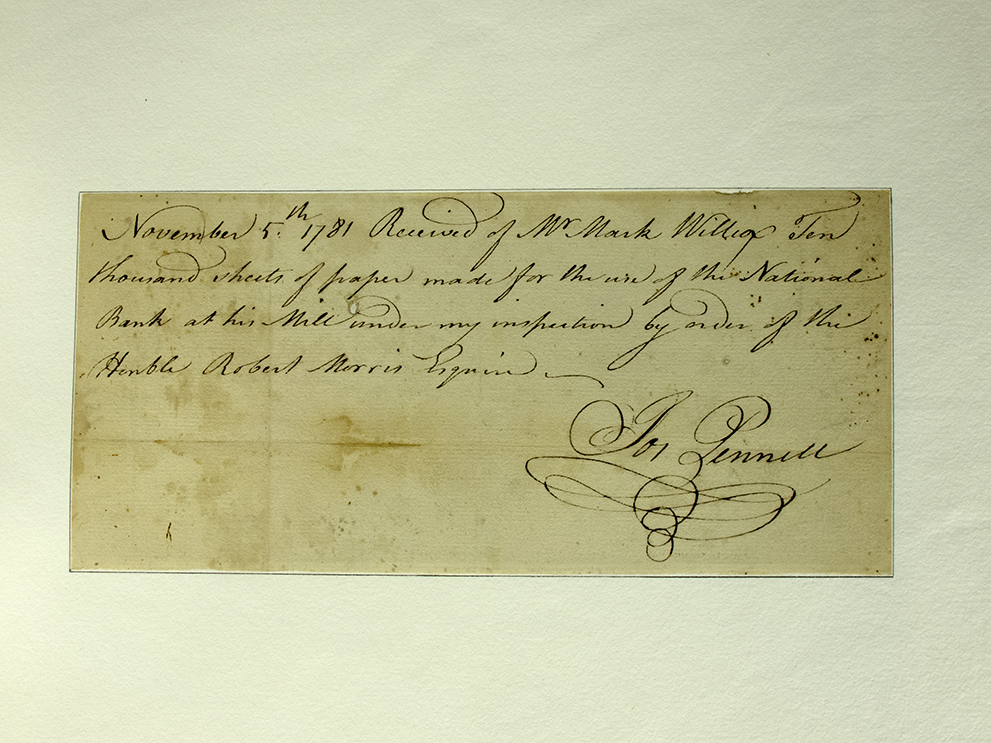 The 'Dove bearing an olive branch' and 'AMIES PHILAD' are known as the watermarks of Thomas Amies (d 1849), who started and operated Dove Mill at Mill Creek, Lower Merion Township, Montgomery County, Pennsylvania. The mill started from 1798 and was named "Dove Mill" because of the dove and olive branch watermark that Amies used. It is unknown when Amies started papermaking and under whom he learned the papermaking trade.  The fact that the dove watermark was also used by Willcox at Ivy Mill supports the theory that Amies had once worked for Ivy mill as a superintendent and probably learned his trade from Willcox.  This possibility is explored by Historian Lyman Horace Weeks in his book History of Paper-manufacturing in the United States, 1690-1916. As a renowned supplier of quality printing paper in Philadelphia, Amies manufactured paper for the Second Bank of the United States and in 1817 he produced paper for a special printing of the Declaration of Independence.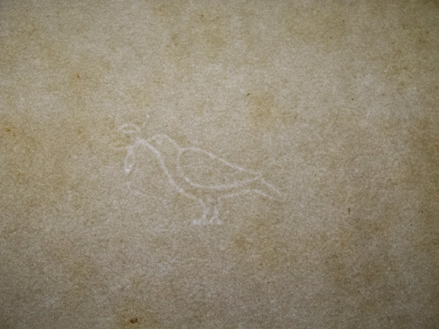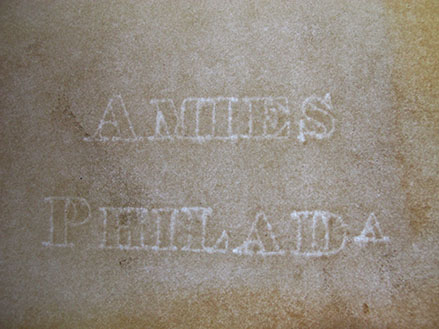 Watermarks of Thomas Amies
The 'R AMIES & Co' and 'Lamb' watermarks below indicate that the papers were made by Richard Amies, assumed to be one of Thomas Amies' sons from Dove Mill. Richard Amies worked at or managed Dove Mill in 1834. According to John Bidwell, in his book American Paper Mills, 1690-1832, "Although Richard Amies adopted 'Dove' water mark associated with the family mill, he also used 'Lamb' water mark which suggests that he might have been associated with 'William Amies & Company' in the Lamb Mill."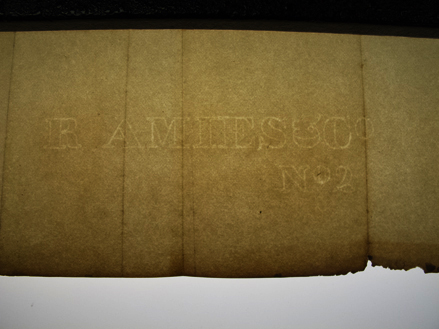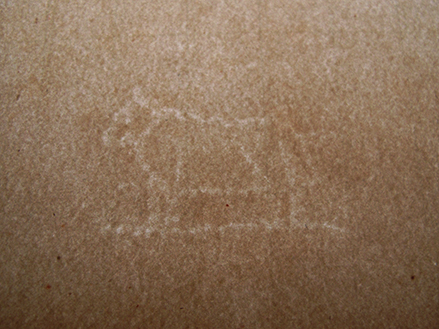 Watermarks of Richard Amies
These watermarks were used by Gilpin Paper Mill on Brandywine. Gilpin Mill is the first paper mill in Delaware established by two brothers, Joshua Gilpin and Thomas Gilpin in 1787. From A Catalogue of American Watermarks, 1690 – 1835, by Thomas L. Gravell, George Miller, Garland Publishing, Inc. 1979 "They purchased moulds from Nathan Sellers for the first in November 1788. They were watermarked "J GILPIN & CO" with "BRANDYWINE" underneath. They regularly purchased moulds from Sellers until 1802. After 1800, Joshua's initials are replaced by Thomas's and after 1805, the "J G &CO" watermark no longer appears." 
Joshua Gilpin traveled to Europe in1795 and in 1811 to visit factories and papermakers and he acquired information for his brother to build America's first machine that produced paper in an endless roll. By inventing and patenting this machine in 1816, Thomas Gilpin revolutionized the paper industry.
Gilpin's mills were severely damaged by a flood in 1822 and then a massive fire in 1825. In 1837, there was a second flood which halted production and the mill was sold.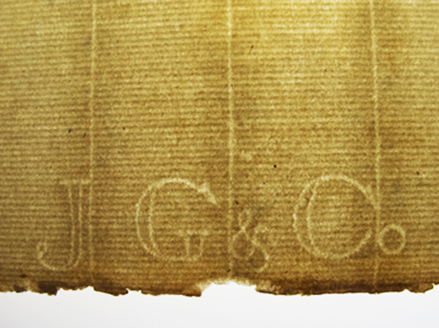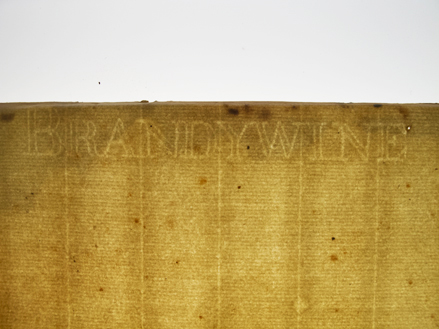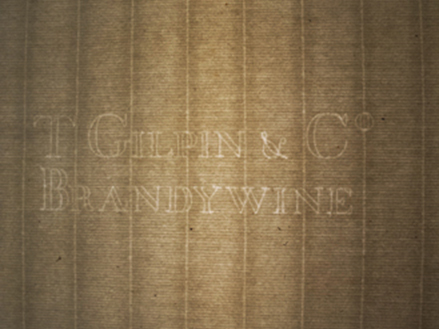 Watermarks of Joshua Gilpin and Thomas Gilpin
The "FB" in this watermark might be the initial of Frederick Bicking.  From  A Catalogue of American Watermarks, 1690 – 1835, "Frederick Bicking first ordered a mould from Nathan Sellers in Feb. 1783. On March 28 1783, He ordered a mould watermarked "F B"." He is a native of Germany and might have learned the paper trade from William Rittenhouse. In 1762, he bought property for a mill of his own in Mill Creek, in Lower Merion Township.  Three of his sons were also papermakers and established their own mills. Frederick Jr., the one who worked with his father, inherited Frederick Bicking's original mill at his father's death in 1809. This mill was apparently sold in the 1830's.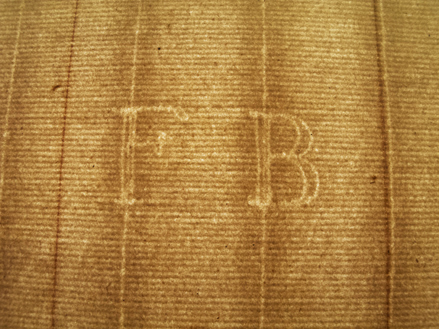 Watermark of Frederick Bicking
These watermarks "I B" and the "bell" might belong to John Bicking, one of Frederick Bicking's sons, who established his own mill on Beaver creek, East Caln Township (now East Brandywine). His first mould order from Nathan Sellers in 1804, was watermarked "I BICKING". His mill was inherited by his son John and produced paper until 1822. His other watermarks were known to be "I B", "bell with handle" and "post horn".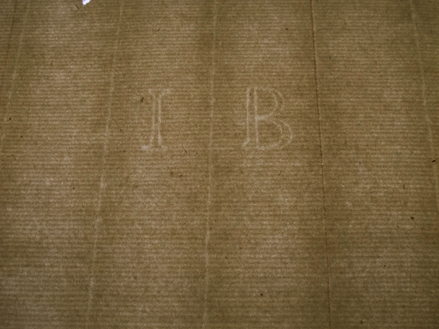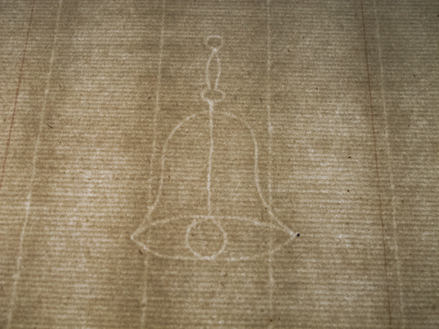 Watermarks of John Bicking
The Levis family had built and operated paper mills for about five generations. They had used watermarks such as "S L", "S &WL", "SPRING HILL", and "W L" as well as images of "post horn", "eagle" and this image below. Each watermark might have belonged to different family members. Samuel Levis III was the first person (or generation) known to establish paper mills in Levis family. It is not clear how many mills he established but the Tuscarora mill and Glenwood mills and Lamb mills on Darby Creek in Upper Darby Township were among those which had been established before or during the Revolutionary War and were passed down to his descendents.
More information can be found in American Paper Mills, 1690 – 1832, by John Bidwell.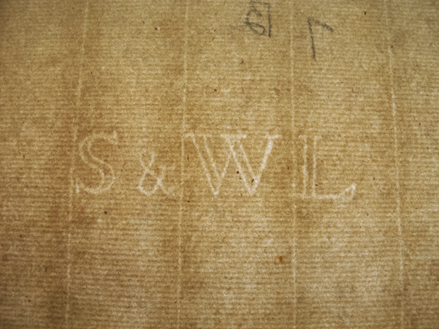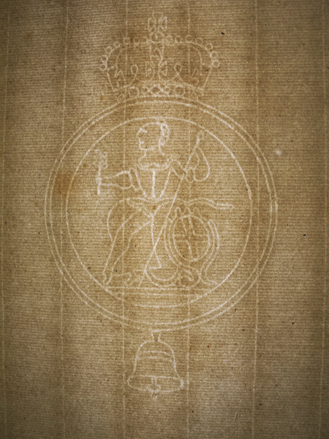 Watermarks of Samuel Levis 
Here are some of very beautiful watermarks from BNA collection about which I haven't  been able to find any information.  Many manufacturers have been known to use very similar types of watermarks, which makes positive identification understandably difficult.
These are only a few examples of American watermarks that I have collected but there are many more watermarks in the BNA collection which have yet to be identified and can offer further insight into their history.