How do you scan half a million pieces of family history?
One steadfast pair of volunteers at a time.
Karen and Jerry Chapman recently wrapped up twenty-two tireless months of volunteer service to HSP. The Chapmans are the sixth FamilySearch couple to work with us since we launched a collaboration in 2014.
FamilySearch—which is celebrating its 20th year online—is a nonprofit, volunteer-driven genealogy organization sponsored by The Church of Jesus Christ of Latter-day Saints. Anyone can access FamilySearch services and resources free online or through more than 5,000 family history centers in 129 countries, including the main Family History Library in Salt Lake City, Utah, and missionaries regularly travel to archives throughout the world to scan genealogical records to add to the site.
HSP's FamilySearch volunteers have the option to serve anywhere between 12 and 24 months. Before committing to spending time here, the Chapmans spoke with previous FamilySearch volunteers and stopped by HSP for a brief tour. They weren't phased by the thought of two solid years of scanning. "We knew what we were getting into," says Karen. "We thought 'Work for a penny, work for a pound. Why not? Let's do it!'"
The Chapmans estimate that they've scanned about half a million pages of material in total. They can make it through 2,500 or even 3,000 pages "on a good day," Jerry says, but more complicated items—with pieces that are glued or taped together, requiring careful and painstaking handling—can slow their pace to 600 pages.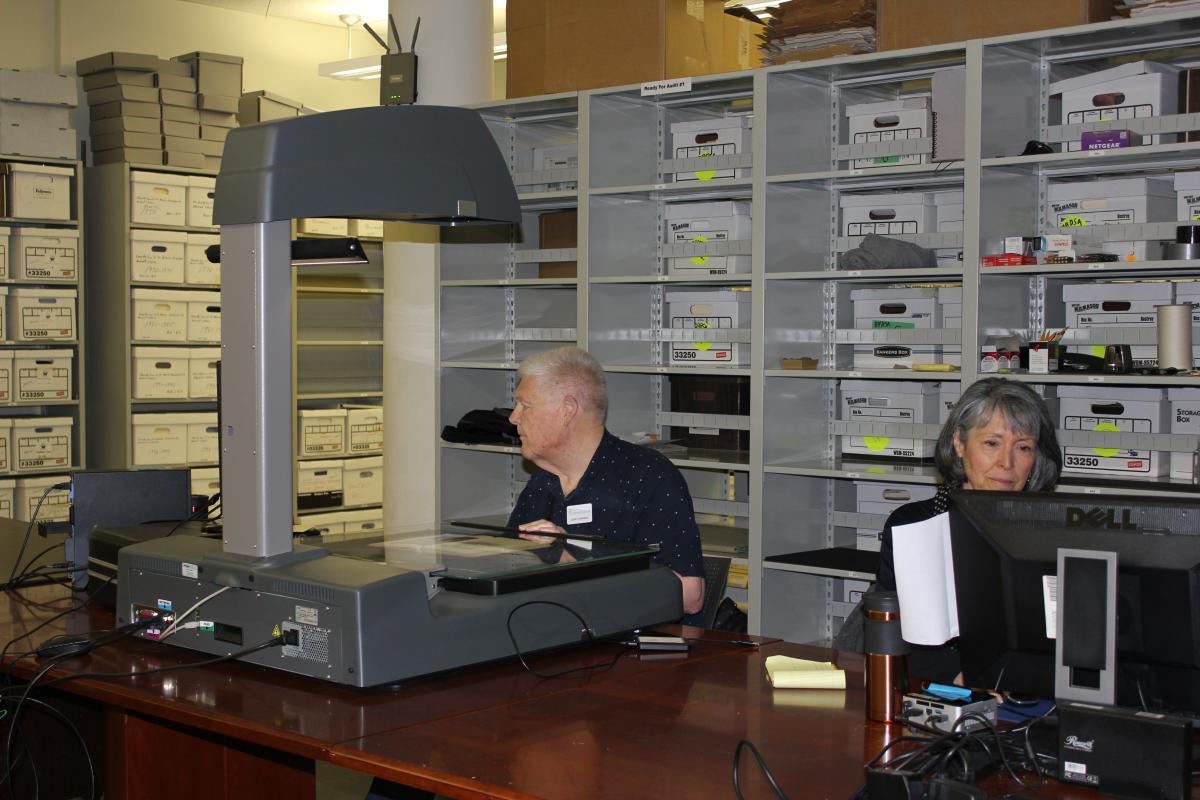 Jerry and Karen Chapman at one of HSP's two dedicated workstations for FamilySearch volunteers
They worked mostly with materials that were assembled by genealogy researchers in the 1800s. Just like professional genealogists today, the researchers would pore over historical records to assemble a family's history. The original photographs and other documentation had been put into books and bound.
Some surprises revealed themselves among the typical letters, official documents, and occasional locks of hair, all tucked away in the centuries-old bound books. Once the Chapmans found a small piece of heavy cardstock that turned out to be a certificate for a burial, deodorizer, and embalming service that would retrieve bodies from Civil War battlefields for a $99 fee. The certificate included the name of the deceased—a "treasure" for any living relatives, Karen notes.
Outside of their volunteer work at HSP, both Karen and Jerry are avid family history researchers. Their day trips from Philadelphia were often genealogy expeditions: they made it out to the Brandywine battlefield, where one of Karen's ancestors fought in the Revolutionary War; to the Mennonite Heritage Center in Harleysville; and to a church in North East, Maryland, where one of Karen's ancestors was buried.
The Chapmans have returned to their home in the Pacific Northwest, but if they return to this city, we'll know where to find them. "If I lived here in Philadelphia, I would be here [at HSP] all the time," says Karen. "Put me in one of those rooms with all the books, I'll just live in there."
Interested in accessing these materials? The majority of the materials scanned and sent to be processed before November are online and available through FamilySearch.org. The books sent after that date will be made available at a later time.