Following up on Sarah's post about cemetery records last month, I thought I'd highlight another helpful source for family history research: undertakers' records.
Undertakers and the companies that manage funerals compile a variety of information about each deceased person whose burial they arrange. Sometimes this information can help fill in gaps in family trees, provide more information about occupations or residences, and generally provide brief glimpses into a person's life.
The Historical Society of Pennsylvania has a variety of undertakers' records, including records from Philadelphia-area undertakers Andrew J. Bair & Son (1901-1919, call # Ph 53A:1-15), David H. Bowen & Son (1845-1918, call # Ph 60A:1-46), and Kirk and Nice (1874-1918, call # Ph 51A:1-46).
Our largest collection of undertaker records – 991 boxes! – is the Oliver H. Bair Company records (collection #3338), which includes burial information from 1920-1980.
The vast majority of the collection is records from the Oliver H. Bair Company, but it also includes burial records from the 1960s-1980s from five other Philly-area funeral homes purchased by Bair: William Rowan Grant, Inc.; David G. Frankenfield & Sons, Inc.; William F. Cushing, Inc.; Davies Funeral Chapel; and Evoy & Sons, Inc.
Most of the Oliver H. Bair Company burial records include an information sheet compiled by staff at the funeral home, usually with some biographical information and notes about the planned service.
An Oliver H. Bair Company information sheet for Edgar Moore, who was buried June 24, 1921. The form is two-sided, and in this case, two additional notes are attached.
You may also find copies of bills from the funeral home, or brief correspondence between the staff and the family of the deceased person. If a death notice appeared in a newspaper, a clipping of that may also be saved in the file. In rare cases, you may find hidden treasures: lengthier correspondence (expecially if bills went unpaid), small coin purses, documentation about the deceased's military service, and more. Once, I even found a photograph of the person whose burial file I was reviewing.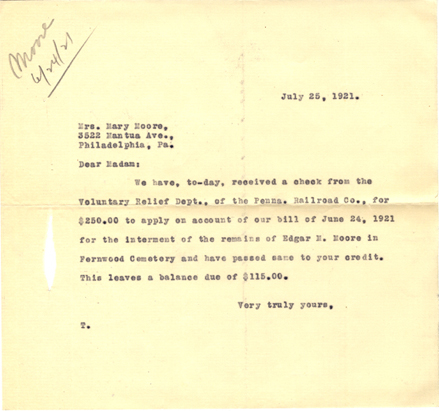 Another document in Edgar Moore's file in the Oliver H. Bair Company records confirms his connection with the Pennsylvania Railroad Company.
The burial records are arranged by date, but if you don't know the exact date of the person's burial, you can also consult our index to the Oliver H. Bair records, available in our reading room (call # Index F 158.1 O45 2008).
Once you know that a record exists in the Oliver H. Bair collection, you can come in and view the records in person, or you can order a photocopy of the file here.
Earlier this year, we partnered with Ancestry.com to digitize the index. If you're a member of HSP, you can access that digitized index through our web site. We also re-housed the original records to better preserve them for years to come. You can read more about the re-housing work and some interesting discoveries in the collection over on our archives and conservation blog, "Fondly, Pennsylvania."