On September 17, 1778, representatives from the United States and leaders from the Lenape signed the first written treaty between the country and an American Indian tribe. 
Before this event, colonial settlers entered into informal truces with American Indian tribes. Take, for example, the oral agreement between William Penn and the Lenape in 1682. Penn met with Lenape leaders underneath an elm tree near Shackamaxon (present day Kensington).  Penn entered into a mutual promise of friendship and peace with the tribe's representatives. This oral treaty proved enduring. The French philosopher Voltaire wrote about the treaty's success, calling it "the only treaty between those people [American Indians] and the Christians that was not ratified by an oath, and was never infring'd."
This informal style of truce typified relations between European colonists and American Indian tribes for nearly 100 years. By 1778, however, the diplomatic complexities caused by the Revolutionary War prompted representatives of the United States to try a different approach.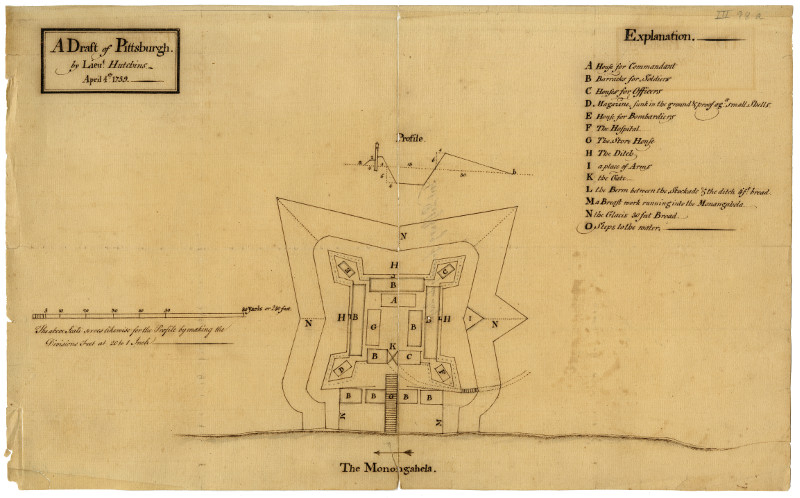 Draft of Pittsburgh by Lieutenant Hutchins, manuscript drawing (1759), Thomas Hutchins papers (Collection 308), The Historical Society of Pennsylvania.
In Western Pennsylvania, Fort Pitt (present day downtown Pittsburgh) served as a key stronghold for the colonial army. The British held Fort Detroit (present day Detroit) several hundred miles to the northwest. In anticipation of a campaign against the British in the Ohio Valley, colonial representatives met with Lenape leaders representing the tribe's communities in Western Pennsylvania. Lenape leaders White Eyes, Captain Pope, and John Kill Buck met with US dignitaries Andrew Lewis (an Irish born colonial soldier) and Thomas Lewis (an Irish born lawyer). 
The two sides hashed out the Treaty of Fort Pitt, which permitted colonial forces to peacefully pass on Lenape land. It also allowed for the strengthening of Fort Pitt's defenses. In return, the United States would formally recognize the sovereignty of the Lenape and ensure their territorial rights. Both parties signed the document, resulting in the first treaty of its kind.
The agreement also alluded to the potential for the Lenape and other tribes present in the Ohio Valley to incorporate as a state within the new country and receive representation in the nation's legislature. Whether because of duplicitous intent on the colonial side or the political impossibility of such a state, this plan never came to pass. This dismayed the Lenape leaders, who quickly soured on the deal. A contingent from the tribe spoke before the Continental Congress in Philadelphia in 1779, airing grievances about the treaty. The United States' political leaders largely ignored their complaints, and the truce fell apart shortly thereafter.