The Colonial Georgian structure of the Johnson House looks beautiful today, but imagine how good it must have looked in the early 19th century to enslaved African Americans on a harrowing trek northward. The Johnson House was a stop on the Underground Railroad for many Freedom Seekers passing through Philadelphia.
Built in 1765-68 by John Johnson, Sr. (1709-1794), the house is one of the oldest existing homes built for year-round occupancy in the Germantown section of Philadelphia, Pa. The Johnsons were active members of the Religious Society of Friends (Quakers), the earliest and most active religious denomination to oppose slavery in the United States. But even among Quakers the Johnsons were exceptionally active in their anti-slavery efforts. Samuel Johnson (1777-1847) moved into the house in 1805 after marrying Jennett Rowland (1784-1876). Six of their ten children--Joshua, Sarah, Rowland, Israel, Ellwood, and Elizabeth--would participate in the abolitionist movement.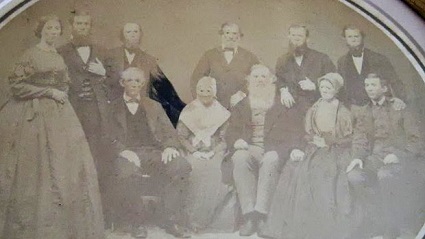 Jennett Rowland Johnson and children. Seated: John Rowland (1810-1895), Jennett Rowland Johnson (1784-1876), Samuel (1809-1885), Sarah Parker (1814-1890), Israel (1818-1897). Standing: Elizabeth Rowland (1828-1905), Nathan Hunter (1826-1902), Rowland (1816-1886), Joshua Rowland (1812-1900), Elwood (1823-1902), Alfred (1820-1884).
The list of organizations with which the Johnson family was involved is practically a catalog of anti-slavery and freedmen's aid organizations in the area. Rowland Johnson (1816-1886), the most well-known of the siblings, even served as Vice-President of the American Anti-Slavery Society. The family was also associated with many nationally famous abolitionists, including William Lloyd Garrison, James and Lucretia Mott, the Grimke sisters, Robert Purvis, and John Greenleaf Whittier.  The Johnson House is a documented stop along the Underground Railroad, where the family provided shelter, food, and clothes as needed to fugitive freedom-seekers.
The Underground Railroad is a hot topic around our offices at the Historical Society of Pennsylvania because of the William Still Digital History Project recently started by our co-workers. The project will produce an interactive website relating the journal of William Still, known as the "Father of the Underground Railroad," with his published history of the Underground Railroad and other contextual information. Rowland Johnson worked on the Philadelphia Vigilance Committee with William Still; his brother Israel (1818-1897) was also associated with Still.
The Johnson House Historic Site maintains a small collection on the Johnson family, 1794-circa 1994, including several original manuscript volumes and photographs from the Johnson family, as well as secondary-source materials such as photocopies and genealogical information about the family. If you would like to see it, run (away) to the Johnson House Historic Site right away!
See all finding aids for Johnson House Historic Site
Bibliography: Decter, Avi. National Register of Historic Places Registration Form for Johnson House. February 3, 1997. Accessed June 11, 2013. http://pdfhost.focus.nps.gov/docs/NHLS/Text/72001162.pdf