My colleague Rachel Moloshok and I recently finished selecting 512 historic political cartoons from HSP's collection to be part of our new digital exhibit for the Historic Images, New Technologies (HINT) project.
Soon, we'll begin diving into more focused research about these cartoons, and the people, events and symbols depicted in them.
As we've described before, the HINT project is developing new tools for managing and describing visual materials in archives. We're using political cartoons to demonstrate how these new tools will work, allowing us to not only transcribe captions or other text but also describe what apppears in the image itself. We plan to debut this new political cartoons digital exhibit in 2015, and plan to include other contextual content to help users better understand what they're seeing and to help educators incorporate these materials into the classroom. You can read more details about the project here.
That kind of historical background and context will be crucial for viewers who are unfamiliar with the cartoon icons and symbols that are no longer common, like John Bull, Brother Jonathan, Columbia, Salt River, and much more.
For instance, John Bull serves as a symbol for Great Britain. He typically appears as a stout man, often with a waistcoat (i.e. a vest) and frock coat. Brother Jonathan, in contrast, pre-dates Uncle Sam as a symbol for the United States, while Columbia is a female representation of America and liberty.
Here are just a few of the cartoons in HSP's collections that depict these icons: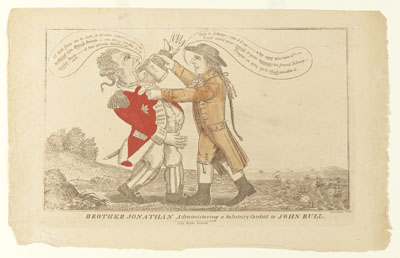 Brother John Administering a Salutory Cordial to John Bull, circa 1813. (call # Bb 612 B795.1)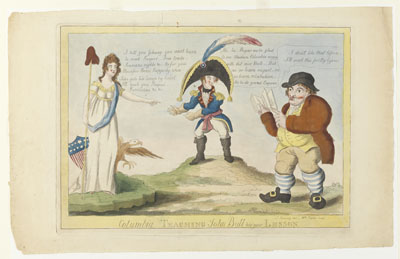 Columbia Teaching John Bull His New Lesson, 1813. (call # Bb 612 C723)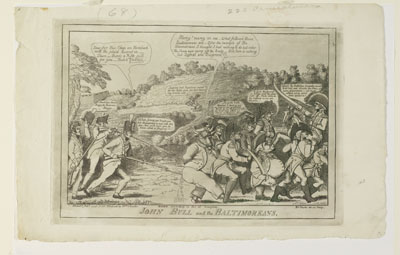 John Bull and the Baltimoreans, 1813. (call # Bb 612 Jb217)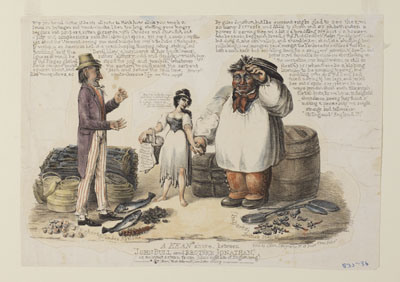 A Kean* Shave Between "John Bull and Brother Jonathan," circa 1835-1836. (call # Bb 612 K193)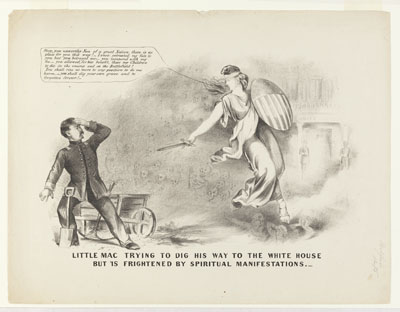 Little Mac Trying to Dig His Way to the White House But Is Frightened by Spiritual Manifestations, 1864. (HSP Cartoons and Caricatures collection, #3133)