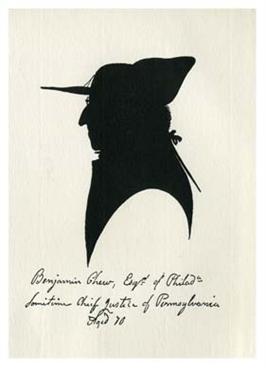 Very little is known about the early life of Richard Allen. Most of the information we have on his early years comes from Allen's autobiographical reflections to his son Richard Allen Jr. These writings were discovered in 1850 by Daniel A. Payne, who was researching the history of Mother Bethel A.M.E. Church. From Allen's autobiography, we know that he was born on February 14, 1760, as an enslaved worker owned by Benjamin Chew of Philadelphia. 
Benjamin Chew had between 40 to 60 enslaved workers on his Whitehall plantation in Kent County, Delaware. Chew also had a home in Society Hill in Philadelphia and another in Germantown, called Cliveden. In 1768, Chew sold Allen and his family—including Allen's mother, father, and three siblings—to a neighbor of his Whitehall plantation, Stokely Sturgis.
Allen's teenage years were spent toiling in Sturgis's fields, planting flax, corn, and wheat. Sturgis eventually sold Allen's mother and three siblings in order to cover some debts. After Allen had been separated from his family, the young man felt the chains of bondage weigh him down and he lost faith in the possibility of freedom.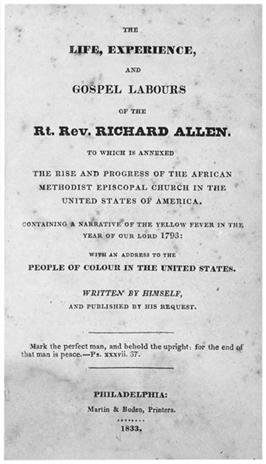 Then in 1777, Allen experienced a call to religion and attended a series of Methodist revivals.  He soon became an important figure among the African American Methodist community in Delaware.  His days began and ended with prayer, and he was deeply devoted.  As Allen's dedication and love for Methodism grew, so did his desire to be free. 
In 1780, Allen struck a deal with Sturgis and agreed to pay him $2,000 in Continental Currency over five years if Sturgis would let him and his brother go free.  Allen worked as hard as he could every waking hour to achieve this goal. He paid Sturgis in just three and a half years and obtained his freedom at the age of 23.
Top: Benjamin Chew Esq., Chief Justice of Pennsylvania, Thomas H. Shoemaker Collection, Historical Society of Pennsylvania.
Right: The Life, Experience, and Gospel Labours of the Rt. Rev. Richard Allen, Richard Allen (Philadelphia, 1833), The Library Company of Philadelphia.