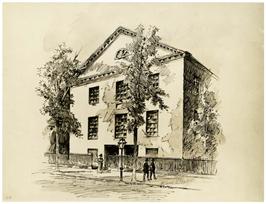 As a free man, Allen became a licensed lay preacher at St. George's United Methodist Church on North Fourth Street in Philadelphia.  The African American attendance at this church began to grow, and when the congregation became rather large, they were told they must sit in a segregated portion of the newly built balcony.
Left: St. George's ME Church, Pen and Ink, the Historical Society of Pennsylvania.
Sometime in the late 1700s (the exact year is the subject of debate among historians), Rev. Absalom Jones sat in his usual section at St. George's Church.  A white church trustee confronted Jones and told him to move to the balcony, but Jones requested to stay until the prayer was finished.  The trustee demanded again that Jones move, and again Jones pleaded they wait until the prayer was over.  When other white officials moved in to try to move the African Americans up to the segregated balcony, Allen led the African Americans out the doors of the church, with no intention of returning.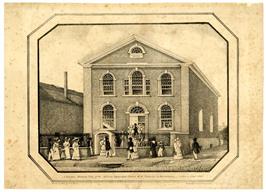 Following the walk-out at St. George's, Allen worked to establish an African American house of worship. While Allen's religious convictions leaned toward Methodism, a majority of the former congregants of St. George's did not want to align themselves with a denomination that had segregated them. In 1791, Allen and the Free African Society broke ground on an African American church on Fifth Street, which became known as St. Thomas African Episcopal Church.  The church, which was headed by Absalom Jones, officially opened in 1794, and it had no problems attracting members.  In its first year, membership at the church nearly doubled from 250 to 430.
Allen was still determined to establish a Methodist church, so in May 1794, he met with a group of 10 black Methodists to discuss his plans.  Allen bought a blacksmith's shop and had it hauled to a lot that he had previously acquired at Sixth and Lombard Streets.  The building was modestly renovated and opened its doors seven weeks later, known as Bethel African Methodist Episcopal Church.  The church, now known as "Mother Bethel" AME, is still located on that site.
Above: St. Thomas' AE Church, W.L.Breton (Philadelphia,1829), Historical Society of Pennsylvania.  

Above: Goal in Walnut Street Philadelphia (the original Mother Bethel can be seen in the left-hand side of the frame being pulled by horses to its home at 6th and Lombard), W. Birch and Son, Historical Society of Pennsylvania.